Cidnate and Sheila Williams, who run Williams Barber Training School, say there's more to becoming a barber than just cutting hair. In November 2016, Williams Barber Training School opened in Mauldin.
"Williams Barber Training School is a veteran-owned and operated business," Cidnate said. "It's also a Black-owned business."
Over the years, the accredited barber school has helped more than 100 students get a better education than they would have gotten at a two-year or four-year college.
Sheila said, "It's a 1,500-hour program, so it takes about a year or a year and a half to complete depending on if you're full-time or part-time."
"They have a full curriculum in the classroom. The areas that these students learn can be anatomy, physiology, and electricity. It's not just cutting hair."
Cidnate also uses the school to motivate and teach students about business, finances, persistence, determination, and attention to detail.
Cidnate and Sheila say that paying attention to detail is vital to being a professional barber, which they learned while serving their country. Students also learn how to cut and style all types of hair.
Sheila said, "I try to teach them attention to detail because that's what I learned as a veteran." "You have to be able to give that client exactly what they ask for."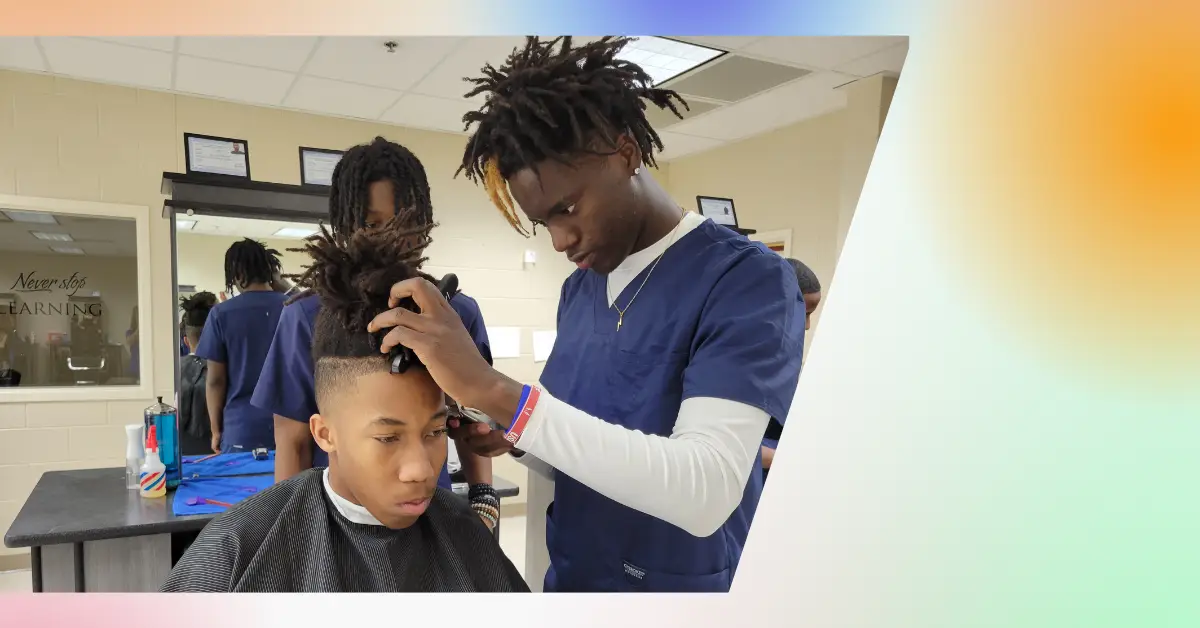 "It's to keep them focused," Cidnate said. "To keep their mind occupied. To keep their mind energized. To keep their mind motivated. I tell them that you can do and be anything you want to be. It's up to you and starts with how you think of yourself."
The Williams couple teaches and inspires students in the classroom, giving them hands-on experience with mannequins and people who come to the school for cheap haircuts.
If you want to check out more recent articles. So you can check the link below:
The low-cost haircuts allow students to work on their skills and will enable the public to get a good haircut at a reasonable price. Some of them cost less than $10. Sheila said, "If we can offer a service at a low price, it means the world."
"Sometimes these haircuts are a little expensive for some families, and we like to be that bridge for them so they can still have their children, or even themselves looking well and feeling well," Cidnate said.
As the owner of a Black business, Cidnate said that when he was a kid, he didn't have anyone who looked like him to look up to or copy. Cidnate said that making Black history is something he is grateful to God for and knows is making a difference in the Upstate.
Cidnate says that the Department of Veterans Affairs has given the OK for some students to use the GI Bill to pay for their college. Other students get scholarships because the school is recognized, or they can pay for it independently.
Many students who go to college may also be trying to start over with their lives, looking for a more positive path, or still trying to figure out their life purpose.
One student said that during the COVID-19 pandemic in New England, he gave up everything to become a hairdresser. "Right now, I'm at a little over 900 hours," said student Michael Lewis.
Lewis said that he was able to start a new journey because of his faith in God and his wife's support. Lewis said, "I knew deep down inside I either wanted to be a barber or police officer."
At the end of his senior year, Christian Gomez also realized that college might not be for him. Gomez said, "As a senior in high school, I kind of wasn't sure what I wanted to do."
Gomez said that by attending barber school, he learned that barbers are very important to their client's health. Gomez said, "To me, it's more than cutting hair."
Both Cidnate and Sheila said that they feel like they've done their jobs and served their purpose when students can leave school and do well in all their lives.
Sheila said, "Sometimes students are hard on themselves depending on the environment they've come out of, and we're here to motivate."
If you want to read more exciting articles like this, you can join us on our Facebook page.