Sarah Pazokian and Farah Rosaleen founded a foundation to combat period poverty as high school sophomores.
Every day at Cary's Green Hope High School, they saw what research has shown about "period poverty"—that menstruating women without period products are likelier to miss work or school.
It's ubiquitous. According to Coalition for Period Supplies, 25% of US teens have missed class due to a shortage of period goods like tampons or pads. The charity stated that two in five women could not afford period products due to poverty.
Pazokian and Rosaleen's Period Project NC joins the Diaper Bank of North Carolina in extending access to feminine hygiene products in schools.
"Our take is that period supplies are school supplies, and nobody should have to choose between going to class and having their period," Diaper Bank of North Carolina's founder and CEO, Michelle Old, made the statement.
A growing need
After the COVID-19 outbreak began, the Diaper Bank has received 800% more requests for period goods.
In 2021, the General Assembly gave schools $250,000 for period products. The state Department of Public Instruction reported to the legislature that schools flooded the Feminine Hygiene Products Grant Program with requests, and the money ran out in less than a week.
"Many of the awardees indicated that some students rely on their school to provide the feminine hygiene products they need, as their families may not have the financial means to purchase the products," the report noted in the introduction.
Districts large and small, urban and rural, received 66 $500–$5,000 awards. Schools planned to spend the money on tampons, pads, soap, underwear, and educational materials.
Burke County Public Schools in northwest North Carolina requested a grant to spend $2,000 on student feminine hygiene products.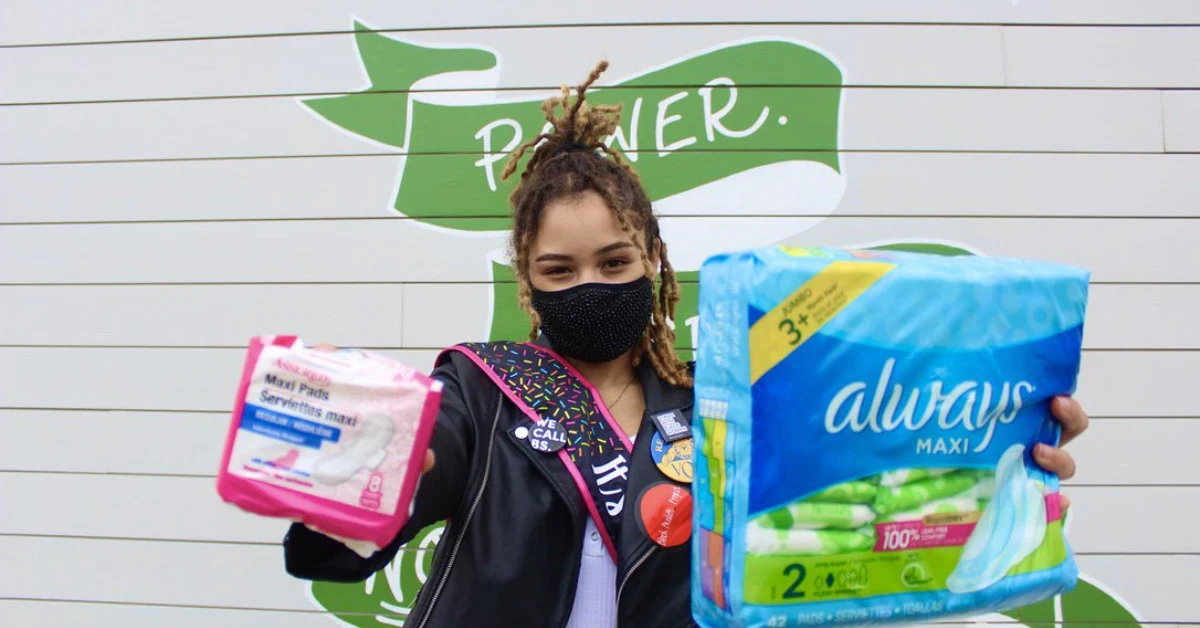 "We are a rural area with a great deal of poverty," The 11,200-student district applied for a grant. "These products are costly. If we receive this grant, students could remain at school and continue learning."
The district planned to buy tampons and pads for $5,000. Roanoke Rapids Graded School District intended to spend $5,000 on tampons, pillows, and puberty education.
The little northeastern district of 2,600 students explained how students' inability to pay for feminine hygiene items affected them in its application.
"Some students are missing school, are using toilet paper for pads, and are soiling their clothes due to no available hygiene products," the district wrote. "Some students are also afraid to attend school during their period because they are afraid of being bullied due to soiled clothes from lack of female hygiene products."
Legislators approved a second round of grant program funding in the 2022-23 budget, requiring a report on spending by March 15, 2023.
In an email, schools department reproductive health expert Lillian Pinto said the report would show which schools and districts received funding, what they bought, and how it affected student health and well-being.
Feminine hygiene bills
The General Assembly made the period products grant permanent last year without setting an amount. According to bill sponsor Sen. Natasha Marcus's office, the second round awarded $250,000. It targeted unserved schools.
Marcus (D-Davidson) wants $500,000 or more. She sponsored a 2021 law that created the grant program. She also filed period product tax repeal measures. Sales tax bills remain in committee.
According to Alliance for Period Supplies, North Carolina was one of 22 states taxing period goods in September 2022. The organization said some jurisdictions regard period products as a "luxury purchase" rather than an essential requirement like food or medicine, which are tax-free or taxed at a lesser rate.
The North Carolina state sales tax is 4.75 percent, excluding municipal levies. Wake and Mecklenburg's residents pay 7.25 percent in municipal taxes.
Food stamps and Medicaid cannot be used for period products, which activists like Old argue leaves the neediest without essential hygiene goods.
Marcus said North Carolina lawmakers are addressing period poverty again this session. She doesn't know if the measure would increase the grant program and adjust the tax yet. Marcus said the General Assembly routinely discusses tax cuts.
"Seems to me," she said, "this is a no-brainer."
She wants the new award program to exceed $500,000.
"It's a monthly occurrence," Marcus said. "So, if you're out of school every time you have your period, you're missing a lot of schools."
From diapers to pads
The Diaper Bank of North Carolina began helping families acquire diapers in 2013.
Old said they worked with moms on other requirements and added period items after hearing from teachers about students missing class due to a lack of pads or tampons.
"It was something talked about in [developing] countries happening, but not here in our communities," Old said.
"Period Power" distributes 750,000-period products annually. Approximately half of the recipients are schools; the remainder is homeless shelters, food banks, and mobile distributions throughout the state, where the Diaper Bank doesn't have a warehouse.
The nonprofit's four warehouses—in Durham, Wilmington, Winston-Salem, and now Charlotte—serve several counties. Old said Period Power expanded to 13 counties without a warehouse with a new government grant. 278 state schools participate.
"Our goal is to have period products in every single public school in North Carolina," she said.
Students step up
A second Cary school provided free pads as part of Period Project NC, founded by students Pazokian and Rosaleen.
This year, Green Hope student ambassadors installed dispensers in girls' toilets. Panther Creek High School trialed them, and two more schools wanted them.
Pazokian and Rosaleen intended to make it easier for students without period products at home to receive them at school. Pazokian said some schools require pupils to ask to go to the front office for period products in front of the class. She claimed that's humiliating for the student. Every lady's bathroom at Period Project NC schools has a dispenser.
Check out more trending articles we've published:
Pazokian said there is state-wide interest in the dispensers, which have only been distributed to Wake County Public Schools.
She reported 95 student ambassadors across 21 schools. They raise funds, awareness, and interest in the program at their schools.
"So far, students have been excited to get involved, and they've loved it," said Pazokian, 16, a junior. "There's been a lot of positive feedback, and they help us get our foot in the door at their schools."
Period Project NC student ambassadors refill dispensers at schools with them. Due to practicalities, the group has focused on high schools, but Pazokian said it impacts middle school and even some primary school pupils. She said they're "working to diminish menstrual inequity at least at the school level."
Tyler is a passionate journalist with a keen eye for detail and a deep love for uncovering the truth. With years of experience covering a wide range of topics, Tyler has a proven track record of delivering insightful and thought-provoking articles to readers everywhere. Whether it's breaking news, in-depth investigations, or behind-the-scenes looks at the world of politics and entertainment, Tyler has a unique ability to bring a story to life and make it relevant to audiences everywhere. When he's not writing, you can find Tyler exploring new cultures, trying new foods, and soaking up the beauty of the world around him.