According to KGW News partner KEZI, a tense demonstration against an officer-involved shooting at a middle school in Eugene culminated with a police response on Sunday night.
Police shot and killed Charles Landeros, 30, of Eugene, on Friday after they claimed he drew a pistol during a battle that ensued during a custody dispute at Cascade Middle School in Eugene.
Activists claim that the protest started as an anti-police rally on Sunday before a clash with counter-protesters who had come to support the police.
While some of the audience carried placards endorsing Eugene police officers, others said that their buddy Charles Landeros, who was slain by police on Friday, had been "assassinated" in the incident.
Also, Check
A parent of a student at Cascade Middle School told KEZI that her son was horrified when he learned what had occurred at his school. She claimed to be there to support that.
"Disarm the police, they say, and that was murder. There was no murder. A gun was taken to my child's school by [Landeros], "Karen Neurotch stated. "Since their children don't attend this school, they didn't receive calls. I received a call informing me that my child was afraid after hearing gunfire."
An opposing demonstrator informed KEZI they preferred not to talk in front of the camera. Landeros was an activist who had previously attended the University of Oregon.
During a student demonstration that disrupted President Michael Schill's annual address at the University of Oregon in October 2017, Landeros was interviewed by KEZI.
"Students are taking back their power, students are taking back their voice, we will no longer be controlled to when, where, and how we can speak," Landeros stated during the interview.
According to The Daily Emerald, Landeros belonged to Community Armed Self-Defense. According to the organization's Facebook page, which the Emerald said is no longer publicly accessible on Facebook as of 4 p.m. Saturday was established as a "new liberatory and inclusive venue for all oppressed peoples to learn about armed self-defense."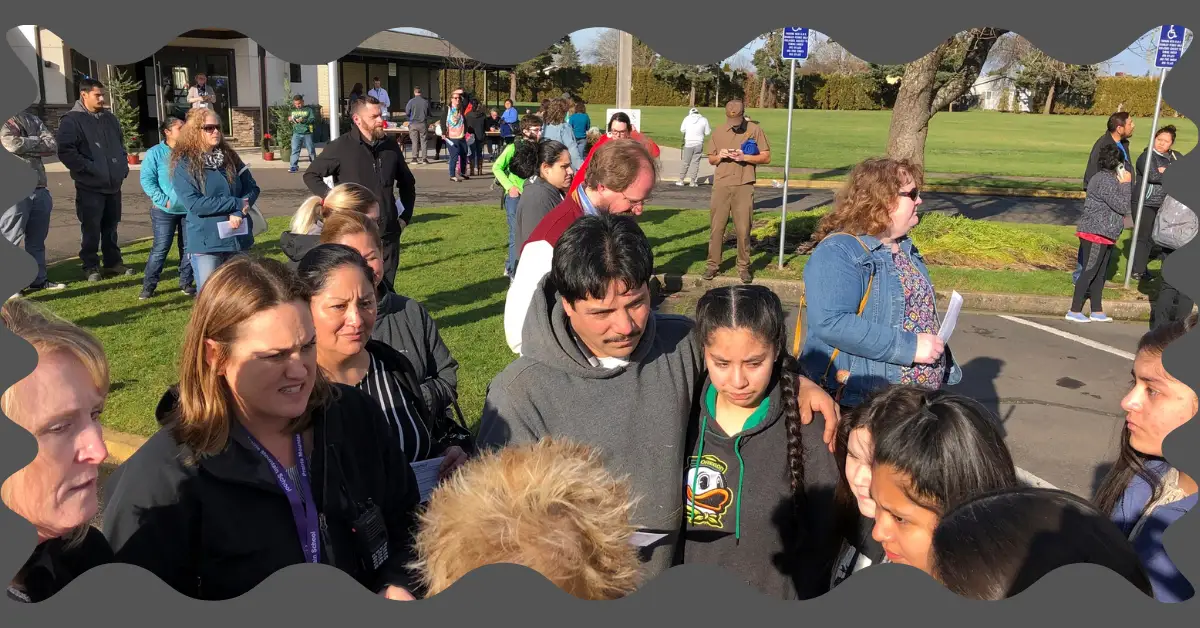 According to Community Armed Self Defense's Facebook page, marginalized communities cannot rely on the police to defend them and are better off protecting themselves with firearms, according to the Daily Emerald.
"The police are not in this to keep us safe. They are more likely to hurt us than they are to serve or defend' us, the organization claimed in the description of their Facebook page.
Another activist group that Landeros belongs to, the Civil Liberties Defense Center, published information about the shooting on their Facebook page. According to the post, Landeros was survived by two kids, aged 12 and 10, a spouse, and many family members and friends. The group added that it would raise funds to carry out its independent investigation into the shooting.
Yesterday the Lane County District Attorney cleared the two Eugene police officers involved in the Jan. 11 fatal shooting of Charles Landeros in front of Cascade Middle School

Read more here: https://t.co/TEG8X74rOY pic.twitter.com/dr1MkL0wXU

— The Register-Guard (@registerguard) January 25, 2019
KEZI was informed by a witness to the incident that Landeros' daughter was present when it took place. According to a friend of Landeros who talked with KEZI, Landeros liked becoming a dad. The acquaintance, who gave his name as Pladeo, stated that the couple was happiest when they were with their children.
Having children gave them the most meaning and happiness in life. Follow The Express for more information. You can also leave your thoughts in the comment section, and don't forget to bookmark our website.