Keenan Anderson, a 31-year-old father and high school teacher, is shown on surveillance camera pleading for his life and yelling, "They're trying to George Floyd me!"
He was detained, according to the police, after attempting to escape an automobile accident. The case, according to civil rights attorney Benjamin Crump, would create a precedent that would help put an end  to police killings.
At a news conference on Friday, Mr. Crump said that police "want to throw this under the rug like they want to do to all the young people they want to do to all the young people they want to do to kill."
Why don't you engage black folks with respect and humanity, he said, adding that "de-escalation is only for white people?"
The six-year-old son of Mr. Anderson, the cousin of co-founder of Black Lives Matter Patrisse Cullors, is left behind.
On January 3, at about 15:30, he was taken into custody in the Los Angeles neighbourhood of Venice, which is home to a beach. During a break from his job teaching English to 15 and 16-year-olds at a school in Washington, DC, he had been spending the holidays with family.
You Can Also Like
Officers then claimed that a "felony hit-and-run" was the reason why police were called to the scene. They said that Mr. Anderson tried a carjacking before starting a collision.
When they arrive, he is shown in distress on body-worn police camera footage informing the first officer that "someone is trying to kill me."
When a motorcycle police officer approaches him at first and instructs him to "Mr. Anderson replies, "I didn't intend to. Get up against the wall. I apologise."
In response to the officer's violent attempt to arrest him, Mr. Anderson stands up and walks out into the street while yelling, "I want everyone to see me" and "you're putting a thing on me."
He cries out "please," "help," and "they're trying to George Floyd me!" as more police officers come and tie him to the ground.
The murder of George Floyd in May 2020 by a police officer who was on duty in Minneapolis, Minnesota, outraged the community and sparked calls for police reform on a national level.
After an officer repeatedly warned Mr. Anderson to "stop or I'm going to tase you," the stun gun was first used on him for roughly 30 seconds. He was tasered again a little while afterwards for about five more seconds.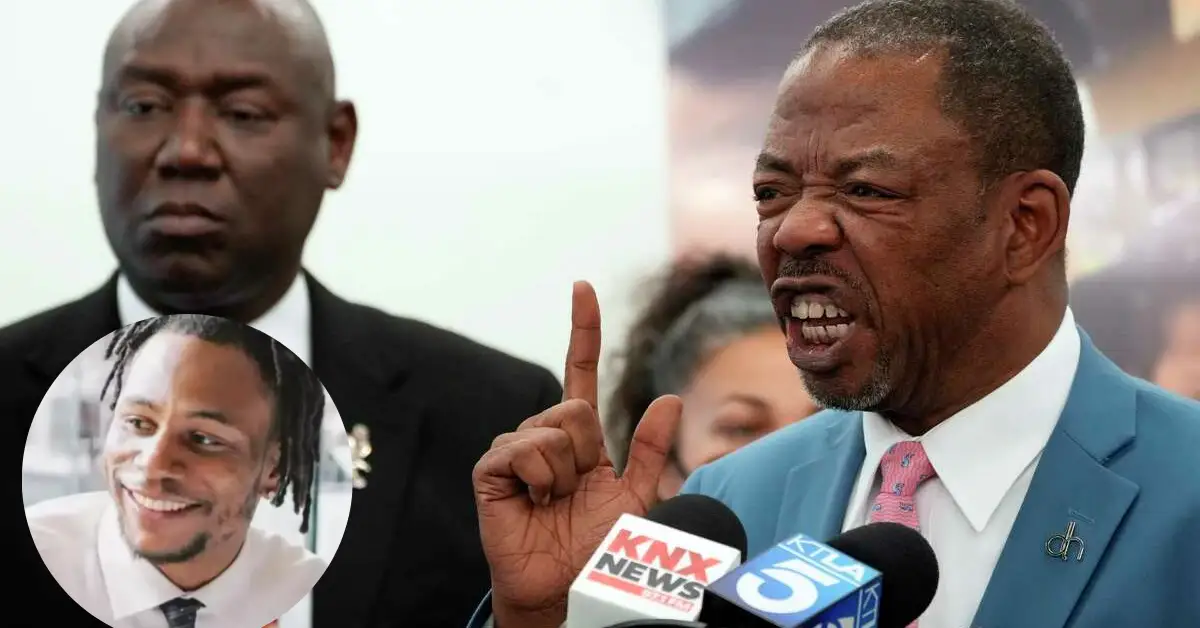 According to authorities, an ambulance arrived approximately five minutes later and brought Mr. Anderson to a nearby hospital. But around four hours later, he suffered a heart arrest and passed away.
The Los Angeles Police Department (LAPDtoxicology )'s report revealed that Mr. Anderson's blood had positive results for cocaine and cannabis.
His family has demanded that the complete footage of the arrest be made public. Additionally, they have demanded the ouster of Police Chief Michel Moore and the repeal of qualified immunity, which shields particular police from civil lawsuits brought by the general public.
Mr. Crump stated on Friday that the Department of Justice has been asked to look into the death. "Why would they ever stop killing us if you continue to blame the victim and not hold officers accountable?" Keenan Anderson's younger sister Dominique made this statement at a rally on Thursday.
LAPD sued for $50m over school teacher's death during arrest – #teacher #arrest #school https://t.co/bBtML15Pw9

— IdeallyaNews (@IdeallyaNews) January 20, 2023
"The police are supposed to protect and assist the public, yet they abuse their position of power and show no regard for human life."
He deserves to be hugging his son as well, but instead Keenan's accidental death at the hands of the LAPD prevents him from doing so, leaving his son fatherless.
The community at his former school, Digital Pioneers Academy, expressed its "anger that, once again, a recognised, loved, and respected member of our community is no longer with us" in a statement they issued.
Follow The Express for more information. You can also leave your thoughts in the comment section, and don't forget to bookmark our website.