On Tuesday, February 7, law enforcement was dispatched to at least six different high schools across the state of Michigan in response to allegations of school shootings that turned out to be false. At this time, there have been no reports of injuries at any of the schools, which are situated in the cities of Portage, Saginaw, Okemos, Jackson, and Ann Arbor and Muskegon; however, additional information may be trickling in.
K-12 schools all around the state were the focus of a press release that was distributed by the Montana State Police (MSP), which stated that the calls were "the activities of a concerted effort." According to the MSP, numerous agencies reported the same data, including that the caller had a thick accent and that they gave the school's name and address.
The person who placed the call identified themselves as a teacher at the institution and stated that a student had shot another student. The caller then provided a room number that, according to the MSP statement, "was found to not exist in the school."
You may find this interesting:
The Chief of the Portage Department of Public Safety, Nick Armold, stated in an interview with WOOD TV-8 that the Portage Northern High School did, in fact, get a "swatting" or "hoax" call. The school apologised to the parents via a message that it had been "the victim of a prank."
"We had units on scene within about 90 seconds, and probably, I would imagine within 30 seconds after that and conferring with school officials, we were able to ascertain it was a fake prank call," Jeff VanderWiere, Deputy Director of Portage DPS, said.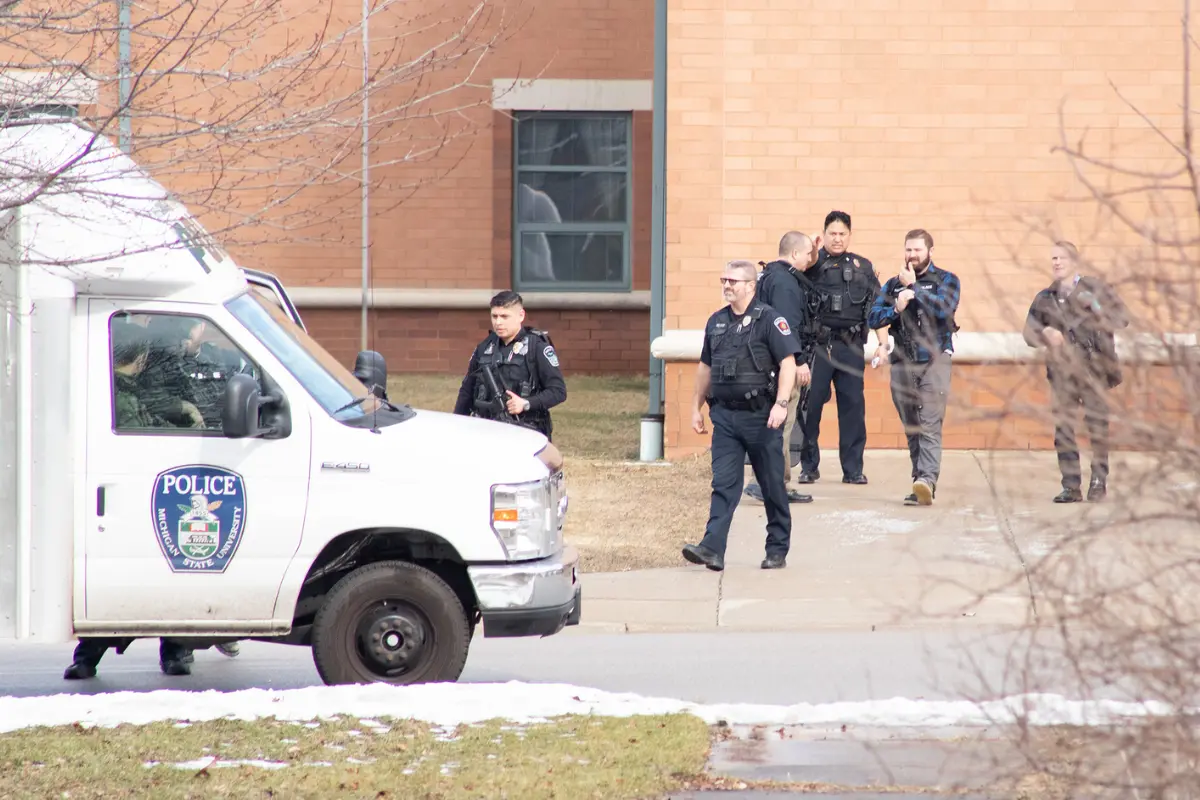 "Swatting" is the practise of fabricating a 911 call in order to summon a SWAT squad without cause.
Another report for Muskegon High School was received, according to officials in Muskegon. Tim Kozal, the chief of the Muskegon Police Department, described it as "a complete fraud" as well. The call came from an erratic number, most likely a Google number, Kozal told WOOD TV-8.
Police in Battle Creek and Benton Harbor said that they were looking into similar hoaxed threats against schools.
At Okemos High School on Tuesday morning, there were numerous police officers present to the east of Lansing. Just after 9 a.m., according to the local police, a call regarding an active shooter was received. After searching the structure, they concluded that there was no present danger and gave the all-clear. Classes were cancelled for the day in Okemos.
Jackson High School received a virtually identical call, and the district reported it as a fake call from a "unknown Google number" on social media. The school added that police had given them the all-clear.
Police were "on the site within minutes of the phone call in full force with the utmost care and concern for the safety of our students and employees," according to Jackson Public Schools, which complimented them for their prompt action.
MSP tweeted a warning on Tuesday stating that making such false claims is against the law.
🚨HAPPENING NOW!!!🚨 This morning there have been calls to Okemos High School and Jackson High School about an active shooter which has been found to be a hoax. Reminder that reporting a false threat against schools or business is a crime.

— MSP First District (@MSPFirstDist) February 7, 2023
Parents, now would be a good moment to remind the children. We typically receive copycat calls for days after a significant incident like this. Even though some people might think it's funny, being found guilty of making a false terrorist threat is a surefire way to ruin your life.
Several police agencies responded to a shooting hoax at Nouvel Catholic Central High School, according to a report from ABC-12 in Saginaw.
One teenager was detained just last week for "swatting" Jonesville Community Schools. She was detained on suspicion of conspiring to disseminate a terroristic threat, a crime punishable by 20 years in Michigan.
Most recent posts:
"Threats of violence in our schools disrupt the classroom, tax our local law enforcement agencies and harm our students' sense of safety," Dana Nessel, the attorney general of Michigan, issued a statement.
"Whether these are real threats made by those intent on doing harm or pranks made by kids trying to get a day off, they are real crimes with real consequences. It's critical that adults and students alike understand the seriousness of these threats and the criminal charges they could face."