The severe beating of a 14-year-old outside a California high school, which also involved a knife, has enraged his parents, who believe authorities are downplaying the vicious crime.
In the video, which was captured after school on Feb. 1 at Patriot High School in Jurupa Valley, California, at least three teenagers can be seen kicking and stomping on the adolescent freshman boy's head.
The disturbing video, which KTLA was able to get, showed that when the boy's cousin tried to assist, one of the attackers threatened him with a knife.
The boy's mother, Martha Payan, claimed she was heartbroken to see her son continually endure blows to his head and body without any members of the school personnel stepping in to halt the fight or interfere.
To read more articles like this one, click on the link below:
"They're stomping on his head, my son is on the floor in a fetal position," Payan told KTLA. "I see a couple of students … his cousin is trying to get involved to try to separate and they won't allow him to. One of the individuals comes to him with a knife and tells him if he comes close, then he's going to get it too."
Officials from the Riverside County Sheriff's Department issued the following statement: "The incident was reported after school hours. Therefore, no school resource officers were on campus. It is currently being investigated."
The boy's father, Angel Payan, claimed that the organization had previously threatened his son. He informed the LA Times that a disagreement over a social media post his son made about his ex-girlfriend was the cause of the altercation.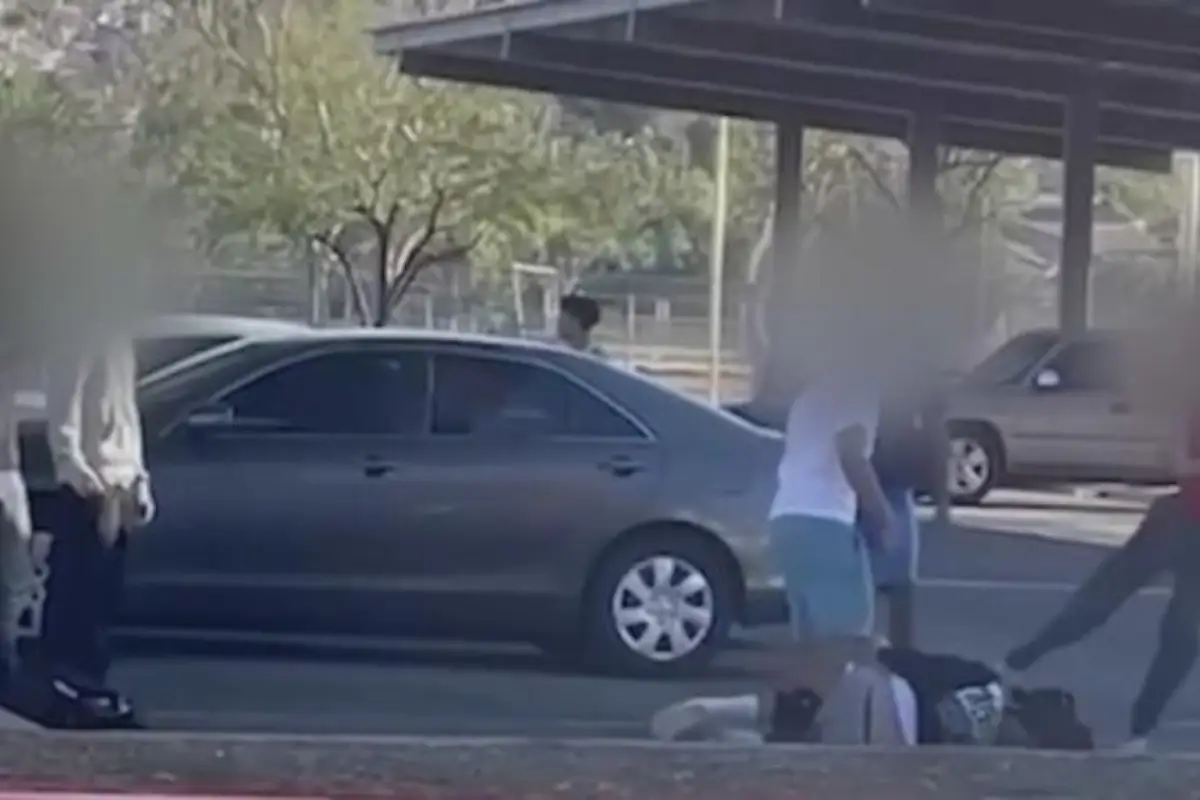 Then, according to Angel Payan, his son started receiving threats on Instagram from people who weren't high school students.
When the video of the altercation first went viral about a week after the occurrence, school administrators only then informed other parents about the brawl.
Parents received an email from the Jurupa Unified School District that stated: "You may have seen reports about an incident that took place after school in the parking lot at Patriot High School last week. We want to assure you that student safety is our highest priority, and we are cooperating with the Riverside County Sheriff's Department to fully investigate this matter."
Although his bruises made him "look like a cranberry," Angel told the LA Times that his son is now back in school. The varsity football player's son, according to him, is still shaken up.
"He is somewhat scared," the father said. "He's a very tough kid." The attackers, according to Martha, were older than her kid. She thinks at least one of them was at least 18 and went to a different school than her kid.
If you're interested in reading more related articles like this one, look at the below links:
A 9-year-old Florida girl was brutally abused by two guys on a school bus in the same period as the California high school event. Both incidents were caught on camera.
In the 30 seconds that were captured on tape while two boys beat the young girl, no adults stepped in to stop it. Later, authorities declared they will file violence charges against a 15-year-old boy allegedly shown in the video.