BECKLEY — After a 14-year-old committed suicide days after a videotaped in-school assault was posted on social media, community members have continued to criticize what they claim is a failing bullying response. Inside Central Regional High School, a number of other kids repeatedly hit Adriana Kuch.
Ocean County Prosecutor Bradley Billhimer on Saturday acknowledged to the Associated Press that four high school students were charged, after initially hesitating to comment on the matter owing to the involvement of minors. Four teenagers were charged: two with conspiring to commit aggravated assault, one with aggravated assault, and the fourth with harassment.
Check out more related posts:
In anticipation of subsequent court appearances, all four were released to their families. After the Daily Mail revealed his reply to inquiries about the teen fight and eventual death, in which he claimed the teen had a problematic past and minimized any charges of bullying, the Central Regional High School Superintendent resigned over the weekend.
"Please know that Adriana's story isn't the only one at Central Regional School District, it happens in the high school and the middle school and a lot of things are made quiet,"  On Sunday, a parent from the district posted on a Facebook blog.
The mother, who uses the pen name"Mama's Rants from the heart," reported that after a boy's parents spoke out to report that he had been bullied by students this year, "the administrator wanted to know what he had done to egg on his bully?"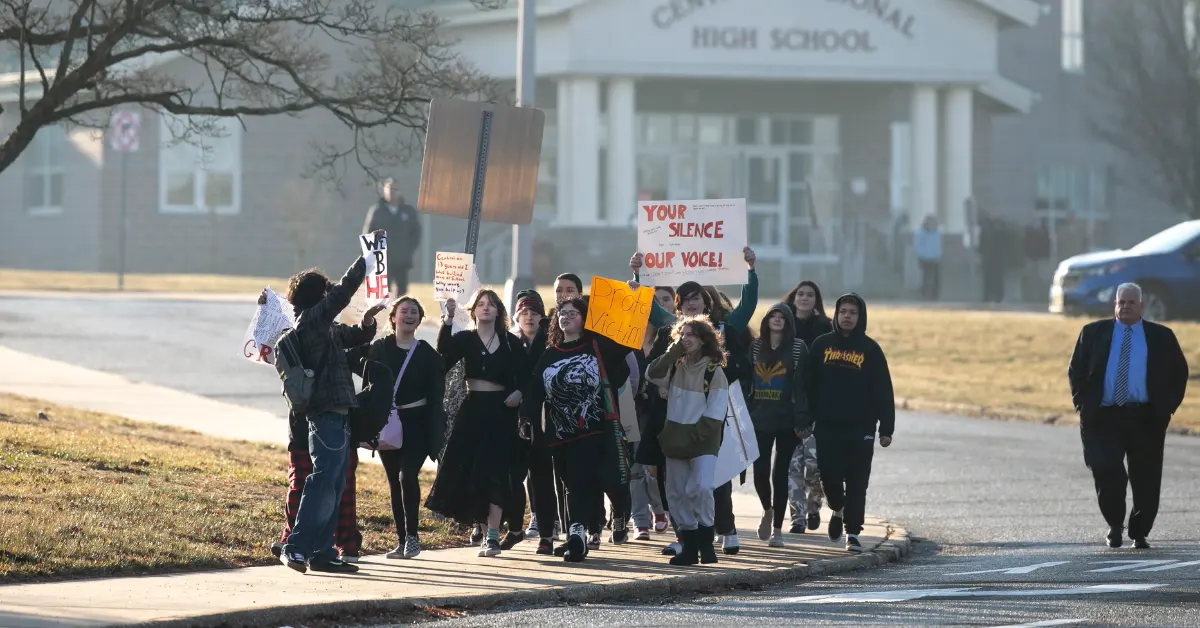 "This kind of response is not OK," she said. "As I understand that in some cases kids do tease one another, it's when it becomes relentless that leads to awful consequences. This should have never happened." According to locals, a student walk-out on Wednesday was followed by another attempted student demonstration on Thursday.
A student demonstration took place at Veterans Park close to Central Regional on Friday, and on Saturday there was a balloon release and vigil. Unconfirmed rumors also circulated in the neighborhood that parents were organizing a Wednesday demonstration directed specifically at parents in the area.
The school had announced on its website that any demonstrations would need to be "properly organized adjacent to school property, while school is in session." State officials released a united message of sympathy on Monday.
"Adriana Kuch is the latest victim of the mental health and wellness crisis that has resulted in so much pain and loss for countless youth and their families, friends, and communities," they said. According to the Centers for Disease Control and Prevention, between 2018 and 2021, the rate of juvenile suicide increased by more than 16% among those aged 10 to 24.
"To the adults who live and work with our young people, we urge you to lead with empathy and kindness and to support the youth in your lives who may be struggling with hidden burdens they feel are too heavy to carry, " The statement was released by Department of Children and Families Commissioner Christine Norbut Beyer and Acting Education Commissioner Angelica Allen-McMillan.
You might also consider:
They also discussed state-sponsored programs for mental health, but they made no reference to the alleged bullying in Central Regional. "Through the Children's System of Care, parents can call 1-877-652-7624 to access mental health services or addiction treatment services for children and teens under the age of 21, or services for children and teens up to age 21 with intellectual and developmental disabilities."
For 24/7 services, teenagers and young adults between the ages of 10 and 24 can text or contact the 2ND FLOOR youth helpline at 888-222-2228.