Duangphet Phromthep, one of the 12 boys who were saved from a flooded Thai cave in 2018 after a weeks-long operation that garnered international attention, passed away in the UK, according to British and Thai officials.
Phromthep, a student at a soccer academy in Leicestershire, England, passed away on Sunday after being taken to the hospital, according to a statement from the Leicestershire Police to CNN.
The public relations department of the Thai government's northern area said on Facebook that Phromthep, 17, had perished in an accident but gave no other information. "The atmosphere at his house in Chiang Rai province was full of sorrow," PR Thailand's statement said.
Zico Foundation, a Thai non-profit organization that had supported Phromthep's study in the UK via a soccer scholarship, posted on Facebook Wednesday: "Zico Foundation would like to express our sorrow for the pass of Dom Duangpet Phromthep, a scholarship student from Zico foundation,"  the publication of a Phromthep image.
A daring rescue
In the summer of 2018, the Wild Boars youth soccer team from the province of Chiang Rai in northern Thailand was rescued after spending more than two weeks stranded in a network of flooded caves. Phromthep served as the team's captain.
When rising floodwater cut off the 12 boys and their instructor deep inside the cave, they got trapped, setting off a nearly three-week-long multinational rescue operation.
Divers participating in the rescue cited dangerous conditions, including shallow water rushing quickly through spaces that were quite constrained. The lads were divided into groups of four and outfitted with 5-millimeter-thick wetsuits, full face mask breathing apparatus, and air bottles for the challenging three-day final operation.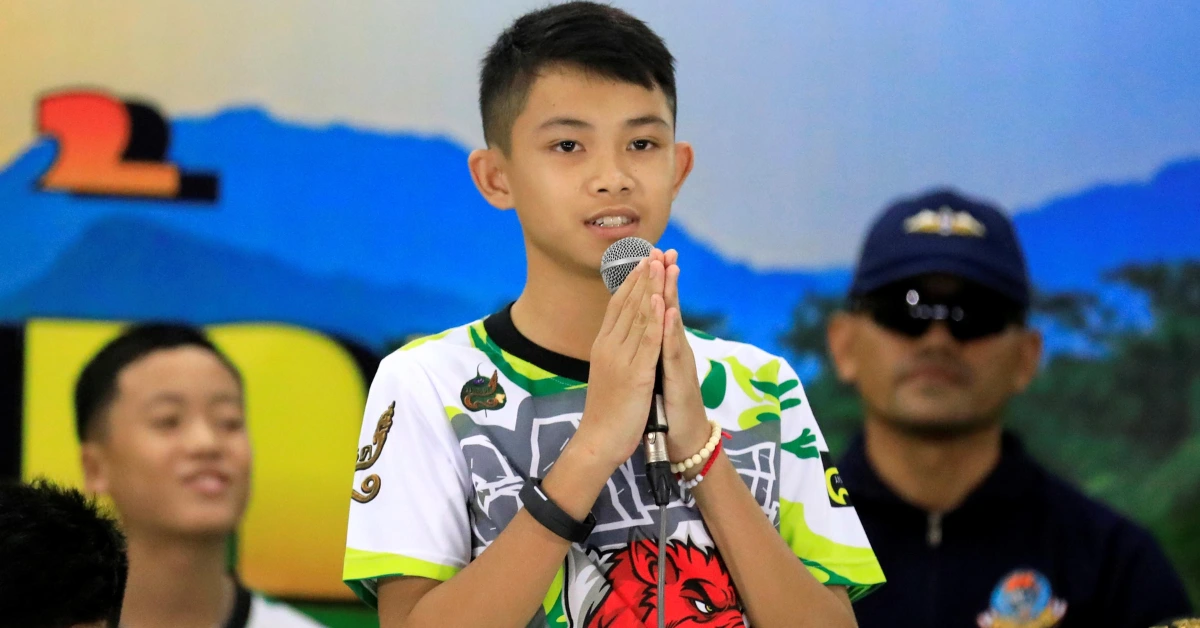 Two divers carried their oxygen tanks and led each boy out of the water while guiding them through dimly lit passages. It took several hours to complete each rescue, most of which were spent submerged. The first kilometer, where the divers and youngsters had to squeeze through a constricting, flooded channel, was the most hazardous.
Rescuers had to swim through flooded holes while holding the lads' oxygen tanks in front of them. The lads were given over to separate, specialized rescue teams after finishing this section so they could help them through the remaining cave, much of which they could wade through.
After being trapped for more than two weeks, Phromthep, also known as Dom, was one of the lads who eventually made it out of the cave with the second group. One of three boys whose birthdays passed while they were underground. He was one of the three. He begged his parents not to forget in his first message to them. "I'm fine, but the weather is quite cold. But don't worry," he said. "Don't forget my birthday," he said.
After being saved, he expressed his desire for pork and rice while thanking everyone for their assistance from the hospital. The coach and all 12 of the saved boys were subsequently sent to a local hospital for treatment. When they learned that their boys were alive, family members rejoiced and wept with relief, punching the air in relief.
One of the Thai cave survivors, Prajak Sutham, responded to Phromthep's passing by posting on Facebook:
"We have been through together a lot, good and bad times. We had gone through life-and-death situations together when you told me to wait and see the time you became a national player. I always believed that you could do it. Last time we met before you left for the UK, I jokingly told you that, when you're back I would ask for your signature. Rest in Peace Bro, we always have each other, the 13 of us."
Lead diver from the 2018 rescue effort Rick Stanton expressed his disbelief at the information to CNN's Don Riddell, adding that other rescuers had been notified.
"When John Volanthen and I first found the Wild Boars at the end of a fraught nine-day search, it was Dom who took the lead and wrote the first messages to the outside world," he said in an email.
"As a personal recollection, it was Dom whose unconscious body I swam with as I escorted him to safety on the second day of the rescue mission. I carefully held his precious life in my grasp, bearing the full weight of responsibility towards his survival through the most extreme of circumstances."
The Doi Wao temple in Phromthep's native Chiang Rai also sent its condolences to the mother of the deceased. Phromthep was a Football Academy student at Brooke House College, which issued a statement after his passing "has left our college community deeply saddened and shaken."
If you enjoyed this post and want to read more like it, check out the following:
"This event has left our college community deeply saddened and shaken. We unite in grief with all of Dom's family, friends, former teammates, and those involved in all parts of his life, as well as everyone affected in any way by this loss in Thailand and throughout the college's global family," the college's principal, Ian Smith, said.
The statement claims that Brooke House College is in contact with legal representatives, the Royal Thai Embassy in London, and is "dedicating all resources to assist our student body, as they as young people process Dom's passing."