The family of Jacqueline Marie O'Sullivan McDowell announces her departure at the age of 92 with a mixture of deep sorrow and gratitude for a bright mother.
William Michael O'Sullivan and Helen Beatrice Gleason O'Sullivan welcomed Jacqueline on June 29, 1930, in Roslindale, Massachusetts.
She attended schools in and around New York City and the School of the Assumption in Wellesley, Massachusetts. After her father's return from the war, the family relocated to El Paso, Texas, where her mother worked as a teacher at Bowie High School, and her father oversaw the W. T. Grant shop.
Jacqueline brought up her family in the southwest, where they remained for the next nearly 70 years. This Boston-centric family loved the region.
Jacqueline cherished education and learning. She obtained her high school diploma in El Paso. Before turning 21, she attended Texas Western University (now UTEP) and graduated with a bachelor's and master's degree in Spanish.
She received a Fulbright Grant to pursue her studies in Mexico City. She was granted a permanent teaching certificate by the State of Texas, allowing her to instruct both primary and secondary students.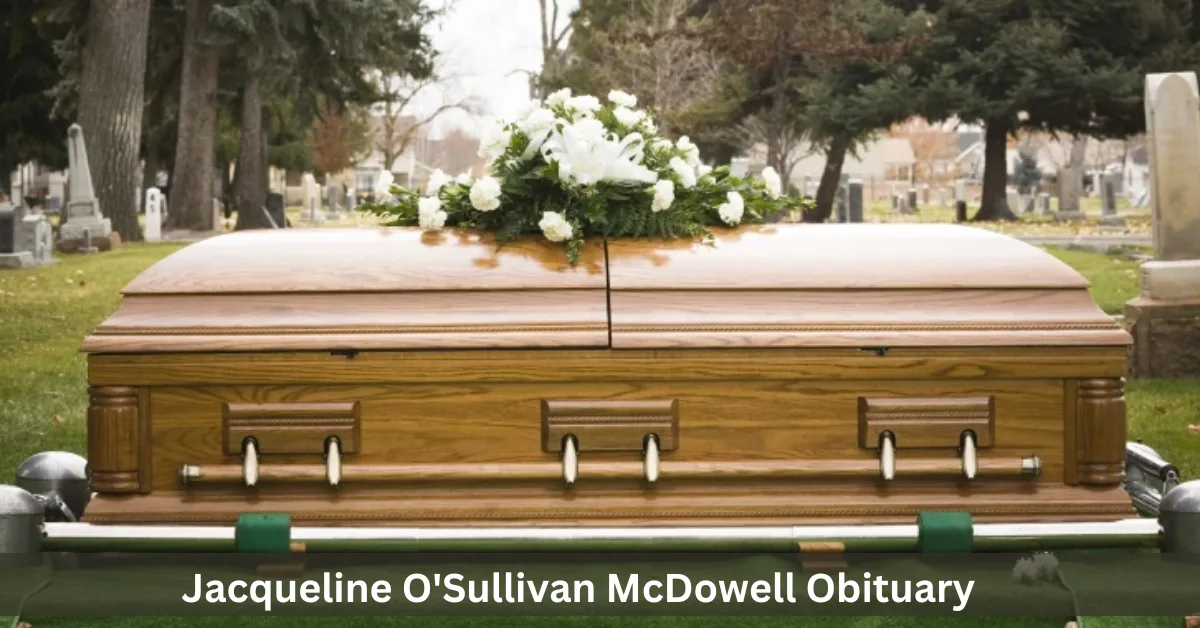 Before moving to Las Cruces, New Mexico, with her parents to relocate and buy the Wagon Wheel Restaurant in the city's center, Jacqueline worked as a teacher at Ysleta High School.
For two years, Jacqueline instructed Spanish at Las Cruces Union High School. She first met the charming young dentist, Dr. John McDowell, who lived across the street when she moved into her parents' house on Brown Road in Las Cruces.
After a two-year courtship, they got married at St. Genevieve's Catholic Church. Jacqueline adored anything related to Spanish culture, especially Mexican culture.
She spent four years instructing high school Spanish. She also held the positions of Director of the Las Cruces Table and Zone Two for the Pan American Round Table Alliance for many years.
She was chosen as the Alliance's Historian and given the Pan American Woman award, the most significant distinction bestowed by the group.
She took the Pan American Round Table's official delegation on long trips throughout South America. Until her passing, she stayed in touch frequently with her friends from the Alliance and the Las Cruces Table.
Jacqueline and her husband trained under Carl R. Cogar since they both enjoyed painting, sculpting, and drawing. She created stunning photographs of her loved ones and acquaintances, which she generously shared as gifts.
Jacqueline took part in plays at the Las Cruces Community Theater since she, too, adored community theatre. She was also involved in LCCT and New Mexico State University theatre productions.
With her position as president of the Las Cruces Junior Women's Club, Jacqueline was active in the community. As a result of her involvement with the Junior Women's Clubs of America, she achieved national recognition.
She continued to support the sorority as an alumna at NMSU and on a national level after joining Zeta Tau Alpha Sorority at Texas Western.
Jacqueline cherished her friendships with people from all walks of life. She kept up with her friends from Las Cruces, El Paso, Boston, and New York. Even though many have passed away, she kept close contact with everyone still alive up to her final illness.
Her children, grandchildren, and great-grandchildren continue to live. These include her son John and his daughter Dr.
Michal McDowell (Dr. Alex McDowell) and their son Nolan Maher McDowell; her daughter Stephanie McDowell; her children Colin O'Malley; Katherine O'Malley (Kim Barker) and Caroline O'Malley.
Read more obituaries articles we are posting:
And her daughter Andrea Whitehead and her grandchildren Michelle James (Curtis James), Al, Curie, and Jacqueline White.
In addition, Jacqueline McDowell leaves behind her sister Marilyn Joan Davenport, her cousins Wayne Hupfer, Gregory and Gary Gleason, Paula Carmody, Marcia Reynolds Ward, nieces, nephews, and their offspring, all of whom she adored.
Jacqueline is predeceased by her husband, Dr. John McDowell; her parents, William M. and Helen B. O'Sullivan; parents-in-law, Dr. Milton Taylor McDowell and Alice C. McDowell; her brothers-in-law Raymond W. Davenport Jr., and Dr. James Fred McDowell (Shirley).
Her sisters-in-law, Ann Burger (Scotty) and Jane Schaefer (Dr. Otto), and her cousins, Larry Reynolds (Joan) and Desiree Marie Reynolds White. She missed them every day after these folks who were dearest to her passed away.
She was predeceased by one niece, Diane Davenport, and nephews, Mark Davenport and Michael Davenport.
George McDowell, and Peter Schaefer, much to her tremendous anguish and something she could never understand. To the end of her life, Jackie cried heartfelt tears out of regret for their premature departure.
Tyler is a passionate journalist with a keen eye for detail and a deep love for uncovering the truth. With years of experience covering a wide range of topics, Tyler has a proven track record of delivering insightful and thought-provoking articles to readers everywhere. Whether it's breaking news, in-depth investigations, or behind-the-scenes looks at the world of politics and entertainment, Tyler has a unique ability to bring a story to life and make it relevant to audiences everywhere. When he's not writing, you can find Tyler exploring new cultures, trying new foods, and soaking up the beauty of the world around him.