Sharin Marie Liedle, December 6, 1941 – March 11, 2023, HELENA – As each snowflake is cut, exquisitely different from the rest, Sharin Marie Liedle came and went behind the transparent veil of heaven's sparkling snowflakes on the wings of angels.
On December 6, 1941, Sharin arrived amid the chilly weather and snow and had myelomeningocele, the most severe form of spina bifida.
Sharin defied medical predictions that she would only live for a year or less due to a birth defect, as evidenced by the "dash" between her birthdate of December 6, 1941, and her transformation dance with the angels on a snowy March 11, 2023.
Our mathematical computations indicated that she lived 80 years longer than was predicted. She underwent surgery, first to close her spinal canal and subsequently to strengthen her legs, demonstrating her great resolve and strong will to survive.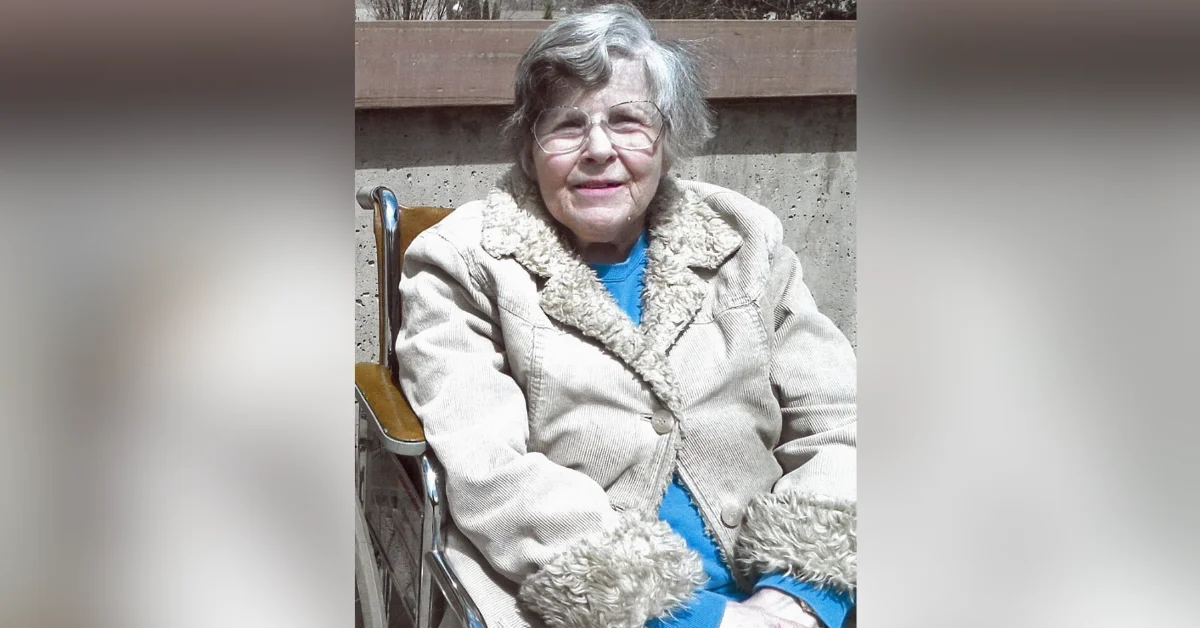 Sharin was given braces as a toddler, and she began to walk with the help of a pair of crutches. Since spina bifida has no known cure and treatment options were restricted in the 1940s, Sharin accepted each challenge as a typical life achievement.
Sharin was eager and prepared for school as soon as her sister Carroll was eligible to enroll. She attended Bryant Elementary School, Helena Junior High, and Helena High with Carrolle, her younger sister, Carrolle's unfailing support and love.
Sharin enrolled at Helena Business College on 6th Avenue as Carroll left for college. She had several administrative posts before retiring in 1984 due to a protracted illness, first from Foley's Mill, then from the Leo Pocha Clinic, and ultimately from the State of Montana.
When Sharin was 19, she decided to learn how to knit. She then spent the next 20 years working with her mother to knit vests, sweaters, and blankets for her nieces, nephews, and friends.
When she was 27, she went to a friend Ralph Anderson's Helena Ford dealership, and bought a brand-new Ford Maverick.
As soon as she had her new automobile fitted with hand controls and persuaded a local driving school instructor to teach her, her commitment to learning to drive was complete.
By the way, she held her secret from her parents until the purchase was finalized! Her birth date and defiance of her deformity immediately made it clear that she was a force to be reckoned with.
Sharin loved all domestic, wild, two-legged, or four-legged animals with an enormous heart. She loved all babies, even if she couldn't have her own.
She enjoyed spoiling her nieces and nephews and volunteered to assist in feeding and comforting sick infants at Shodair Children's Hospital.
Sharin regularly visited the Fish Wildlife and Parks Animal Hospital and Refuge to witness bears, foxes, antelope, deer, and a cougar being treated for injuries. And lastly, Buttercup, Sunni, and Chance, her furry children, had never known a more loving mother.
Sharin's claim to fame was her connection with tap dancer Arthur Duncan and singer Lawrence Welk. At a performance in Great Falls, she got to know both performers in person. She committed to watching the Lawrence Welk Show on television every Saturday night, becoming a lifelong admirer.
Eventually, Lawrence Welk met Sharin and her parents at the Aragon Ballroom in California after Carroll had driven them there. He could recall her!
With assistance from family and friends, Sharin lived in the family house at 1802 Boulder Avenue for nearly 75 years.
Check out more articles like the obituaries we are posting:
After her mother passed away in 1996, she lived alone with her beloved dogs. She experienced a severe blood infection in October 2016, necessitating amputation of her left ankle and foot.
She relocated to the Big Sky Care Center, her last place on earth, as she could no longer care for herself (now known as Mount Ascension).
In addition to her parents, David and Mary Lou Liedle, half-brother Douglas Liedle, brother Lester Liedle, sister Dianne Shultz, several devoted aunts, uncles, and cousins, Sharin was also predeceased by her three cherished pets.
Sharin's beloved sister Carroll and her husband Ed, brother David and his wife Jane, brother Ted, several nieces, nephews, and relatives, as well as her valued companion and caregiver Phyllis Lamping, are still alive.
We will always cherish our memories of her humor, zest for life, and determination to get her way.
Services are not currently scheduled, but a Celebration of Life will occur on July 22, 2023.
Patricia Gault is a seasoned journalist with years of experience in the industry. She has a passion for uncovering the truth and bringing important stories to light. Patricia has a sharp eye for detail and a talent for making complex issues accessible to a broad audience. Throughout her career, she has demonstrated a commitment to accuracy and impartiality, earning a reputation as a reliable and trusted source of news.