Tropical Storm Idalia, which is expected to make landfall in the southeastern United States as the first major hurricane of the Atlantic season in 2023, threatened much of Florida's Gulf Coast, spurring evacuations and hurried preparations across the state's storm-scarred peninsula.
Residents rushed to grocery stores and gas stations as Hurricane Idalia, a Category 4 storm that thrashed Southwestern Florida last September and killed 150 people, approached. Idalia is expected to hit Wednesday morning with winds of up to 120 miles per hour.
Idalia's track, which the National Hurricane Center predicts will run parallel to Florida's western coast, made predicting where the storm would come ashore difficult: a slight wobble to the east or west could shift the storm's center from the less-populated Big Bend region toward Tallahassee to the north or Tampa to the south.
#Idalia is forecast to strike Florida as a large and extremely dangerous major hurricane on Wednesday morning.

Those in Idalia's path should complete preparations to protect life and property today, as weather will steadily deteriorate on Tuesday.#TropicalUpdate #flwx 🌀 pic.twitter.com/Vckv4CVmEX

— Dylan Federico (@DylanFedericoWX) August 28, 2023
He mobilized 5,500 National Guard personnel and stated that while emergency utility crews will be ready to repair power lines after the storm, residents over a large section of the state could expect to lose power.
Idalia (pronounced ee-DAL-ya) soaked western Cuba on Monday, 28, August, 2023 forcing evacuations in low-lying communities. It was expected to grow into a hurricane as it traveled toward the Gulf of Mexico, where it may be fuelled by unusually warm seas and make landfall as a Category 3 storm.
Another storm, Hurricane Franklin, strengthened in the Atlantic, although it was not projected to pose a significant threat to land.
Forecasters predicted Idalia may cause a storm surge of eight to twelve feet in the Big Bend, which is generally described as the area where the north-south half of the Florida peninsula swings toward the east-west portion of the Panhandle.
Cedar Key, a collection of tiny islands linked by small bridges in Levy County, about 100 miles up the coast from residents who did not want to heed evacuation orders should brace themselves for the possibility that the only road in and out of town would be washed out, or that Cedar Key's 700 homes would be without power, water, or sewer service for weeks.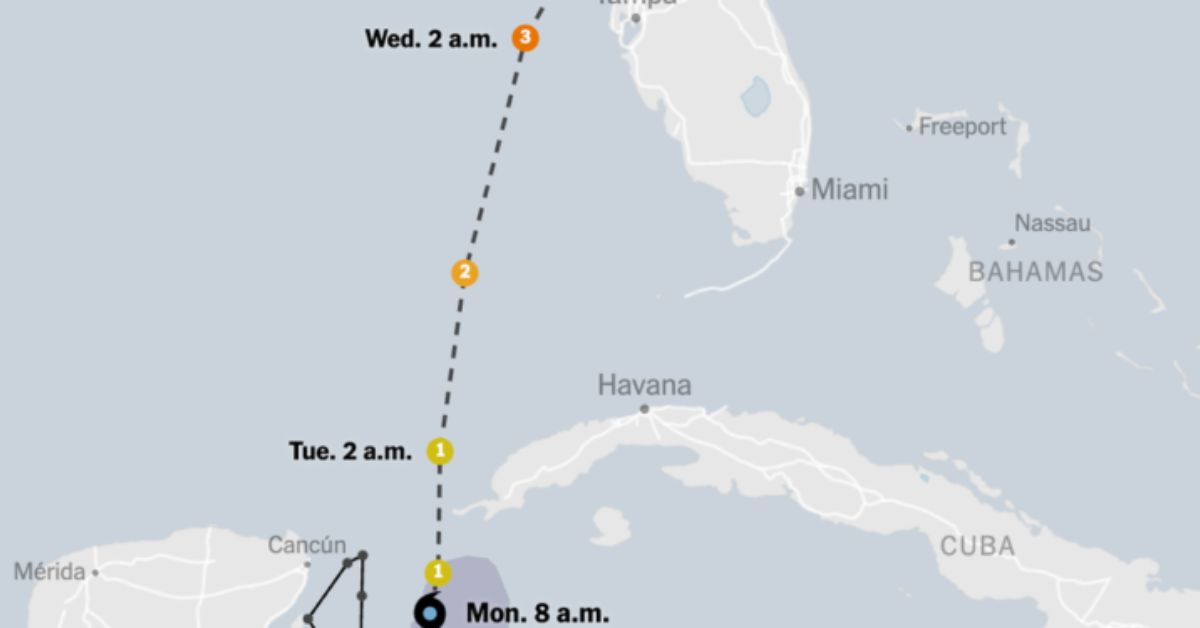 Hurricane Hermine, a Category 1 storm, struck the Big Bend in 2016. Given the scant population in the area, the damage was minimal. One individual was killed. Older storms were significantly more lethal.
An unusual winter storm sent rushing Gulf waters into people's houses. 47 individuals died, many of whom drowned. In addition, the Cedar Key Hurricane of 1896 killed at least 70 people in Florida.
Forecasters expect Idalia to undergo fast intensification in the warm waters of the Gulf, which have set temperature records this summer.
The state's Gulf Coast was severely impacted by two more recent storms, Hurricane Ian last year and Hurricane Michael in 2018, both of which swiftly developed before striking as major hurricanes with high winds and storm surges.
Hurricanes are projected to become more strong as a result of climate change, according to scientists. In addition, as the planet warms, the air may contain more moisture, allowing a storm to deliver more rainfall, as Hurricane Harvey did in Texas in 2017 when some regions received more than 40 inches of rain in less than 48 hours.
President Biden talked with Governor DeSantis and approved an emergency declaration for 46 of Florida's 67 counties ahead of Idalia's arrival, as storm surge and hurricane or tropical storm warnings stretched from south of Tampa to the Alabama border.
County after county along the Gulf Coast ordered evacuations of inhabitants in mobile homes and low-lying areas as the day progressed, and officials opened shelters and closed schools. Local officials in Jacksonville, in the state's northeast region, expressed concern that heavy rains would cause rivers to crest and cause floods.
Even if the storm does not directly reach Tampa, which has long been considered the worst-case scenario along Florida's Gulf Coast by experts, storm surge with a high tide could be disastrous. On Monday, the Tampa Bay area was expected to experience surges of four to seven feet.
Tampa International Airport and St. Pete-Clearwater International Airport announced Tuesday closures in anticipation of substantial disruptions, forcing customers to hustle to change flights or make other arrangements.
Beverly Cartenuto's son Albert's flight into Tampa was canceled, and he was rebooked to Orlando, a more than two-hour drive from the family's home near Sarasota, according to Ms. Cartenuto.
Conclusion:- For more latest updates, stay connected with us always. Check out blhsnews.com for the most recent news on your favorite stars. You should save our site to your bookmarks so you can return to read our most recent posts as soon as they become available.
If you're interested in reading about the recent news, you can check out the below links:-
Patricia Gault is a seasoned journalist with years of experience in the industry. She has a passion for uncovering the truth and bringing important stories to light. Patricia has a sharp eye for detail and a talent for making complex issues accessible to a broad audience. Throughout her career, she has demonstrated a commitment to accuracy and impartiality, earning a reputation as a reliable and trusted source of news.