The former resource officer from Parkland, Florida, was charged with failing to stop the sh00ter at Marjory Stoneman Douglas High School in 2018, who ki!!ed 14 students and three staff members, was found not guilty on all counts.
The 60-year-old Scot Peterson was charged in 2019 with numerous counts of child neglect after it was discovered through an internal investigation that he had fled while kids were being attαcked.
Peterson, a 30-year veteran of the Broward Sheriff's Office, was accused by the prosecution of lying when he said he did not hear g*nfire.
After the judge pronounced the judgments, Peterson was seen crying and leaning against the table.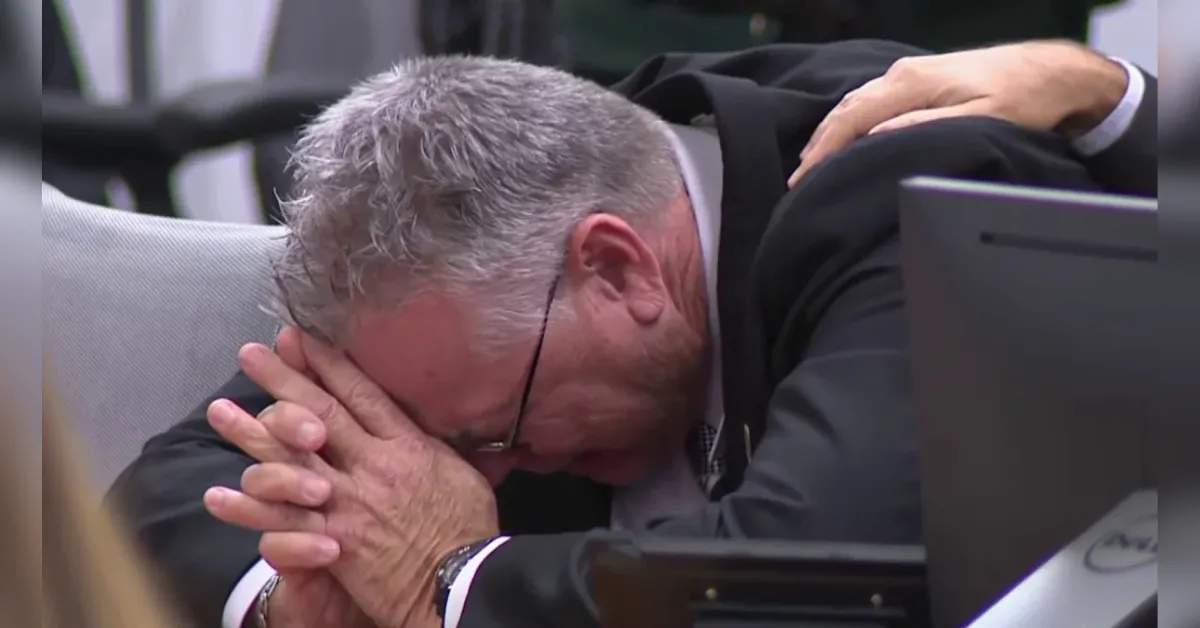 Peterson, who was let go after the investigation's final report, had entered a not-guilty plea.
After the verdict, Peterson informed the media that the catastrophe could only be attributed to "that monster," alluding to the sh00ter.
"In any type of incident, do your due diligence and look at the facts," Peterson stated.
During closing arguments, Kristen Gomes, an associate state attorney with the Broward County State Attorney's Office, claimed that Peterson did nothing to find and confront the sh00ter.
ABC News Live shares a tweet about Scot Peterson, who is not guilty on all counts:
BREAKING: A jury finds Parkland officer, Scot Peterson, not guilty on all counts. He was accused of failing to confront the school shooter in 2018. pic.twitter.com/9mNzEhdnOG

— ABC News Live (@ABCNewsLive) June 29, 2023
"When the defendant ran, he left behind an unrestricted killer who spent the next four minutes and 15 seconds wandering the halls at his leisure. Because when Scot Peterson ran, he left them in a building with a predator unchecked," she stated.
Peterson's attorney, Mark Eiglarsh, claimed that his client was being used as a "sacrificial lamb." In his concluding remarks, Eiglarsh claimed that Peterson and several other students and teachers could not pinpoint the source of the g*nfire.
"He did everything he could," Following the decision, Eiglarsh spoke to the media.
If found guilty of all charges, Peterson could have spent up to 95 years in state jαil and lost his pension.
Eiglarsh refused to respond when asked if Peterson was considering filing a civil lawsuit against the police.
"We'll look into everything after the fact," he stated.
If you are interested to know more about other news, then read our other articles here:
Scott Beigel's mother, Linda Beigel Schulman, criticized Peterson for telling reporters he had his life back after the verdict.
"Well bravo for getting your life back, I cannot get my son's life back," She told ABC News Live.
Even though the jury determined that Peterson was not legally to blame for the killings, Beigel Schulman claimed she held him morally accountable for her son's m*rder.
Peterson told the media he would speak with the victim's family, but Beigel Schulman said it was one offer she wouldn't accept.
"I am not going to speak to him and absolve him of his moral guilt," she stated. "No way."
Nikolas Cruz, the sh00ter and a former high school student, was found guilty of 17 counts of first-degree m*rder and 17 counts of attempted first-degree m*rder and received a life sentence last year.
Tyler is a passionate journalist with a keen eye for detail and a deep love for uncovering the truth. With years of experience covering a wide range of topics, Tyler has a proven track record of delivering insightful and thought-provoking articles to readers everywhere. Whether it's breaking news, in-depth investigations, or behind-the-scenes looks at the world of politics and entertainment, Tyler has a unique ability to bring a story to life and make it relevant to audiences everywhere. When he's not writing, you can find Tyler exploring new cultures, trying new foods, and soaking up the beauty of the world around him.