Following emails threatening the use of explosives on multiple campuses, some 40 school districts in Indiana called off Friday's in-person sessions.
The Indiana State Police issued a press release stating that no suspicious or explosive devices have been discovered in Indiana schools. Police said that they are still looking into the source of the threat.
Kenneth Trump, president of National School Safety and Security Services, a national consulting organization with offices in Cleveland, said that the threats made against Indiana schools on Friday were merely the most recent in a nationwide trend of bogus threats against educational institutions that are spreading.
Similar threats were made earlier this week in many Illinois school districts.
"And this has been going on almost weekly since at least the beginning of the school year in August," Trump said. "We've seen multiple school districts receiving multiple threats across multiple states all within the same day."
Threats Are Examples Of A 'Swatting' Trend
According to Trump, the calls are what security professionals call "swatting," where an unknown caller makes fictitious threats against schools to draw law enforcement or SWAT teams to the scene.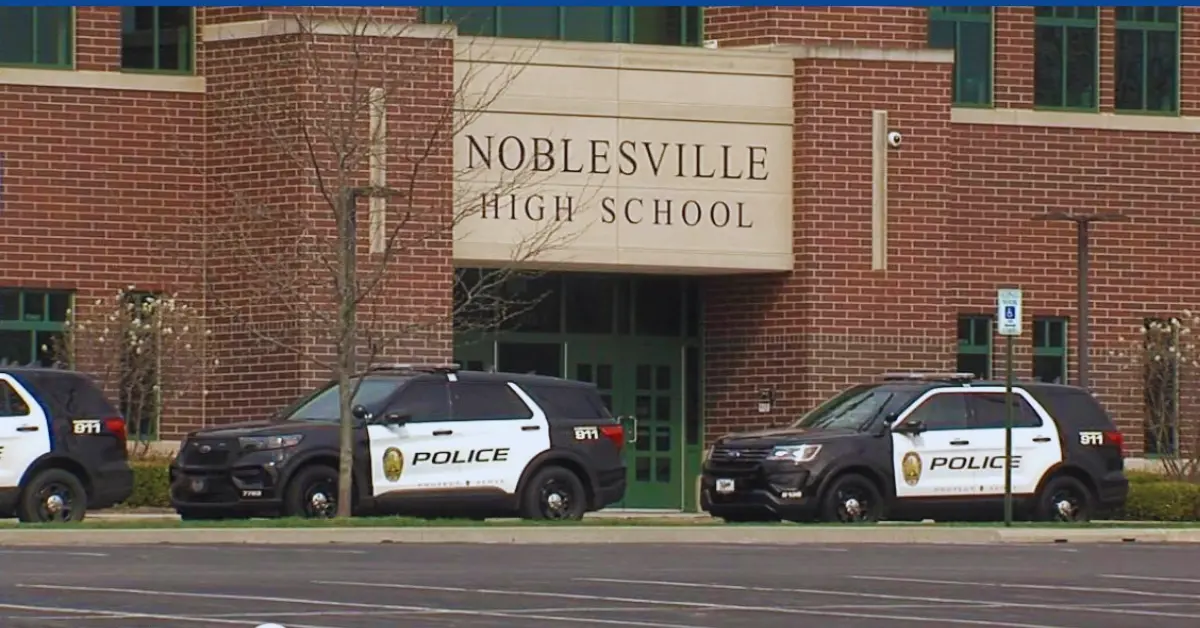 "The threat makers get a sense of power and a thrill of seeing that massive response of law enforcement and school disruption," Trump said.
Just before 6:45 a.m. on Friday, Noblesville Schools was among the first to inform the public via its Twitter account that "we received a bomb threat that was sent to approx. 40 districts in Indiana."
Since then, Noblesville Superintendent Daniel Hile has assured families through a message that all school buildings have been cleaned and that Friday evening events will proceed as scheduled. He noted that families might use the resources for support that school principals share.
"As always, please remain vigilant of your surroundings and report any suspicious activity to your principal or school resource officer," Hile wrote.
According to the information given by several school districts, the initial threats were delivered by email, and the Department of Homeland Security is looking into the matter.
According to a representative for the agency, the FBI is conducting the investigation alongside state and local law enforcement organizations.
ISP states troopers will cooperate with their local districts to provide assistance and support.
No threats were made to any of the largest school districts in central Indiana, including Carmel Clay Schools, Perry, and Wayne Township Schools, Hamilton Southeastern Schools, Indianapolis Public Schools, or Hamilton Southeastern Schools.
Hamilton Southeastern Schools informed parents and staff in a message that officials do not consider the threats to be genuine.
HSE officials announced that the Fishers Police Department would boost officer presence in and near schools despite not being one of the districts targeted. On Friday, Hamilton Southeastern Schools conducted regular classes.
Check out more related articles we publish on this site:
The Indiana State Police statement was recommended to IndyStar by the Indiana Department of Education.
"The safety of our children will always be a top priority," Doug Carter, superintendent of the Indiana State Police, stated. "The Indiana State Police will continue to offer any and all resources we have to schools to ensure safety for our students."
IPS Did Not Receive The Initial Threat Email Sent To Several Indiana Schools
The spokeswoman for the Indianapolis Public Schools district initially said that there had been no bomb threats and that classes were held according to schedule.
However, two IPS schools had to be evacuated as the day Friday went on.
Although police determined there was no threat to the school, Super School 19, an IPS innovation school on the near southeast side of Indianapolis, evacuated its building after receiving a threat midday and sent students home for the rest of the day, according to Marc Ransford, IPS's coordinator for media relations.
A non-credible threat prompted the evacuation of James A. Garfield School 31 on Friday as well, although children and staff later went back inside, according to Ransford.
Tyler is a passionate journalist with a keen eye for detail and a deep love for uncovering the truth. With years of experience covering a wide range of topics, Tyler has a proven track record of delivering insightful and thought-provoking articles to readers everywhere. Whether it's breaking news, in-depth investigations, or behind-the-scenes looks at the world of politics and entertainment, Tyler has a unique ability to bring a story to life and make it relevant to audiences everywhere. When he's not writing, you can find Tyler exploring new cultures, trying new foods, and soaking up the beauty of the world around him.