AL BIRMINGHAM — The Crimson Tide's pursuit of a national championship has been overshadowed by a fatal shooting in January that involved members of the top-ranked Alabama men's basketball team.
However, the shooting may have been even deadlier because surveillance footage revealed two players in a car hit by bullets in the crossfire.
Jamea Harris, a 23-year-old passenger in the automobile, was murdered in the shootout, which caused bystanders to run for cover.
Brandon Miller, a vital member of the Crimson Tide, and Kai Spears, a freshman walk-on whose presence at the scene had not been previously revealed, were passengers in another damaged car.
At least four Alabama players, including Spears, have now been positioned at the shooting scene early on January 15 in Tuscaloosa as bars along The Strip, a well-liked hangout for students near campus along University Boulevard, began to empty.
Former Alabama basketball player Darius Miles is currently being held in the Tuscaloosa County Prison on allegations of capital murder.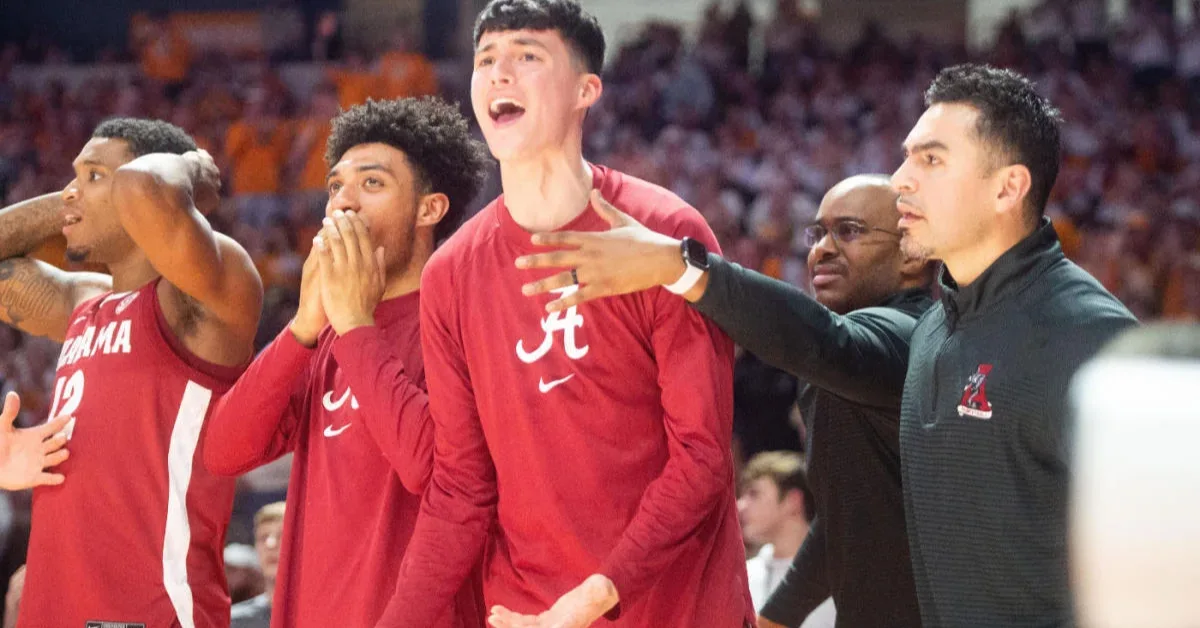 He is accused of giving his weapon to childhood buddy Michael Davis, who is charged with capital murder and is thought to have fired the shot that killed Harris.
A grand jury last week indicted Miles and Davis. Davis's attorney claimed that Davis had acted in self-defense, while Miles's attorney argued that evidence not presented to the grand jury demonstrated Miles' innocence.
A freshman guard named Jaden Bradley was also present. Reviewing the camera footage revealed that his vehicle was parked in front of Miller and Spears in a constrained lane that crosses University Boulevard. A Jeep with Harris was sitting in the front passenger seat behind Miller and Spears.
Davis may be seen on camera approaching the Jeep from the rear and along the driver's side. Flashes from bullets could soon be seen coming into and going out of the Jeep.
Davis looked injured and staggered backward into a telephone pole after firing multiple shots. He got his bearings again and circled in front of Bradley's automobile, firing at the Jeep. Two bullets hit Miller's car's windscreen. Neither hit Spears nor Miller.
Spears, a freshman who hasn't played this year and is the son of Marshall University's athletic director, Christian Spears, said, "I'm sorry, I'm not going to be able to speak about it.
In the locker room that Alabama was using for practice on Wednesday, Kai Spears briefly discussed Thursday's matchup against Texas A&M-Corpus Christi in the opening round of the NCAA tournament. Miller also chose not to respond. The institution has tried to disassociate itself from the shooting in the wake of it.
Miles was dismissed from the team and kicked out of school within hours of his arrest, and the involvement of other players — of which the school was aware — was kept quiet as the Crimson Tide established themselves as the toast of the Southeastern Conference and one of the best teams in the country.
At a pretrial hearing on February 21, a police investigator provided testimony on the presence of Miller and Bradley at the scene. He claimed that Miles had contacted Miller to come to get him and to pick up "my joint," which was Miles's gun, which he had left in Miller's car's back seat.
The detective also noted that Miller's automobile contained an unnamed passenger. That person was recognized as Spears by a source with knowledge. Under anonymity, they spoke about the case's delicate issues.
In a statement following the release of this story, a spokeswoman for the Alabama athletic department, Jessica L. Paré, said that "based on the information we have, there were no current student-athletes present at the incident other than Brandon Miller and Jaden Bradley."
Reporting from @billywitz: a fourth Alabama basketball player was at the scene of the fatal shooting in January. And he got the real name cretin in the shirt at the SEC tournament. https://t.co/21S0wDO02Q?

— Pat Forde (@ByPatForde) March 16, 2023
Paré frequently turned off requests for comment on the assertion. A note asking Christian Spears for comment received no response.
The decision to keep playing Miller, which Alabama's athletic director Greg Byrne claimed was decided in consultation with university president Stuart R. Bell, has drawn criticism from some quarters in recent weeks.
Coach Nate Oats of Alabama initially referred to Miller's involvement as being in the "wrong place at the wrong time" before retracting that statement.
Miller held his arms out during introductions at home games as a teammate patted him down as if looking for a weapon, prompting another apology.
Miller, a 6-foot-8 big expected to go high in the N.B.A. draught, has drawn attention since it was revealed that he was present during the incident.
He has performed remarkably well, scoring 41 points in his first game after the pretrial hearing, including the game-winning basket in overtime against South Carolina.
The most outstanding player award for the S.E.C. tournament went to Miller after Alabama won the championship on Sunday in Nashville, near his hometown.
He has succeeded despite being heckled by Vanderbilt and South Carolina supporters throughout the conference tournament with yells of "Brandon Killer" and "lock him up," respectively.
Miller had an armed guard with him when he attended a news conference on Wednesday.
"If you guys saw some of what I've seen sent his way, I think you would understand why that's the case,"
stated Oats, who mentioned that Miller had received threats via anonymous email but chose not to go into further detail.
Several people's stomachs churned when two Alabama fans arrived at the semifinals of the Southeastern Conference tournament on Saturday wearing personalized T-shirts. On the back, the shirts read: "Killin' our way through the S.E.C. in '23."
The S.E.C. declared that anyone wearing the T-shirt would not be allowed to enter the arena for Sunday's championship game since it was considered awful taste.
At the event, a conference spokesman said that no one had been seen wearing the T-shirts by security personnel.
Just after halftime on Saturday, a man introduced himself as Jimmy Johnson from Mobile, Alabama, and stated, "It's designed to make you think. The man, whose real name is Jason O'Rear, hung up when reached by the Times on Wednesday without responding.
Last week, he used an expletive when referring to the incident as a tragedy but asserting that Oats and Miller were the targets of unjustified attacks. "The media is going to cancel Miller," he said.
"Now, I don't condone anything about what happened, but I know where the media will come crashing down and try to ruin a guy's career. I know where the clicks are."
Was he sure he'd feel any different if his daughter had been killed?
Here are more related articles we are posting:
"I don't know," he said.
Because most students have left town for spring break, The Strip in Tuscaloosa has seen most establishments close this week. Few people still there seem open to talking about the shooting or the university's response.
"Jamea Harris should be living her life and raising her son,"
said Walt Maddox, the mayor of Tuscaloosa.
"Her murder, as with every senseless act of violence, weighs on all of us. Our words are inadequate to comfort her family; however, our actions matter to ensure justice."
Yet on a security video, Bradley, a freshman from Rochester, New York, peels off and turns onto University Avenue as Davis stumbles into a parking lot after firing at least eight shots and taking one to the shoulder.
As Miller pursues them, the Jeep, also carrying the fatally wounded Harris, sideswipes Miller and Spears. This could have been a far bigger disaster as one bullet-riddled vehicle sped past the other.
Tyler is a passionate journalist with a keen eye for detail and a deep love for uncovering the truth. With years of experience covering a wide range of topics, Tyler has a proven track record of delivering insightful and thought-provoking articles to readers everywhere. Whether it's breaking news, in-depth investigations, or behind-the-scenes looks at the world of politics and entertainment, Tyler has a unique ability to bring a story to life and make it relevant to audiences everywhere. When he's not writing, you can find Tyler exploring new cultures, trying new foods, and soaking up the beauty of the world around him.