Hurricane Idalia slammed into southern Georgia after wreaking havoc on Florida's Gulf Coast with life-threatening storm surges, killing at least two people and knocking out power to hundreds of others.
More than 275,000 individuals in Florida were without power as of late afternoon. At least two people were killed in weather-related car accidents in Alachua and Pasco counties. In Georgia, approximately 190,000 people were without power.
Prior to the hurricane, at least 30 of Florida's 67 counties issued some sort of evacuation order. Idalia made landfall as a Category 3 hurricane in the morning at Keaton Beach on the Big Bend coast, less than 90 miles from the state capital of Tallahassee, according to the National Hurricane Center.
7:45 AM EDT update: Extremely dangerous Category 3 Hurricane #Idalia makes landfall in the Florida Big Bend. Maximum sustained winds were estimated to be 125 mph. Catastrophic storm surge and damaging winds ongoing. pic.twitter.com/umMdj8dD5d

— National Hurricane Center (@NHC_Atlantic) August 30, 2023
Idalia will weaken further as it goes inland but will remain a hurricane as it moves past southeastern Georgia and southern South Carolina this afternoon or evening. According to the National Weather Service in Atlanta, parts of Georgia were bracing for 40- to 50-mile-per-hour gusts and flooding.
Idalia will become a tropical storm as it approaches the coast of North Carolina on Wednesday night and Thursday, 31, August 2023.
NEW: Hurricane Idalia's storm surge finally receded from Horseshoe Beach in Florida's Big Bend

Here's the drone view of the damage. THREAD 1/ https://t.co/u4QoSPmr1v pic.twitter.com/umUhGILv76

— Max Chesnes (@MaxChesnes) August 30, 2023
President Joe Biden met with the governors of Florida, Georgia, South Carolina, and North Carolina on Wednesday to express the federal government's complete support for the emergency response.
In preparation for the hurricane making landfall, Biden signed an emergency declaration for Florida on Monday. The FEMA has sent 1,500 government responders and 540 search and rescue professionals to the devastated area in Florida.
Hurricane Idalia arrives just weeks after terrible wildfires ravaged Maui, Hawaii, destroying the ancient town of Lahaina and killing at least 115 people while inflicting billions of dollars in damage. Climate change has increased the frequency of recent natural disasters.
FEMA Administrator Deanne Criswell said she will fly to Florida on Wednesday and meet with Gov. Ron DeSantis on Thursday to assess the extent of the damage caused by Idalia.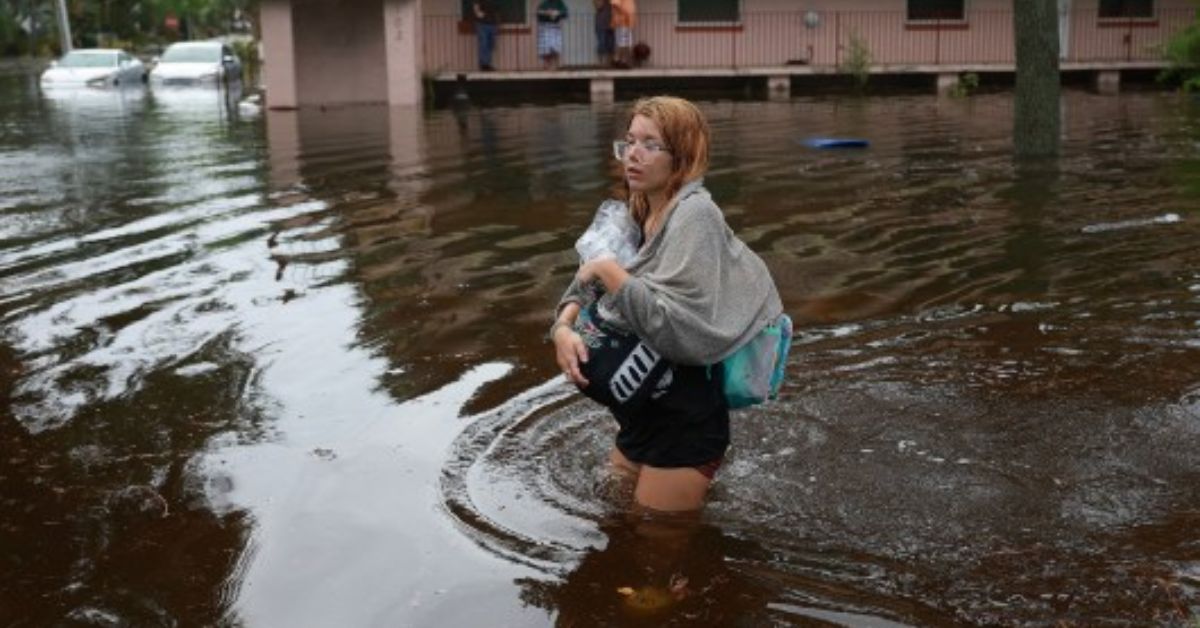 During a separate briefing at the White House, Criswell informed reporters that determining the extent of Idalia's damage would take many days.
Idalia flooded western Florida's coastal villages. The river gauge in the small village of Steinhatchee on the Big Bend coast rose from 1 foot to 8 feet in an hour.
The Florida National Guard is now undertaking search and rescue operations throughout Florida's western coastal counties. The Guard is fully mobilized, with over 5,000 military personnel assisting with the emergency response. Tennessee is deploying extra National Guard personnel to assist with the response.
American Airlines has ceased operations in Tampa, Sarasota, Tallahassee, Gainesville, and Savannah, Georgia, canceling 167 flights. The airline intends to continue operating normally in Ft. Myers, Key West, Orlando, and Daytona Beach.
The Tampa airport will reopen to incoming planes at 4 p.m. Wednesday and fully reopen at 3 a.m. Thursday. Gainesville airport will reopen Wednesday night, while Tallahassee airport will reopen first thing.
Conclusion:- For more latest updates, stay connected with us always. Check out blhsnews.com for the most recent news on your favorite stars. You should save our site to your bookmarks so you can return to read our most recent posts as soon as they become available.
Check out the posts below if you're interested in reading more about the news:-
Tyler is a passionate journalist with a keen eye for detail and a deep love for uncovering the truth. With years of experience covering a wide range of topics, Tyler has a proven track record of delivering insightful and thought-provoking articles to readers everywhere. Whether it's breaking news, in-depth investigations, or behind-the-scenes looks at the world of politics and entertainment, Tyler has a unique ability to bring a story to life and make it relevant to audiences everywhere. When he's not writing, you can find Tyler exploring new cultures, trying new foods, and soaking up the beauty of the world around him.