More than a fifth of California's 10,000 K-12 schools is at a high or moderate risk of flooding, according to an analysis of federal data by EdSource. T
his is due to the state's 10,000 K-12 schools being subjected to torrential rains from heavy storms and rivers bursting their banks due to a record Sierra snowpack that is about to melt.
According to Federal Emergency Management Agency data, floods similar to those that have already swept through schools in Alameda, Merced, and Monterey counties this year, causing millions of dollars in damages, may affect schools in flood-prone areas that are, in some cases, protected by aging, weakened levees with poor safety ratings.
According to Jeffrey Mount, a geomorphologist and senior scholar at the Public Policy Institute of California specializing in flood and water management, flooding in the Tulare and San Joaquin basins in the Central Valley in the upcoming months "seems inevitable."
"We're looking at a pretty epic spring in those places. We're really going to see some considerable hardship in these small rural communities once this snow begins to melt," he said.
He asked local governments, public organizations, and educational districts to begin planning immediately.
According to the state Department of Water Resources, the snowpack in the southern Sierra was measured on Monday to be more than 300% higher than it typically is on April 1 of a given year. The statewide average was 237% higher than the average.
At 7,000 feet in elevation, Bear Valley Elementary School in the Alpine County Unified School District has accumulated so much snow that it has been forced to close for fear that the roof could collapse. Its seven pupils are enrolled in lessons at the neighborhood library.
"The fact is there is quite a lot of water in the water cannon pointed west in the Sierra. And these storms just keep loading it up," Mount said.
According to FEMA data that was last updated in 2009, Tulare County in the southern Central Valley, where flooding brought on by breached levees submerged the unincorporated towns of Allensworth and Alpaugh last month, has the most schools in the state that are classified as being at high flood risk—35.
Cities like Visalia in Tulare County, as well as Firebaugh and Mendota in western Fresno County, were singled out by Mount as being particularly vulnerable.
"Mendota, Firebaugh, places like that are on the San Joaquin River and have schools within them. They're in deep trouble," Mount said.
According to data, the six campuses in the Firebaugh-Las Deltas Unified School District are all highly susceptible to flooding. According to statistics from the State Department of Water Resources, the area's levees have an unacceptable safety rating.
These levees, constructed to stop rivers from overflowing, are "in pretty bad shape. They've been severely neglected over the last 100 years, certainly in the last 50 years," Mount said.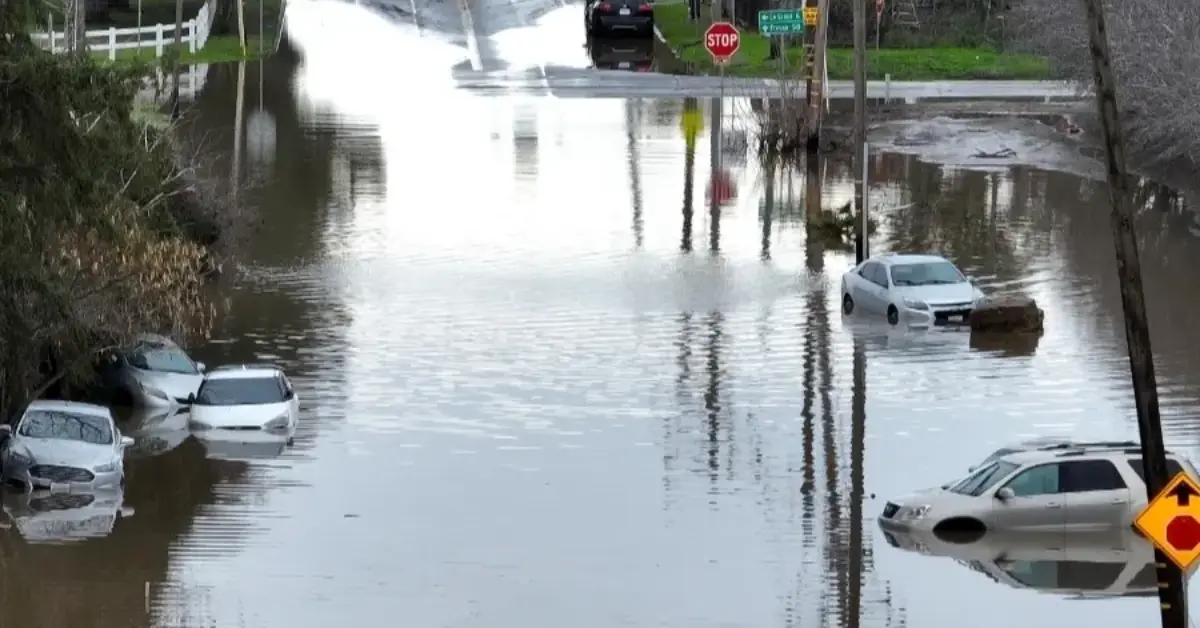 The school district prepares for the flood risk by preparing staff, students, and their families. Roy Mendiola, the superintendent, has urged families and employees to gather their most crucial documents into a "go bag."
Students will be transported to a produce warehouse on high ground across from the school in the event of an evacuation. With the area's largest fleet of buses and vans, the school system intends to assist in evacuating neighborhood residents.
Local organizations have played a crucial role in disaster planning, including the city of Firebaugh and its police force. Officials at the Planada Elementary School District, recently destroyed by flooding across the valley, provide Mendiola with extra guidance.
Yet according to Mendiola, the state has not offered any advice on getting ready. Instead, he has received emails on handling storm-related damage."It wasn't so much, 'Here's what you could do to prepare a plan for an emergency like that,'" said Mendiola.
38 out of 42 schools in the Visalia Unified School District in Tulare County, on the eastern side of the valley, are at high or moderate risk of flooding, according to data.
Ten are in grave danger. Cristina Gutierrez, a spokeswoman for the district, declined to make officials available for an interview. She stated in an email that the community communicates with the U.S. Army Corps of Engineers, which tracks river levels, and Visalia municipal authorities.
Tim Hiring, the superintendent of schools for Tulare County, stated that the county's school administrators are "carefully watching and making decisions day by day" regarding how to continue. They all desire pupils in the classroom, but only if it is secure.
According to Carlos Molina, a meteorologist with the National Weather Service in Hanford, floods will undoubtedly occur.
According to him, the amount of water released from the mountains due to snowmelt will be twice what reservoirs from Yosemite in the north to Lake Isabella in the south can contain simultaneously.
What rivers are likely to flood? Pick your pick," Molina commanded, naming several options: a Kern. The ruler. San Joaquin.
"They will be having problems from now until later this summer."
The Pajaro Flood
On March 11, floodwater flooded the farming hamlet's center after a 75-year-old levee holding back the Pajaro River from the unincorporated Pajaro settlement in northern Monterey County failed.
Pajaro Middle School, as well as residences and businesses, were in its way. The school's grounds were drowned and its classrooms were flooded.
On March 24, Tony Thurmond, the state superintendent of public instruction, visited the school. Some classrooms were still damp. Indoor and outside walks are covered in mud.
Thurmond's crew members wore knee boots while they explored the structure. Michelle Rodriguez, superintendent of the Pajaro Unified School District, stated that the delay in the cleanup was due to the incomplete work of the insurance adjusters.
It had been over two weeks since the flood, and there were worries that mold might worsen the damage. At the same time, he spoke on the phone with the insurance company executive for the school while in front of the cameras, Thurmond pleaded for the claim to be processed quickly.
Thurmond, a former member of the state Legislature, praised aid workers and expressed compassion for evacuated families, at one point making a taped statement to them in Spanish. Still, he seemed to lack a fundamental understanding of the issue.
When asked during a press conference how many other schools in the state experienced floods on par with Pajaro Middle, he declined to give a figure.
Thurmond answered by listing the several dangers that schools confront. "Before we were talking about floods, we were talking about wildfires, power-safety shut-offs, and, of course, we're still overcoming the impacts of a pandemic. Sadly, it's become the new normal for school disruption."
According to spokesperson Scott Roark in an email, the state Department of Education regularly consults with other state agencies and the National Weather Service regarding the possibility of flooding at schools.
In March, the department sent warnings to 489 schools in 10 counties about how to cope with flood dangers based on models created by the state's Department of Water Resources. This was during a series of back-to-back atmospheric floods.
According to Abel Guillen, the deputy superintendent of public instruction, the material was disseminated through regional county offices of education. The Tulare Basin, which includes both Tulare and Kings counties, is home to several schools on that list.
Schools on those lists are urged to revise their emergency plans, verify that they have flood insurance, inventory and take pictures of expensive equipment, transfer computers out of low-lying places, start sandbagging, and increase communication with local emergency services.
Overall, 10,628 California schools, some of which are housed in shared facilities, have flood ratings according to FEMA statistics. Two thousand two hundred thirty have a high or moderate risk of flooding.
Three hundred ninety-eight of them have a high flood risk. There are another 383 identified as potentially in danger of flooding, but there is insufficient data to provide a more precise assessment.
Because the FEMA flood maps do not include the remaining 56 schools, their risk is uncertain. All are in the counties of Alpine, Sutter, and Yuba. Seven thousand nine hundred fifty-eight schools have been classified as low-risk.
Only three of the 58 counties in the state—Amador, Calaveras, and San Francisco—have all their schools classified as low-risk.
According to data, some high-risk schools were constructed on floodplains, floodways, or other areas where floodwaters are expected to pool. Others were erected in areas where floodwaters were anticipated to cross school property.
Data indicate that 602 schools with a moderate or high-risk rating are designated as having a lower risk due to levee protection. About half are in the counties of Los Angeles and Orange, which are urban areas.
FEMA has identified the middle school in Pajaro as having a high risk of flooding since it is situated in a sheeting area where water would pour over the school grounds. That occurred on March 11 when the adjacent levee, constructed in 1949, was breached.
Since then, the town has flooded four times, and local politicians vehemently lament the lack of levee upkeep. A river separates Monterey and Santa Cruz counties.
According to a March 26 Mercury News article, Santa Cruz County spent five times as much on the upkeep of the levee on its side of the river as Monterey County did. When the river was below flood stage, the levee gave way.
The state's levees will be tested when the record snowmelt hits rivers in the coming months, according to Farshid Vahedifard, an engineering professor at Mississippi State University who has in-depth knowledge of California's system of more than 21,000 kilometers of urban and nonurban levees.
Many, he claimed, are outdated earthen berms that were never intended to be used as vital infrastructure.
"I won't be surprised if I see more failures," he told EdSource.
Mount put it succinctly: "There are only two kinds of levees," he said. "Those that have failed and those that will fail."
They will face a significant test around Memorial Day, according to Mount, as snowmelt overwhelms the water systems just as schools finish the school year and prepare for summer programs. Using schools as shelters during emergencies or as gathering places might be more difficult.
According to Mount, the impending tragedy in the Southern Sierra will "go last months and may take years to recover from."
The Filthiest Water Imaginable
Water naturally ran to the lowest areas in town when severe rains on January 9 caused a creek to flood and a levee to collapse in Planada, an unincorporated settlement in Merced County.
This included the grounds of Planada Elementary School, established in 1955 below flood level. FEMA classifies the school as having a high risk of flooding and as a "special flood hazard area," where water will pool without anywhere to go.
"The filthiest water imaginable" flooded the school, stated Jose Gonzalez, the district's superintendent for Planada Elementary School. "There were porta-potties floating throughout the community. There were dead rodents."
Twenty-six classrooms from the first to fifth grades were destroyed. 4,000 books were also. The estimated rebuild cost, which includes elevating the property above the floodplain, is $12 million. The start of the job has not been set.
Before kids could enroll in classes at a nearby school that didn't flood, the school was closed for eight days.
Gonzalez said the floodwaters came quickly. Yet that took place after school had ended. If the identical circumstances had existed during a school day,  "It would have been complete chaos," he said.
For Gonzalez, the catastrophe was nothing new. Moreover, a storm in 2018 caused the school to flood.
"They said (2018) was a 100-year flood," Gonzalez said. Federal and state officials told him,'"Don't worry, it's not going to happen again,"' he said. "Five years later here we are."
The district lacked flood insurance in 2018. Nonetheless, it was able to ally with other local communities to form a joint powers authority and purchase insurance that paid for the damage from January. He predicted that the levee break would result in litigation.
There is a track and a soccer field in the neighborhood. Gonzalez said it might be lowered to act as a "ponding basin" where floodwater could be channeled, with the area at the bottom and the track around the top. Things "they don't teach you in superintendents' school" like water rights, hydraulics, and meteorology had to be learned by him.
"Any time there's a light rain I drive out to check the creek," he said. "It's just part of the routine."
In California, schools used to be able to be constructed wherever a local district could find and afford land. They have erected that meaning in the Pajaro River floodplain or the lowlands of Planada.
"Finding land for new schools isn't easy. It's only getting harder as the cost of land increases," said Jeffrey Vincent of UC Berkeley's Center for Cities & Schools. "It's not like they get the pick of the litter."
Schools can be built anywhere school boards can obtain land since they can override other local agencies on land use issues.
Yet in 2018, one district decided not to construct a floodplain.
According to Jack "Woody" Colvard, a facilities management consultant for the Kern County superintendent of schools, the Kern High School District declined to construct a new school in a floodplain to serve the unincorporated town of Lamont.
He had previously worked for the Kern High School District, which had looked at several options for constructing the school in Lamont but found none were workable.
One suggestion was to purchase 180 acres for a 120-acre campus; the remaining 60 acres would provide the earth necessary to lift the school above the floodplain.
The grading alone would cost $5 million on a project like that. Also, according to Colvard, it was thought of to construct canals that would allow floodwaters to pass by the school.
With these choices, the school would become an "island." Colvard said that's a concern because schools should also be places where the community can gather food, water, and other essential resources in addition to being safe in an emergency.
The state views schools as the "backbone" of emergency response activities in the event of an earthquake, according to Assemblymember Al Muratsuchi, a Democrat from Torrance.
There have been conversations about how California may prepare school facilities for the effects of climate change that have raised the risk of wildfires, heat waves, and flooding as the Legislature drafts another state bond bill for school facilities.
"We've been having ongoing discussions about how the bond should acknowledge the realities of climate change," he said.
One clause that may be added to the bond measure would allow the state to buy portable classrooms so that schools could rapidly use them in an emergency.
Nonetheless, a recent significant storm caused damage to a school that FEMA has classified as having a low risk of flooding.
Here are more related articles of school news we posted:
There is only one school in the tiny Sunol Glenn Unified School District in the eastern Alameda County hills. Sinbad Creek, a brook, flows behind it.
Superintendent Molleen Barnes claimed that besides requesting that some branches be removed from under a nearby bridge that crossed the creek, she never gave the waterway any care.
She claimed that the creek typically "flowed at a trickle" at a depth of 15 to 17 inches.
Barnes then started receiving texts from parents on December 31st and into the early hours of January 1st informing her that the school grounds were flooding.
Sinbad Creek had jumped its banks and risen to 24 feet as an air river unleashed torrential rainfall. The branches beneath the bridge were not cleared.
Barnes told EdSource, "Of course, we'd been in a drought and this hadn't been on our radar." The school grounds were coated in 18 inches of mud when the flood subsided.
The foundations of three modular classrooms were destroyed. Fencing collapsed. Damage was done to an office and a classroom. It was necessary to inspect the entire structure for mold.
There was no flood insurance for the district. According to Barnes, the damage was estimated to be worth $1.8 million.
"The school's 100 years old and it never flooded, "Barnes said. "This isn't something we'd even thought about."
Tyler is a passionate journalist with a keen eye for detail and a deep love for uncovering the truth. With years of experience covering a wide range of topics, Tyler has a proven track record of delivering insightful and thought-provoking articles to readers everywhere. Whether it's breaking news, in-depth investigations, or behind-the-scenes looks at the world of politics and entertainment, Tyler has a unique ability to bring a story to life and make it relevant to audiences everywhere. When he's not writing, you can find Tyler exploring new cultures, trying new foods, and soaking up the beauty of the world around him.