The Kewanee Police Department was notified of a potential school shooting threat at Kewanee High School on Thursday, Aug. 24, 2023, at approximately 4 p.m., and launched an investigation.
Two male youths, ages 16 and 14, were arrested in connection with the threat. After a firearm and paraphernalia were discovered in one of the teenagers' homes, they were detained for making false terroristic threats, unlawful possession of a firearm, and unlawful possession of ammunition.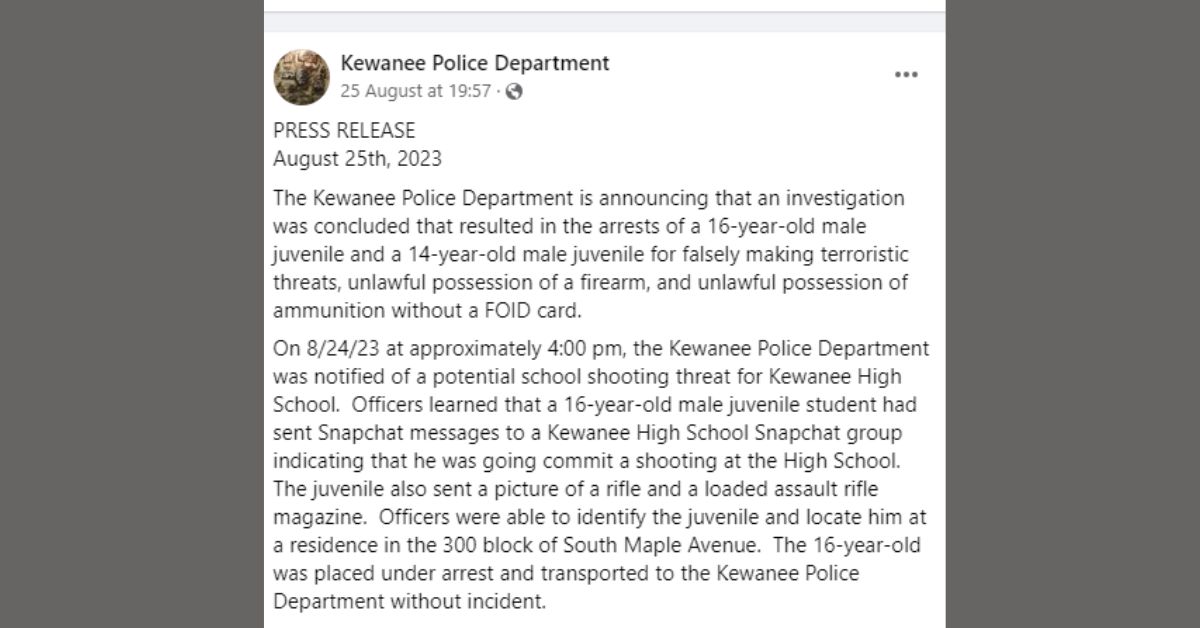 Officers were notified of the threat after learning that the 16-year-old had been posting messages in a high school group chat on Snapchat indicating that he was going [to] commit a shooting. A picture of a firearm with a filled magazine was also supplied. Officers were able to identify the 16-year-old and arrest him.
Police were directed to a 14-year-old boy who was communicating with the second suspect after further inquiry. The 14-year-old was the one who advised the 16-year-old to send the photo of the gun to the high school group chat. The 14-year-old also urged him to say he would shoot up the school and that he would give him the gun if he needed it.
After identifying the 14-year-old, officers went to his home and chatted with him and his grandmother. During their conversation, authorities discovered plain-view evidence and secured a search warrant for the residence. Officers discovered an AK-47-style gun, an AK-47 magazine, and 7.62×39 mm ammo.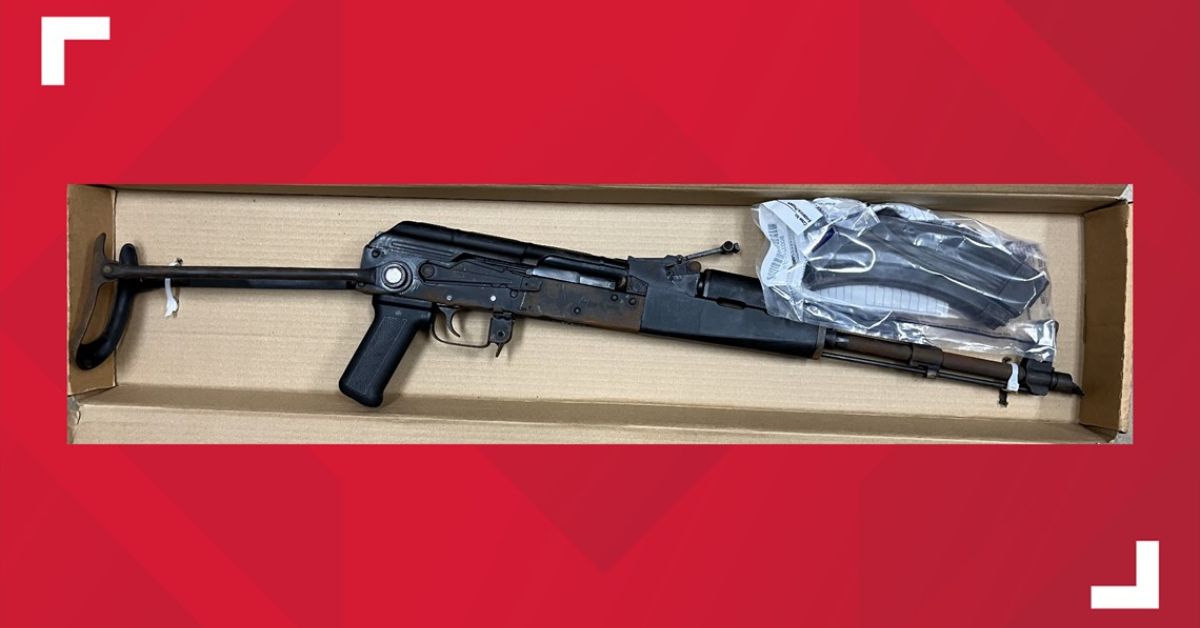 The 14-year-old was also detained and charged with conspiracy to make false terroristic threats, unlawful use of a firearm, and unlawful possession of ammunition without a FOID card. The 16-year-old was also charged with false terroristic threats conspiracy, a class two felony.
Police took both kids and were released to the custody of their guardians. Both were given juvenile referral paperwork and are scheduled to appear in juvenile court at the Henry County Courthouse. The press release from the police department states the following:
"At this time, the Kewanee Police Department does not believe there to be an imminent threat to the school or the students.  However, there will still be a police presence at the school and associated events to help ease any concerns of parents or community members.  The Kewanee Police Department would like to thank Kewanee School District officials for their cooperation in conjunction with this successful investigation.  The Kewanee Police Department would also like to remind citizens and students to immediately inform school officials and law enforcement of any potential statements that could endanger the safety of our area schools."
Conclusion:- If you have read this post, we would appreciate it if you would leave your feedback in the section that has been provided. You should look at our website, blhsnews.com.
Check out the posts below if you're interested in reading more about the news:-
Tyler is a passionate journalist with a keen eye for detail and a deep love for uncovering the truth. With years of experience covering a wide range of topics, Tyler has a proven track record of delivering insightful and thought-provoking articles to readers everywhere. Whether it's breaking news, in-depth investigations, or behind-the-scenes looks at the world of politics and entertainment, Tyler has a unique ability to bring a story to life and make it relevant to audiences everywhere. When he's not writing, you can find Tyler exploring new cultures, trying new foods, and soaking up the beauty of the world around him.