A seven-period school day for children and other changes that would impact courses like physical education, Future City, and zero-hour choir were authorized by the Lawrence school board on Monday.
The new curriculum combines the present lunchtime flex and advisory sessions into a single "Student Success" block. There is also the possibility of later start and release times for students, although as of Monday night, it was unclear exactly how that would work with bus timetables.
Instead of every other day throughout the whole school year, P.E. classes will be offered every day for one semester. Eighth-grade courses previously used this timetable, but sixth and seventh-grade classes, who once followed a year-long calendar with alternate days, will now use it.
The plan also eliminates the sixth-grade students' mandatory health courses. According to authorities, the health curriculum will be introduced to other classes like science and physical education.
The adjustments are made to put into effect a 50 full-time staff member reduction at the middle and high school levels approved by the school board and expected to save $3.25 million over the upcoming fiscal year.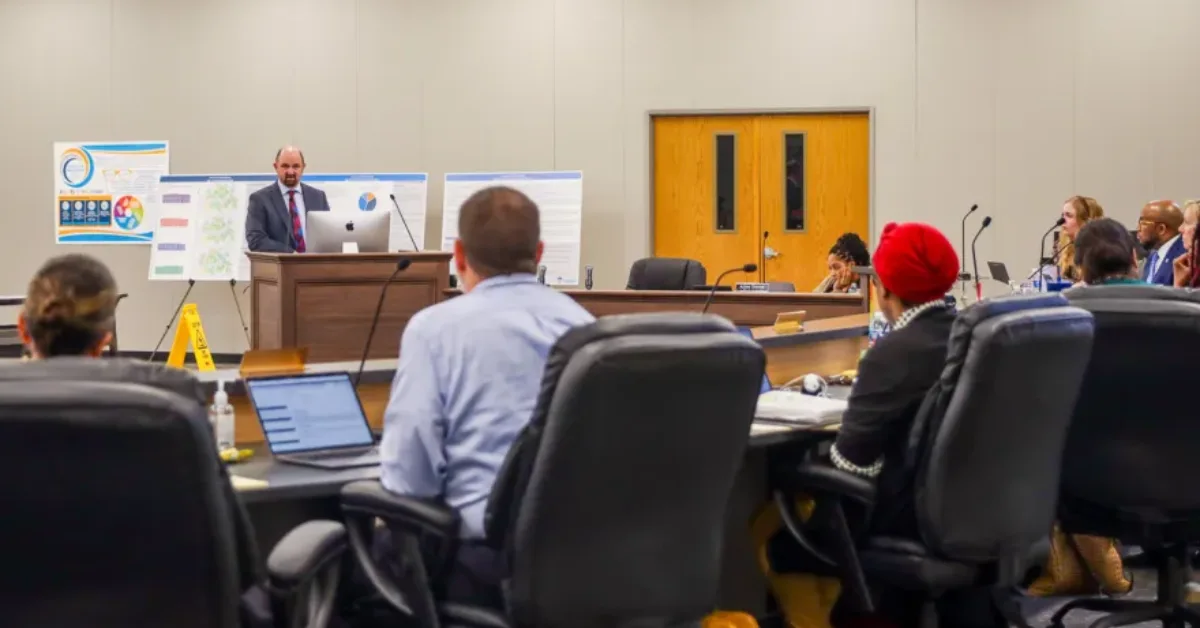 The new schedule includes two blocks of time for teachers to design lessons—one for team planning in the mornings and one for individual planning in the afternoons.
Adding Intro to AVID and Intro to STEAM classes to the curriculum was one of the changes made, along with other adjustments to how subjects in communication and fine arts are currently organized.
Shannon Kimball, Paula Vann, RG Gordon-Ross, and Kelly Jones voted in favor of the amendments, while Erica Hill, Carole Cadue-Blackwood, and Kay Emerson abstained. The revisions were approved 4-3. Later Monday, votes to close Broken Arrow and Pinckney elementary schools were divided similarly.
Patrick Kelly, the chief academic officer, informed the board of the new curriculum's considerations, including that middle school students would have fewer elective options and that the district anticipated multigrade elective programs. There will also be minimums for class sizes.
As a result of the changeover to "Student Success" periods, initiatives like Future City and Model UN would also need to be requested as classes or handled like clubs.
According to Kelly, the "Student Success" hour, which will occur around noon, would include social-emotional learning under the name "Character Strong."
"When you look at the data around our student behaviors, most of the behavior issues we have are — not surprising for middle schools — around lunchtime," Kelly said. "So it would be really great to teach our social-emotional curriculum around lunch, and then practice those skills in the lunchroom." 
The new timetable would prevent middle school choirs from being held for zero hours as they currently are. Teachers could not have before-school rehearsals due to the increased team plan time.
"This doesn't mean zero-hour choir has to go away," Kelly said. "We'll have to be creative and thoughtful with those teachers." 
The Billy Mills Middle School choir director, Garrett Viets, spoke about the value of Lawrence's talented musicians, many of them, according to him, get their start in zero-hour choirs. He emphasized how Lawrence schools consistently perform well in all-state musical ensembles.
"Lawrence Public Schools cannot afford to lose its reputation as one of the best districts for music in the state, and we can't allow zero-hour choir to be dropped," Viets said.
According to Viets, schedule issues would arise for children enrolled in band, orchestra, or gifted programs if the choir was held during the day or during the new "Student Success" session.
According to Kelly, zero-hour choir students are enrolled in nine periods instead of the typical eight under the present timetable, making them "more expensive."
It complicates planning time since teachers would have to be paid for their instruction rather than enjoying a morning of planning. He claimed that teachers and coaches involved in after-school programs would miss the group planning time if it were moved from the morning to the afternoon.
Kelly added that equality is problematic because people without transportation cannot participate. After all, parents and guardians must send their children to school early.
Becca Craft, a student board member on Monday, stated that in her experience in a zero-hour choir, kids and families collaborate to resolve these problems by setting up carpools.
Board President Kimball expressed concern about how the district's economic changes may affect children enrolled in exemplary arts programs.
According to Kelly, a career and life planning course for eighth graders is also dropped from the proposed curriculum, in part due to staffing issues, though it might be added as a high school subject.
Chris Storm, a seasoned mentor for Southwest Middle School's Future City initiative, discussed the value of Future City and the need to maintain it open to students. Earlier in the meeting, the program had just received praise for finishing 11th at the national competition in Washington, D.C.
"Anything that we're talking about here that is not fully inclusive of everybody is not the right answer," Storm said.
Read more school news articles we publish on this site:
During the public comment period, two sixth-graders from West Middle School spoke in favor of having P.E. class all year round rather than just one semester, as the new proposal suggests.
Kelly informed the board that officials believed some kids might enroll in P.E. as an elective if they required the course all year.
The health education teacher at West Middle School, Emily Bradford, spoke in favor of the middle school's health courses.
As she praised her coworkers, she pointed out that they lack certification as health educators and would not feel comfortable teaching some subjects. She argued that eliminating the health curriculum for sixth graders would be unfair to the pupils.
Board member Emerson, who abstained from the proposal, stated that she found several "extremely disturbing" elements and many "really good" elements in the plans.
"Honestly, I feel like if you guys had maybe another week on this, you probably would have it — but yeah, there's a lot of concerns for me," she said.
Patricia Gault is a seasoned journalist with years of experience in the industry. She has a passion for uncovering the truth and bringing important stories to light. Patricia has a sharp eye for detail and a talent for making complex issues accessible to a broad audience. Throughout her career, she has demonstrated a commitment to accuracy and impartiality, earning a reputation as a reliable and trusted source of news.