Herb Meyer, the most successful CIF San Diego Section football coach, has passed away. He was 87.
Meyer holds the top spot in San Diego County with a cumulative record of 339-148-15 and a winning percentage.690, ahead of Oceanside's John Carroll (226-104-9 in 26 seasons from 1989 to 2014) and Rob Gilster (243-148-5 in 34 seasons at Orange Glen and Valley Center).
Meyer became the first California high school football coach with 300 victories. He also set a record by winning 100 games at various institutions.
Meyer, who played quarterback for the football team and graduated from Pomona College in 1953, attended Oceanside High School. His record as a teacher and football coach in his return to Oceanside from 1959 through 1975 was 113-44-6.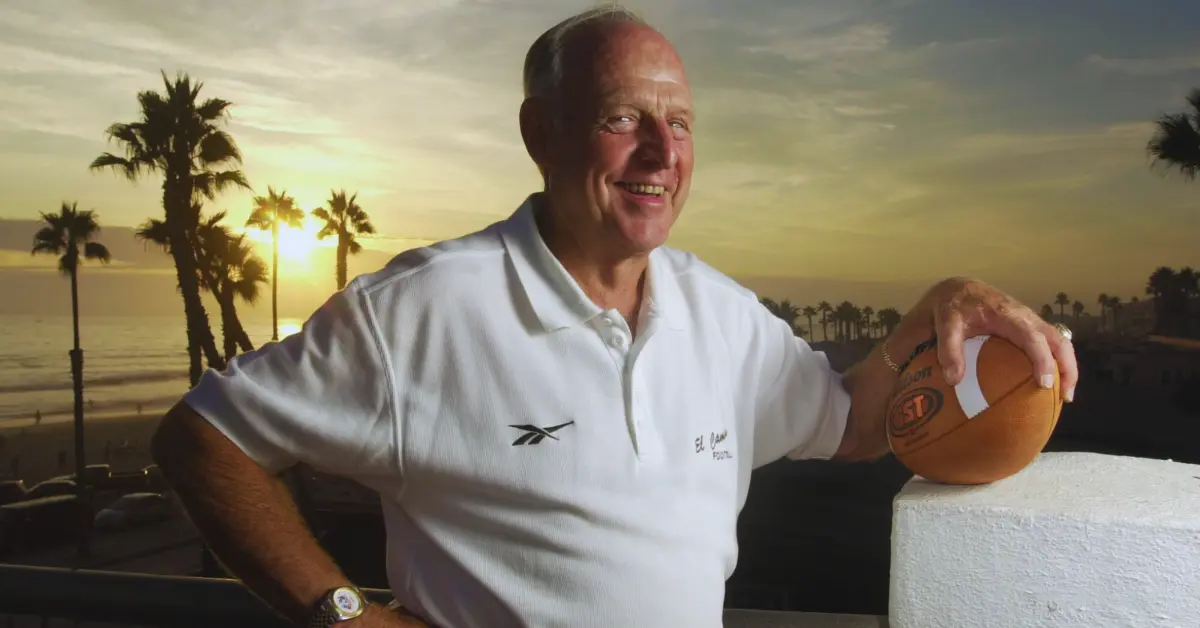 Under Meyer, the Pirates won two San Diego Section titles.
He transferred to El Camino High School in 1976. Meyer's Wildcats went 226-104-9 in 28 seasons from 1976 until he left coaching after the 2003 season, winning eight San Diego Section titles.
Meyer was the most successful football coach in Californian history at the time of his retirement.
"The news of Herb's death is a shocker," El Camino Athletic Director Blake Moorman said Tuesday. "Late last season, he was in the coaches' office, drawing Xs and Os on the board, helping the guys get ready for a playoff game."
"He was a treasure."
At El Camino home football games, Meyer and his longtime assistant Bill Kovacevich would frequently sit together in the press box.
Meyer was "wonderful to work for," according to Kovacevich on Tuesday. Kovacevich spent 23 years working for Meyer, 17 as the defensive coordinator.
"We did pretty well," he added. "He leaves a great legacy."
Meyer had 11 of his 12 seasons at El Camino with ten or more victories. El Camino had a six-season record of 68-15 between 1989 and 1994, losing twice in the championship game while capturing four San Diego Section championships.
Meyer is honored with a stadium named after him at El Camino.
Meyer was a lifetime member of the American Football Coaches Association, one of his many honors. He was the first coach from California to be inducted into the National High School Hall of Fame in 1995. He was admitted to the Hall of Fame of the National High School Athletic Coaches Association in 1997.
Meyer now receives the Southern California Football Coaches Association's Distinguished Service Award, renamed in 2010.
Meyer was the first California AD to be inducted into the NIAAA Hall of Fame in 2011. Meyer also held the position of athletic director at El Camino.
In El Camino, Trace Deneke took over for Meyer as head coach, serving in that capacity from 2004 through 2008.
Continue reading the latest news articles of school news we've published:
"I will be forever grateful to that man," Deneke said of Meyer.
Several college athletes played for Meyer's El Camino teams, including Dokie Williams, Darron Norris, Bryant Westbrook, Michael Booker, Toussaint Tyler, and Ken Stills.
Meyer's El Camino teams faced Carroll's Oceanside teams 16 times. The two coaching legends split their matches 8-8.
"We went from fierce combatants at rival schools to the best of friends," Carroll said. "Herb was the ultimate competitor. He was a stickler for organization. He was a master planner."
"Our relationship evolved over the years. After we both retired, I'd drive him to meetings for the High School Coaches Association. We'd drive down, talk football, and stop for a beer when we got back."
"Herb was a friend of all coaches. He'd help any young coach who reached out."
"He freely shared his knowledge and experience."
Carroll said the news of Meyer's death is "sad, but I'm a better person for having coached against him and having him as a friend."
Tyler is a passionate journalist with a keen eye for detail and a deep love for uncovering the truth. With years of experience covering a wide range of topics, Tyler has a proven track record of delivering insightful and thought-provoking articles to readers everywhere. Whether it's breaking news, in-depth investigations, or behind-the-scenes looks at the world of politics and entertainment, Tyler has a unique ability to bring a story to life and make it relevant to audiences everywhere. When he's not writing, you can find Tyler exploring new cultures, trying new foods, and soaking up the beauty of the world around him.