THE COLUMBIA, S.C. A federal lawsuit is centered on a video of a student making her way to class when the Pledge of Allegiance was being recited at River Bluff High School.
According to the lawsuit, the event involved 15-year-old Marissa Barnwell and occurred at River Bluff in Lexington School District One in November of 2022.
In a news conference on Thursday, Barnwell's family and lawyer discussed their legal options. They shared a video they claim captures the incident, recorded by cameras within River Bluff.
The Pledge of Allegiance plays over the school speakers as Barnwell is seen in the footage strolling down a hallway at roughly 8:40 in the morning. Every day, the Pledge is said over the intercom system.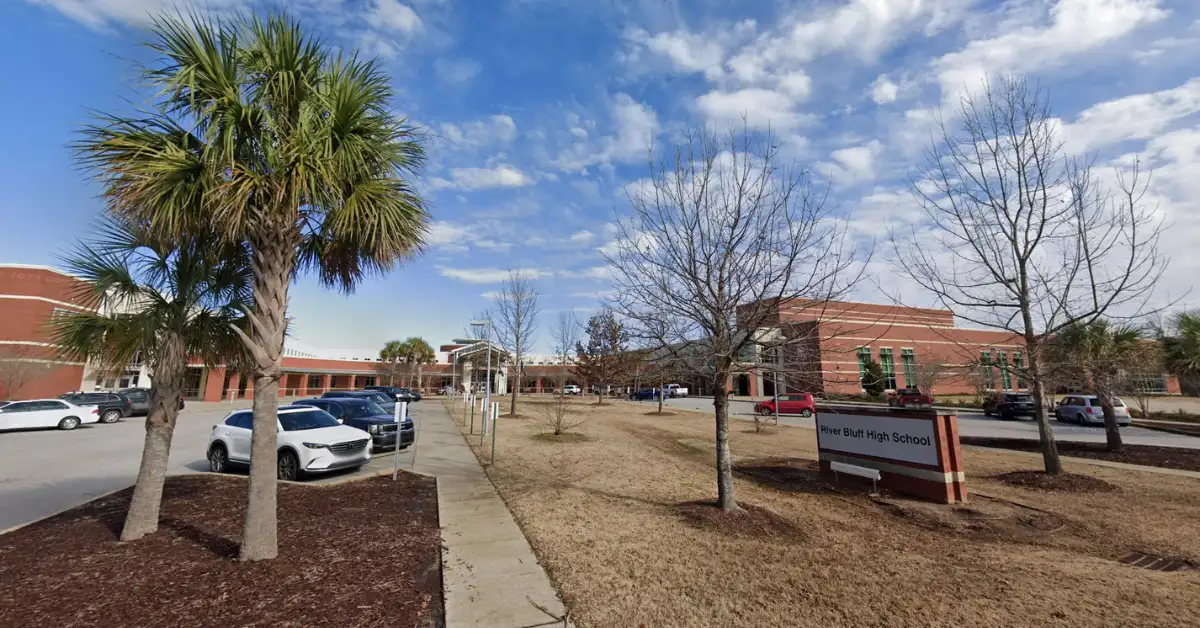 When Barnwell reaches the corner, a teaching assistant stops her.
"She pushes me into a wall, then she snatches my ID and says she's going to report me to the office," Marissa Barnwell explained. "I'm just confused and like, 'get your hands off of me, get your hands off of me,' you can hear me say that in the video. I was just in disbelief, I had never expected something like that to happen to me."
Due to this contact, the Lexington One School District and the State Department of Education are now the targets of a federal lawsuit brought by the Barnwell family.
Barnwell's parents were astounded by what they witnessed and claimed this was more serious than just their daughter skipping the Pledge of Allegiance.
"I just can't believe this has happened.  Why would a teacher, you can see it in the video, why would the teacher single out my daughter when you could see that other students are walking in this video," said her father, Shavell Barnwell.
Tyler Bailey, the family's attorney, claims that Barnwell was within his constitutional rights to refuse to stop the vow.
Read the latest news about BLHS NEWS:
"The thing that's beautiful about America is that we have freedom. We have freedom of religion, freedom of expression, freedom of speech, and students in our schools should feel safe, they should not feel threatened for exercising their constitutional rights," Bailey stated.
The Lexington One School District policy also indicates that children are not required to take the pledge.
The Lexington One School District claims that the teacher Bailey claims touched Barnwell, pushed her against a wall, and is still employed at River Bluff High School.
The employee has not been detained or charged in connection with this event, according to the Town of Lexington Police Department.
The date this action will proceed to trial is still a mystery. According to the attorney representing the Barnwell family, there will be a discussion with the attorneys engaged in the case, a time for further investigation, and yet another chance for the school system to cooperate with the family.
Tyler is a passionate journalist with a keen eye for detail and a deep love for uncovering the truth. With years of experience covering a wide range of topics, Tyler has a proven track record of delivering insightful and thought-provoking articles to readers everywhere. Whether it's breaking news, in-depth investigations, or behind-the-scenes looks at the world of politics and entertainment, Tyler has a unique ability to bring a story to life and make it relevant to audiences everywhere. When he's not writing, you can find Tyler exploring new cultures, trying new foods, and soaking up the beauty of the world around him.