Students at Loveland High School staged a walkout on Monday to express their displeasure with how the Thompson School District handled a threat that Loveland police determined to be unfounded last week and to show support for their principal, Michael James, also known as "MJ," who was placed on administrative leave on Friday as a result of the incident.
The walkout's organizer, Alyson Pike, said that teachers, who fled the school after learning of the threat and advised pupils to do the same, had been wrongly accused of abandoning their charges.
Pike addressed the about 60 students there and stated, "These teachers put their jobs on the line to protect us."
Pike blamed the Thompson School District for the incident, ultimately leading to a school day's cancellation.
"Today, we're out here, not to protest our school, its admin, its teachers or its students," Pike said. "Today we are out here to protest the district."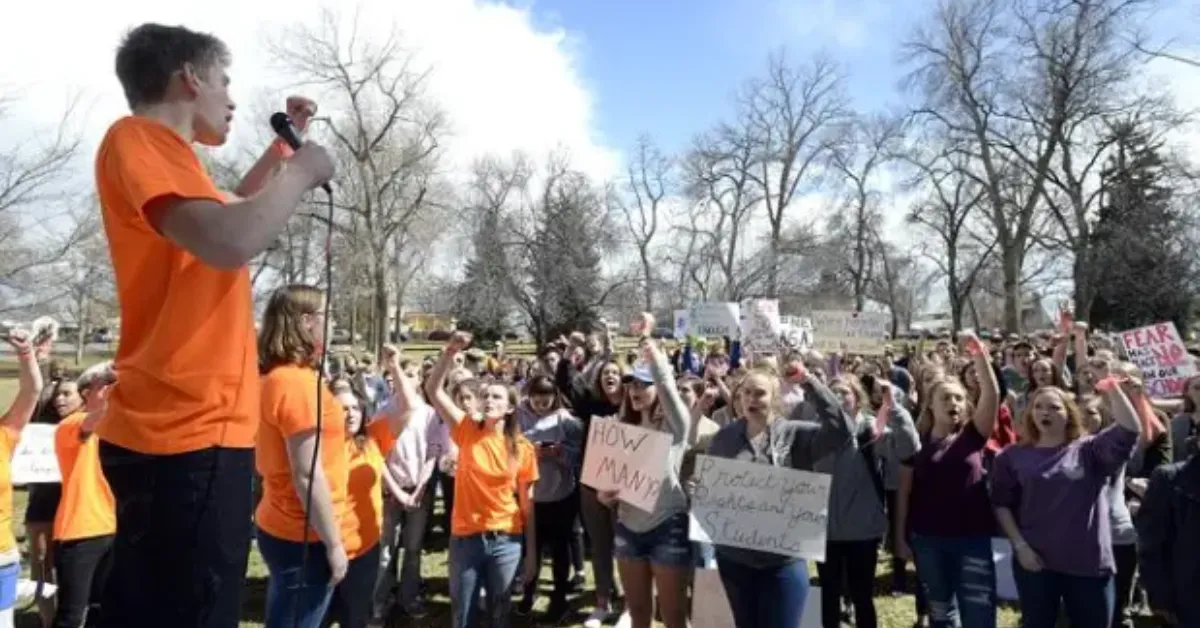 The students sent the district a list of requests and warned of more walkouts and protests if their demands weren't satisfied.
According to Pike, the students demanded that the community "hold themselves accountable for the handling of the situation in a way that resulted in unnecessary chaos and stress," that the district "disclose more information about threats to students and parents," that they are informed of the precise justification for James' administrative leave, that he not be fired, and that James not be fired.
On March 29, an anonymous tip was sent through the state of Colorado's Safe2Tell system, and staff members were informed of it during a morning meeting. The Loveland Police Department looked into the threat and determined it wasn't credible.
During the meeting, a few teachers told kids to leave before leaving the building themselves when the first students came to school for the day.
Soon after 10 a.m., due to the ensuing confusion and disruption to the school schedule, the school system decided to cancel the rest of the day.
Check out more articles of school news we are posting:
The following morning, James addressed the kids and staff in a message over the intercom, assuring them that the procedures were followed and that neither the staff nor the students were in danger. James also stated that the incident allowed the building to develop.
"Yesterday was a learning experience for our entire team and I want to assure you that we are carefully evaluating our processes and protocols to help ensure that we continue to foster the positive and supportive learning environment that our families deserve,"  After the incident, James sent parents an email.
At the demonstration on Monday morning, James was defended and told not to be fired by students.
"What we know is that MJ is kind," Pike said. "He's been part of our musicals, goes to our games, made efforts to know every single student by name, and made an even bigger effort to know us as humans."
Students mingled around the open space outside Loveland High School after Pike's address, before leaving for home. Pike stated that the event would remain throughout the third period, which started at roughly 10:15 a.m.
"I think it's really cool, people speaking out about this serious topic," said Maddy Brown, an LHS freshman who debated participating in the walkout but ultimately showed up. "I think it's really brave. I like that a lot."
Patricia Gault is a seasoned journalist with years of experience in the industry. She has a passion for uncovering the truth and bringing important stories to light. Patricia has a sharp eye for detail and a talent for making complex issues accessible to a broad audience. Throughout her career, she has demonstrated a commitment to accuracy and impartiality, earning a reputation as a reliable and trusted source of news.