According to authorities, two Montgomery High School students allegedly found with knives on Friday were detained the day after the school sent them home with their parents.
The Santa Rosa Police Department says that the two juveniles, who are 15 and 17, are suspected of felony weapon possession on school property.
However, neither find is connected to the Montgomery stabbing on March 1, which resulted in the death of a 16-year-old junior, the injury of another, and the arrest of a 15-year-old freshman accused of voluntary manslaughter.
Police are still looking into why the knives were brought to school.
"There's nothing I know of or have been told about whether these are related to each other," Sgt. Chris Mahurin of the Santa Rosa police stated on Monday.
School administrators used social media to learn about the Friday incident involving a 15-year-old with a weapon on campus.
Two Students Arrested for Knives on Montgomery High School Campus; Santa Rosa Police Department Officer Assigned to MHS Campus Monday and Tuesday

For more information, go to:https://t.co/0wiLpyIT5R pic.twitter.com/ozvU28pxoK

— Santa Rosa Police (@SantaRosaPolice) March 13, 2023
According to officials, the adolescent was spotted passing a 4-inch folding knife to the 17-year-old suspect as he was being taken out of class. The blade was seized, the authorities stated. During the second suspect's backpack search, officers discovered a seven 12-inch knife.
Principle of Montgomery High School, Adam Paulson, sent an email to parents on Friday afternoon informing them of the discovery of the knives and informing them that both kids had been penalized and turned over to their families.
According to Mahurin, a parent phoned Santa Rosa police shortly after receiving the letter. A school official did not inform the police until 8:30 p.m. on Friday.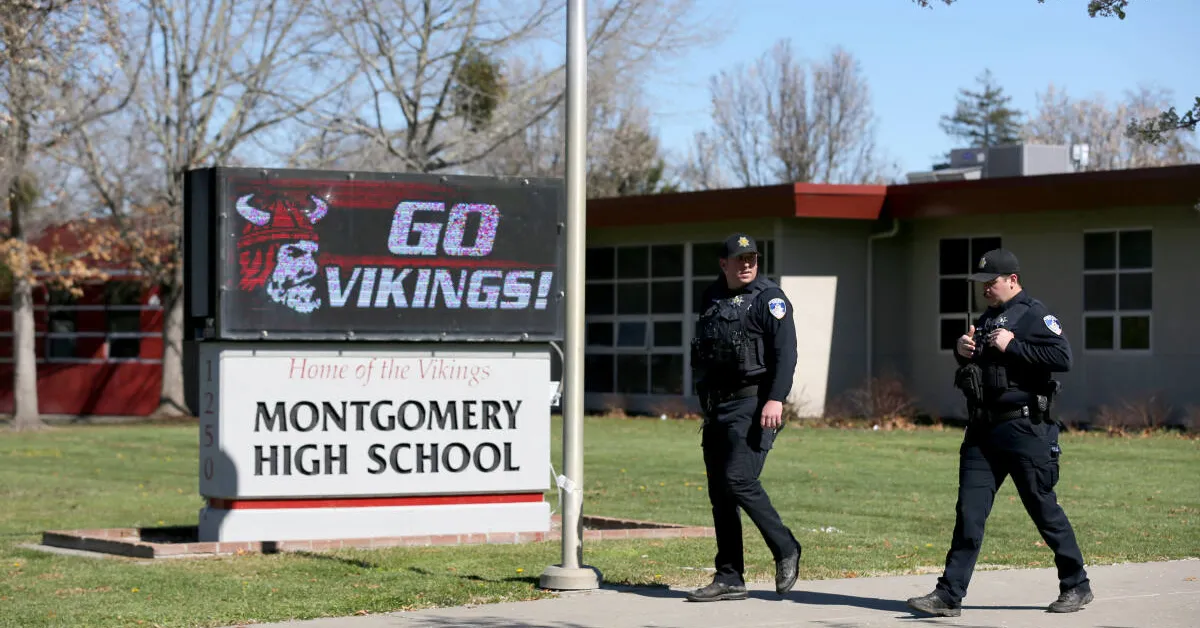 According to the California Education Code, school officials must inform police authorities if they discover any weapons on school property, including knives with blades longer than 2-12 inches or those that fold and lock into place.
In the past, Mahurin claimed, police have been alerted "quickly" when guns have been found on local campuses. But, Mahurin noted, police are not looking into the delayed notification.
It was unclear if the delayed notification contributed to Paulson and Assistant Principal Tyler Ahlborn being placed on leave over the weekend for the remainder of the school year. Santa Rosa City Schools officials have not commented on the delayed notification.
The school board announced over the weekend that Laurie Fong, a Santa Rosa City Schools Board trustee, resigned from her position and would take over as interim principal at Montgomery.
The change comes in response to the mounting calls for safety enhancements throughout the school system after the deadly stabbing on March 1. This week, students planned walkouts and gathered at the school board meeting to voice their concerns.
Continue reading the school news articles we are posting:
Chief John Cregan and Superintendent of Santa Rosa City Schools Anna Trunnell reached an understanding over the weekend that a police officer would be present at Montgomery High School on Monday and Tuesday.
According to Mahurin, the initiative is a trial run that adds more adult supervision on campus. Luigi Valencia, a police officer with more than two years of experience, is the officer on duty at the university.
The Sonoma County Mobile Mental Health Response team has previously worked with the bilingual, licensed marriage and family therapist from Santa Rosa.
In between other requests for service, additional patrol officers will conduct security checks at high school campuses, according to officials, who added that they would drive through parking lots, stroll the campuses, and speak with school administrators.
Tyler is a passionate journalist with a keen eye for detail and a deep love for uncovering the truth. With years of experience covering a wide range of topics, Tyler has a proven track record of delivering insightful and thought-provoking articles to readers everywhere. Whether it's breaking news, in-depth investigations, or behind-the-scenes looks at the world of politics and entertainment, Tyler has a unique ability to bring a story to life and make it relevant to audiences everywhere. When he's not writing, you can find Tyler exploring new cultures, trying new foods, and soaking up the beauty of the world around him.