Presentation preparations At a Tuesday Waukegan Community Unit School District 60 Board of Education meeting.
A discussion about the tutoring program between Oakdale Elementary School and Waukegan High School quickly turned into a memorial for second-grade teacher Kaitlin Schaumberger, who passed away on Friday at age 25.
Oakdale Principal Catalina Quinones-Nelson announced that the intended presentation would be rescheduled after learning of Schaumberger's passing because she, the staff, and the kids gathered in the meeting room preferred to talk about their own cherished teacher.
"She is somebody who always came to Oakdale with a smile on her face and left with a smile on her face," Quinones-Nelson said. "She wanted to be there every day. Her students grew so much having her as a teacher."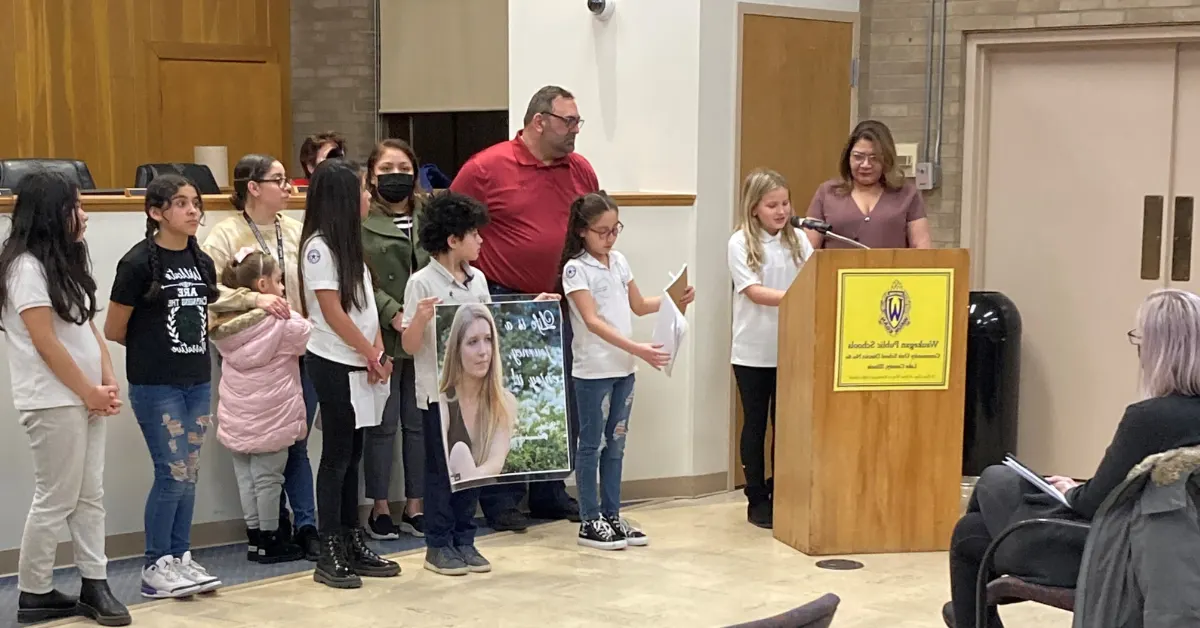 In Waukegan's Lincoln Center administration building, Quinones-Nelson spoke about Schaumberger's influence on the school community alongside a group of Oakdale students, teachers, and staff members.
"From the outpouring of support we saw here tonight, she was a special person who had a strong impact on her students," board President Brandon Ewing said after the meeting. "She has created a legacy that will live on."
Quinones-Nelson and three students discussed Schaumberger as dozens more residents of Oakdale sat in the audience. Many of the children in the group hugged one another as they settled back into their chairs.
Schaumberger immediately became well-known in the Oakdale neighborhood before passing away from pneumonia and COVID-19-related complications. Quinones-Nelson said she started teaching there in August and that her positive outlook and smile were contagious.
"She was a colleague," Quinones-Nelson said. "She was a friend. She made us feel good. I probably have 100,000 texts or emails from her. She would text me pictures of her with the kids. Send me texts about what she could do."
Leilah Gomez, Gretel Bonilla Lopez, and fifth grader Chloe Fransk met Schaumberger while participating in Oakdale's Ambassadors, the school's leadership organization, even though she was not their teacher. They occasionally visited her classroom.
"When I went to her classroom to help with the community meetings, she always greeted the other ambassadors and me with a friendly smile, which brightened my day," Chloe said. "When she saw the other ambassadors and me anywhere, she always treated us like leaders."
"I never saw Miss Schaumberger get upset or mad," Gretel added. "We always saw her with a big smile,"
Leilah added that Schaumberger was constantly grinning. She remarked that she liked how Schaumberger interacted with the second-graders in her class.
"I loved her smiles and how she would treat her kids like her own," Leilah said. "When I went to her classroom, she was super nice, super kind to her kids."
Check out more related articles we've published:
Not only did Schaumberger form relationships with her pupils, but also with their families, according to Quinones-Nelson. Quinones-Nelson reported that the parents were sobbing during their meeting with her.
"Every parent was mourning for Kaitlin," the principal said. "You know why? Because Kaitlin called those parents. Kaitlin met with those parents. Kaitlin built relationships with those parents. She loved those kids. There was never anything negative that came out of her mouth."
Quinones-Nelson said plans to memorialize Schaumberger are being discussed. A brick with her name will be placed on the school's Retirement Walk. A tree or bush will also be planted in her honor. An award named for her is under consideration, as is an annual volunteer day at the school.
"What would Kaitlin do?" Quinones-Nelson said. "Kaitlin (would) find a way to continue giving and giving to our Waukegan and Oakdale communities. Keep people like this in mind. They don't come by every day."
Tyler is a passionate journalist with a keen eye for detail and a deep love for uncovering the truth. With years of experience covering a wide range of topics, Tyler has a proven track record of delivering insightful and thought-provoking articles to readers everywhere. Whether it's breaking news, in-depth investigations, or behind-the-scenes looks at the world of politics and entertainment, Tyler has a unique ability to bring a story to life and make it relevant to audiences everywhere. When he's not writing, you can find Tyler exploring new cultures, trying new foods, and soaking up the beauty of the world around him.