Linda Beigel Schulman had always wanted to walk into the Parkland, Florida, building where her son was murd*red. She finally got her chance this week.
Scott Beigel, a geography teacher, and cross-country coach, was among the 17 students and staff ki!!ed in the Marjory Stoneman Douglas High School sh00ting on February 14, 2018.
Beigel, 35, was shot as he led his students to safety on the third level of the 1200 building.
Victims' families were allowed to visit the building this week after the trials for gunman Nikolas Cruz, who was sentenced to life in pr!son last year, and former school officer Scot Peterson, who was acquitted of child neglect last month after allegedly retreating while students were being shot.
Schulman and her husband traveled from New York to Florida on Wednesday to visit the 1200 building, tracing the trail of the slaughter from the first to the third floors.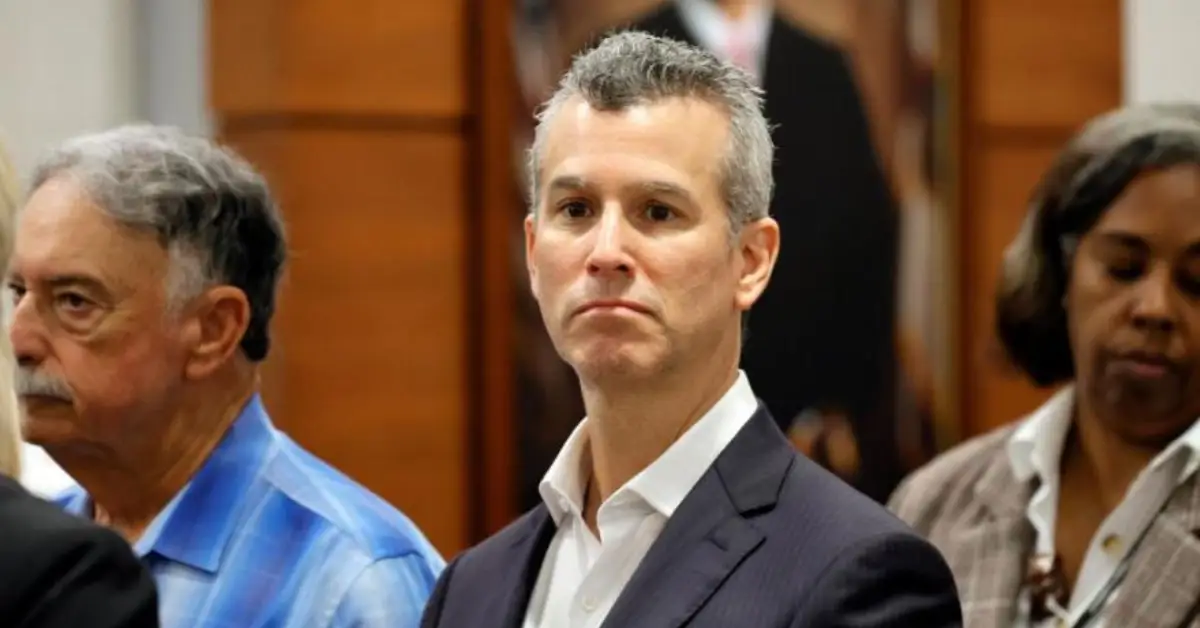 Schulman said she was prepared to witness the building, where dried blood and kids' strewn papers lay untouched like a time capsule because she had watched a video of the crime scene at Cruz's trial.
"I was not prepared. I was so mistaken," she told ABC News on Thursday.
"Seeing the video, as horrific as it is … especially the clip when the murderer aimed his AR-15 at Scott, and Scott going down after he was shot. It's like, if you and I do a Zoom and then I talk to you in person," she stated. "It was horrible. … All the glass being shot out … seeing the bullet holes in the walls."
Schulman arrived at her son's classroom on the third level. Schulman and her son had an unshakable bond and chatted on the phone almost daily.
"No matter what it was gonna take, I was gonna go into Scott's classroom. I wanted to stand where Scott took his last breath," she explained. "I wanted to see where it was that he had fallen and was laying on the floor."
If you're interested in reading about the recent news, you can check out the below links:-
Beigel discovered her son's open laptop, covered in dust and student assignments, on her desk.
"I saw Scott's notes and his lesson plans, and was able to take pictures of his walls," she explained. "He loved his students and I needed to see where he was."
She took home a yellow banner with a big cheerful face in the classroom.
"I'm going to give that to my grandkids," she explained, "so that whenever they look at it, they remember Scott."
Max Schachter, whose 14-year-old son, Alex, was slain in his first-floor classroom, hesitated going inside. He did, however, end up viewing the crime scene on Thursday.
"I made the decision because I wanted to be there." I wished I could sit in Alex's chair. "That was the last place he breathed," Schachter told ABC News on Friday. "I wanted to connect with him in that space."
According to Schachter, his son's classroom "was like a horror scene from a war zone."
"It was grotesque," he described it. "There was so much blood everywhere, especially around Alex's desk."
Schachter said he prepared for the visit on Thursday by listening to the medical examiner's testimony and prosecutor Mike Satz's closing arguments in Cruz's trial to comprehend his son's final moments better.
Alex, a skilled trombone player in the school marching band, was in his classroom when he heard the first shots in the hallway and tried to flee, according to Schachter, "but he didn't have enough time."
Alex "was shot twice in the chest, his spinal cord was severed, and he fell backwards over the chair," he claimed.
Other kids raced to the teacher's desk as the gunman opened fire from the hallway, but there was little space to hide.
A Tweet posted by the official account of Ginger Zee. You can also find out more information about Painful Memories Resurface As Parkland Parents Revisit Tragic Location by reading the below tweet:-
The world moves on — but we have to remember these families, the lives lost. Parkland parents recount harrowing 1st visit to shooting scene where their children took their last breaths – ABC News https://t.co/GDmvAXv0Yr

— Ginger Zee (@Ginger_Zee) July 7, 2023
"There's blood stains all over the floor in front of the teacher's desk and on the side of the teacher's desk," Schachter said.
Schachter discovered a piece Alex had written on the classroom floor and took it with him.
"There were blood stains all over it," he explained. "It was my little boy's."
Schulman stated that she has warned other Parkland families who want to enter the 1200 building to "be prepared."
The sight of the building made her feel "like it happened yesterday," she added. "It's as if someone told me my son was murdered again."
Schulman is relieved that the school district intends to demolish the facility.
However, she hopes that a future memorial there will not be solemn, but rather a place for students to have fun and laugh, similar to a baseball field, to memorialize her son, who had a lifelong enthusiasm for sleepaway camp. Schulman established the Scott J. Beigel Memorial Fund after Beigel's death, which sends at-risk children affected by gun violence to the center.
Schachter stated that he wants the building to be preserved.
"They should leave it up until every legislator, every school principal, walks through that building," he said.
"After walking through there," said Schachter, who created secure Schools for Alex, a group dedicated to reducing school violence, "I am even more focused and driven to make the changes necessary so that all kids can learn in a safe environment."
Till Then, keep yourself updated with all the latest news from our website blhsnews.com.
Tyler is a passionate journalist with a keen eye for detail and a deep love for uncovering the truth. With years of experience covering a wide range of topics, Tyler has a proven track record of delivering insightful and thought-provoking articles to readers everywhere. Whether it's breaking news, in-depth investigations, or behind-the-scenes looks at the world of politics and entertainment, Tyler has a unique ability to bring a story to life and make it relevant to audiences everywhere. When he's not writing, you can find Tyler exploring new cultures, trying new foods, and soaking up the beauty of the world around him.