Some families of those slain in the 2018 Parkland, Florida, high school massacre will be allowed to visit the site beginning Wednesday.
Some families and surviving victims will be given private, personalized tours inside the 1200 building at Marjory Stoneman Douglas High School. On Valentine's Day, the facility was the site of the bloodiest US high school sh00ting, in which 17 people, including 14 students, were murd*red and 17 others were injured.
The parents of ki!!ed student Luke Hoyer, Gena, and Tom Hoyer intend to attend, according to their attorney, David Brill.
The three-story structure has been preserved pending two trials related to the February 14, 2018, massacre, which sparked a wave of student-led rallies against America's plague of school sh00tings – a scourge that still exists today. Around 200 sh00tings have occurred on K-12 campuses since the Parkland sh00tings.
Last year, jurors in the gunman's deαth penalty trial toured the building, escorted by reporters who described a sight frozen in time: Valentine's Day gifts and cards, students' notes and homework, and bloodstains and bullet holes. According to the reporters, fragments of broken glass crunched beneath their feet.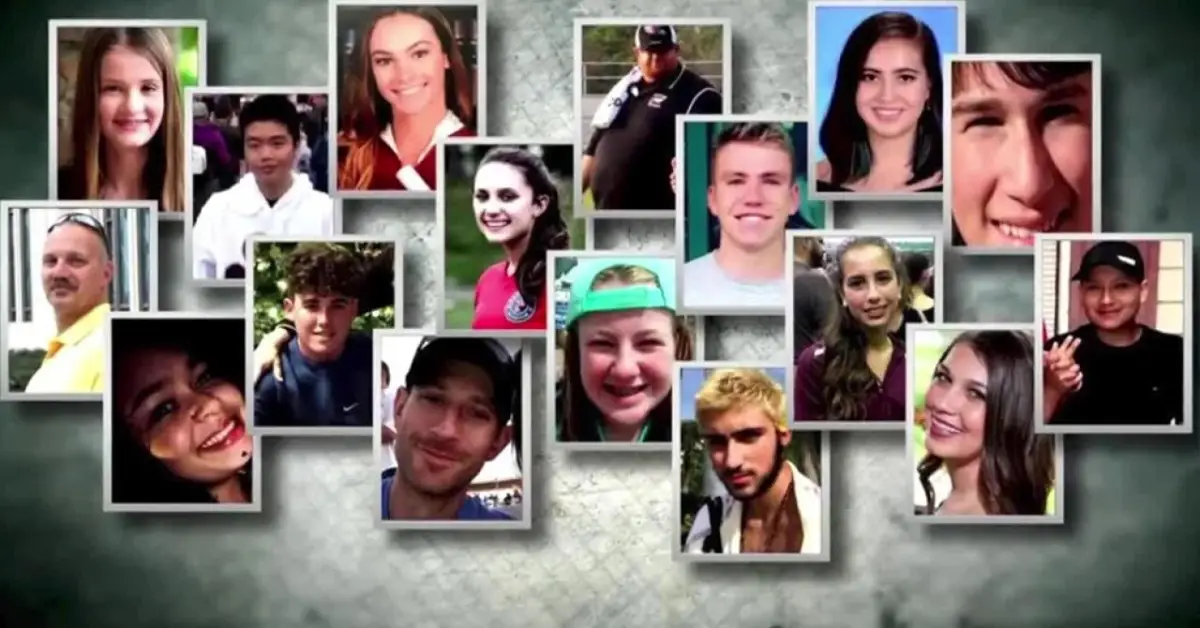 Scot Peterson, the school resource officer who stayed outside during the attαck, was acquitted of criminal child neglect, culpable negligence, and perjury in the second trial last week. The defense attorney for Peterson wanted jurors to see only the outside of the building, while prosecutors wanted them to see both the outside and inside. The judge decided not to send jurors.
Prosecutors, law enforcement officers, and victim advocates will lead the tours. The public will be denied access during the visits, likely to last several weeks.
After the visits are completed, the facility will be returned to Broward County Public Schools, which will handle the "process for all of the other staff members and former students who were present on the day of the mass shooting."
You can also read additional news articles we've written about on our site, including:-
Some Families Request Sh00ting Re-enactment
Meanwhile, the families of six victims suing Peterson have asked a Broward County civil court judge to enable their legal team to stage a simulation of the massacre for use in their complaint.
The families urged the judge to allow a video-recorded reconstruction of the shooter's actions and sh00ting in a motion filed in circuit court on Monday.
During a rare prosecution of a law enforcement officer for his response to a mass sh00ting, Peterson was found not guilty of seven counts of felony child neglect, three counts of culpable negligence, and one count of perjury last week.
The plaintiffs' counsel would execute the approximately two-hour reenactment using the same style of a semi-automatic rifle and caliber of ammo as the gunman but with blanks.
Our Twitter official Christina Boomer Vazquez, M.S. post below covered Parkland School Shooting Victims. If you want to know more information, you can check it out:-
#ICYMI Jurors will visit the #ParklandSchoolShooting #CrimeScene today. @DavidSWeinstein tells me #juryviews are very rare partly because it is rare for a crime scene to be preserved as the 1200 building of #MSD has been since the Valentine's Day 2018 deadly school shooting. pic.twitter.com/myRlXsZ6wF

— Christina Boomer Vazquez, M.S. (@CBoomerVazquez) August 4, 2022
They also plan to "turn the fire alarm on and off at the correct times, and borrow a golf cart from the school grounds to simulate Peterson's transportation to Building 12(00) during the shooting."
The goal of the reenactment is to "demonstrate that Peterson could hear the gunshots and derive where they were coming from."
"This reenactment will provide superior proof that Peterson heard a cacophony of gunfire clearly emanating from within Building 1200." Peterson had the only other handgun on campus. And instead of doing his sworn duty to protect the lives of innocent children and teachers armed only with pencils, he cowardly allowed them to be slain, saving his own skin," said Brill, who represents the families of students Hoyer, Meadow Pollack, Alaina Petty, Madeline "Maddy" Wilford, and Alex Schachter, in a statement.
"We don't want to leave anything to chance for Peterson to escape justice in our civil case," Brill added.
Judge Carol-Lisa Phillips will hear the motion.
"Our benchmarks of professionalism include respect for our community and respect for and deference to our trial judge in such matters," Michael Piper, an attorney representing Peterson in the civil case told. "Extrajudicial comment on attorney Brill's motion to restage Nicolas (Nikolas) Cruz's murderous rampage compromises those benchmarks. We will respond in accordance with Judge Phillips's direction."

The plaintiffs want the reenactment to occur later, preferably during the summer before school starts.
Till Then, keep yourself updated with all the latest news from our website blhsnews.com.
Tyler is a passionate journalist with a keen eye for detail and a deep love for uncovering the truth. With years of experience covering a wide range of topics, Tyler has a proven track record of delivering insightful and thought-provoking articles to readers everywhere. Whether it's breaking news, in-depth investigations, or behind-the-scenes looks at the world of politics and entertainment, Tyler has a unique ability to bring a story to life and make it relevant to audiences everywhere. When he's not writing, you can find Tyler exploring new cultures, trying new foods, and soaking up the beauty of the world around him.