A Florida student hasn't won the National Spelling Bee in over 20 years. Tonight's candidate might be a teen from Pinellas County.
One of the 11 finalists competing at the Gaylord National Resort and Convention Center outside of Washington, D.C. is eighth-grader Dev Shah from Morgan Fitzgerald Middle School in Largo. The last of nine Florida youngsters to compete is Shah, 14 years old.
After placing tied for 51st in 2019 and tied for 76th in 2021, he is making his third effort to rank among the top spellers in the country.
Shah asked the principal of Morgan Fitzgerald, Ija Hawthorne, to host school-wide spelling bees in 2020, and she reportedly accepted.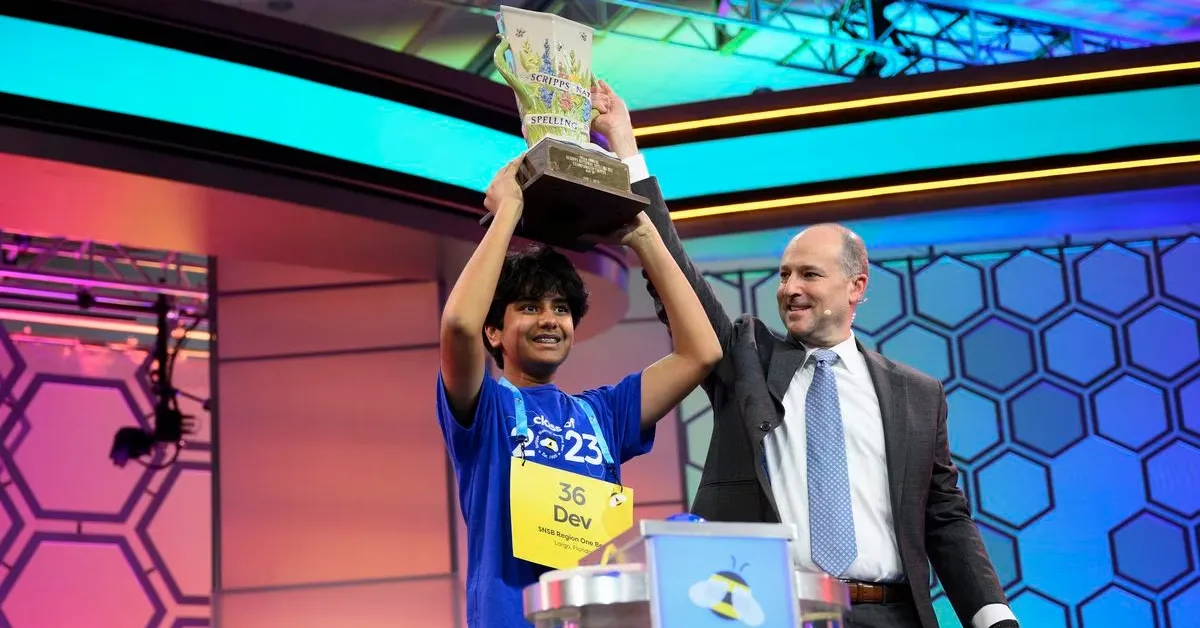 "He sold it to me that it would be a really good idea not only for the student population, but also for the district," Hawthorne says. "He was very transparent what his goal was — he wanted to win it all, and he wanted as much practice as possible."
In the end, according to assistant administrator Leah Donnelly, he contributed to changing the school's culture. Students now excitedly anticipate their annual challenge, and others try to follow Shah's example.
If you are interested to know more about this news, then see this tweeter post that Tampa Bay Times shares:
Pinellas eighth grader wins 2023 National Spelling Bee https://t.co/EQotUV68Ae

— Tampa Bay Times (@TB_Times) June 2, 2023
"He takes the initiative and he's very much a leader around school,"  Hawthorne added that Shah deserves praise for founding a math club that assisted Morgan Fitzgerald in winning the yearly Math Counts competition.
The faculty at the school will watch the finals, according to Hawthorne, and "when he wins… we will make sure we are celebrating."
Here you can also look up the other trending news on our website, read below:
Shah, competing as speller 36, mentions reading, tennis, cello playing, and solving math issues with pals as his other interests in his official bio. He claims he also likes solving the day's Wordle puzzle and viewing historical fiction films.
He successfully spelled "poliorcetics" in the eighth round to advance to the finals. Merriam-Webster defines it as "the art of directing and resisting sieges." He won his qualifying competition by accurately spelling "fustanella" to advance to the national bee.
Wednesday saw the elimination of six Florida kids, including Hillsborough County's Bruhat Soma, who failed to identify the word "tonlet" in Round 4 correctly.
A $50,000 cash reward, a medal, and a trophy are awarded to the winner. Tonight at 8 p.m., turn to ION TV to watch the finals.
Tyler is a passionate journalist with a keen eye for detail and a deep love for uncovering the truth. With years of experience covering a wide range of topics, Tyler has a proven track record of delivering insightful and thought-provoking articles to readers everywhere. Whether it's breaking news, in-depth investigations, or behind-the-scenes looks at the world of politics and entertainment, Tyler has a unique ability to bring a story to life and make it relevant to audiences everywhere. When he's not writing, you can find Tyler exploring new cultures, trying new foods, and soaking up the beauty of the world around him.