Dennis "D.J." Hernandez, the troublesome former NFL player Aaron Hernandez's older brother, has been detained after police said he reportedly planned two school sh00tings, according to TMZ, which broke the news on Tuesday.
According to Bristol Police Department arrest documents acquired by TMZ and local news sites KMOV4 and WFSB, Hernandez looked to be contemplating shootings at the University of Connecticut and Brown University.
Many people came forward this month to allege Hernandez was "displaying very erratic behavior" and exhibiting worrying indicators of being "gravely disabled and a danger to society."
One person told police that Hernandez sent her several alarming text messages, including one that allegedly read, "We're taking lives if s— isn't paid up." It's taken years merely to take notes, names, and locations. They talked themselves into it, and it's virtually a point game."
Another person claiming to be Hernandez's ex-girlfriend told police she was worried about Hernandez's mental health and that he borrowed her car to drive to his scheduled July 7 court date but instead went to Brown and UConn to "map the schools out." She said he "went into some classrooms and buildings" while on the campuses.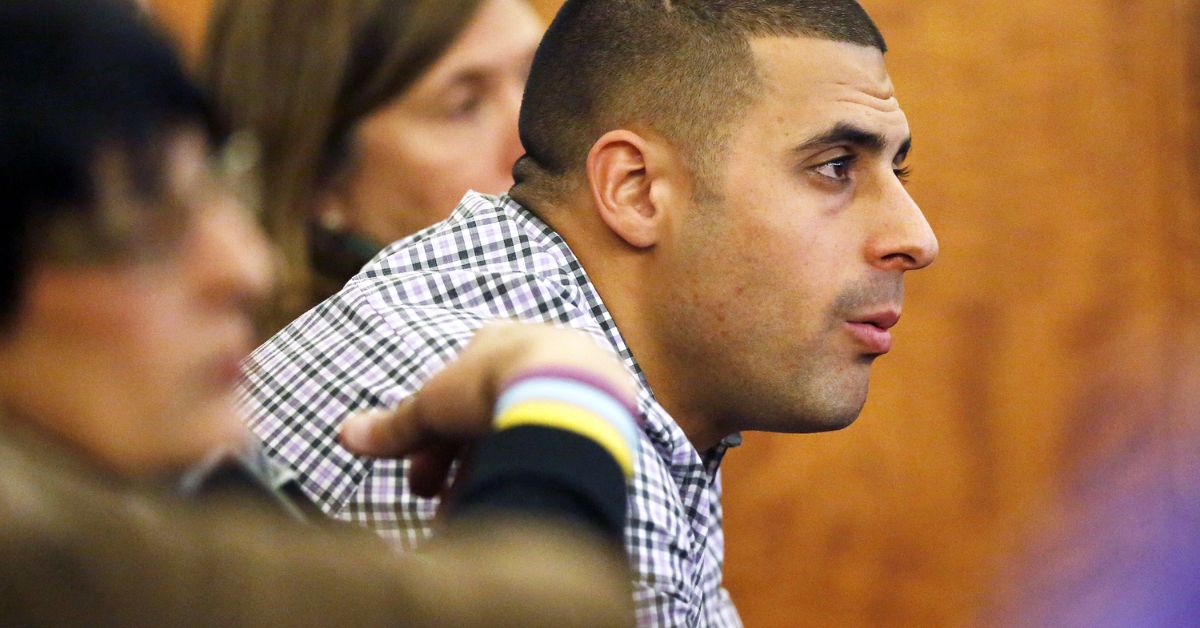 The ex-girlfriend also told police Hernandez was "rambling about the incident" and that "he has a bullet for everyone," according to court filings.
According to the arrest paperwork acquired by the outlets, Hernandez made "numerous social media posts that contained threatening and concerning language" and many of the messages were "ramblings about those who have wronged him."
One post purportedly ended with the words, "Will I kill? Absolutely. I've warned my adversaries, so I've paid in advance."
Police went to Hernandez's house on July 18, where a standoff developed, according to TMZ and WSFB. When Hernandez did not open the door, an officer called him and communicated to his department that Hernandez had warned him he was "on foot, armed, and that if we approached him, he would try to kill us."
Hernandez then left his house and "began advancing towards police with his hands outstretched to the side," according to the documents. He began chanting "Shoot me" and defied many police requests.
Hernandez was then tasered to subdue him and taken into prison. According to the arrest paperwork, he was eventually transferred to a local hospital for evaluation, where "he continued to make threats," including that he "was still planning to kill… anyone who profited off his brother Aaron."
If you're interested in reading about the recent news, you can check out the below links:-
Hernandez was taken to the Bristol Police Department after being released from the hospital and charged with threatening and breach of peace counts. He is being jailed on a $250,000 bond.
Hernandez was detained initially in May after leading police on a chase, according to WFSB. He was detained again a few days later after throwing a bag containing a brick and a handwritten note at ESPN's campus in Bristol, Connecticut. He missed his court hearing for the ESPN incident earlier this month, which resulted in a third arrest.
Aaron Hernandez, who played three seasons for the New England Patriots, was notoriously convicted guilty of first-degree murder in 2015 and sentenced to life in prison without the possibility of release.
He was then charged with the double homicides of Daniel de Abreu and Safiro Furtado in 2012 but was acquitted after a trial in 2017. He was killed in his cell at the Souza-Baranowski Correctional Center in Massachusetts, days after his acquittal, from su*cide.
Till Then, keep yourself updated with all the latest news from our website blhsnews.com.
Tyler is a passionate journalist with a keen eye for detail and a deep love for uncovering the truth. With years of experience covering a wide range of topics, Tyler has a proven track record of delivering insightful and thought-provoking articles to readers everywhere. Whether it's breaking news, in-depth investigations, or behind-the-scenes looks at the world of politics and entertainment, Tyler has a unique ability to bring a story to life and make it relevant to audiences everywhere. When he's not writing, you can find Tyler exploring new cultures, trying new foods, and soaking up the beauty of the world around him.