Q.B.'s REGO PARK — On Tuesday, a school bus caught fire in Queens, prompting the safe evacuation of several pupils.
At 3:45 p.m., authorities were called to the car fire scene at 65-44 Saunders Street in Rego Park.
A school bus caught fire, and black smoke billowed into the sky as Newscopter 7 flew overhead. The blaze was so severe that it damaged cars parked along the street.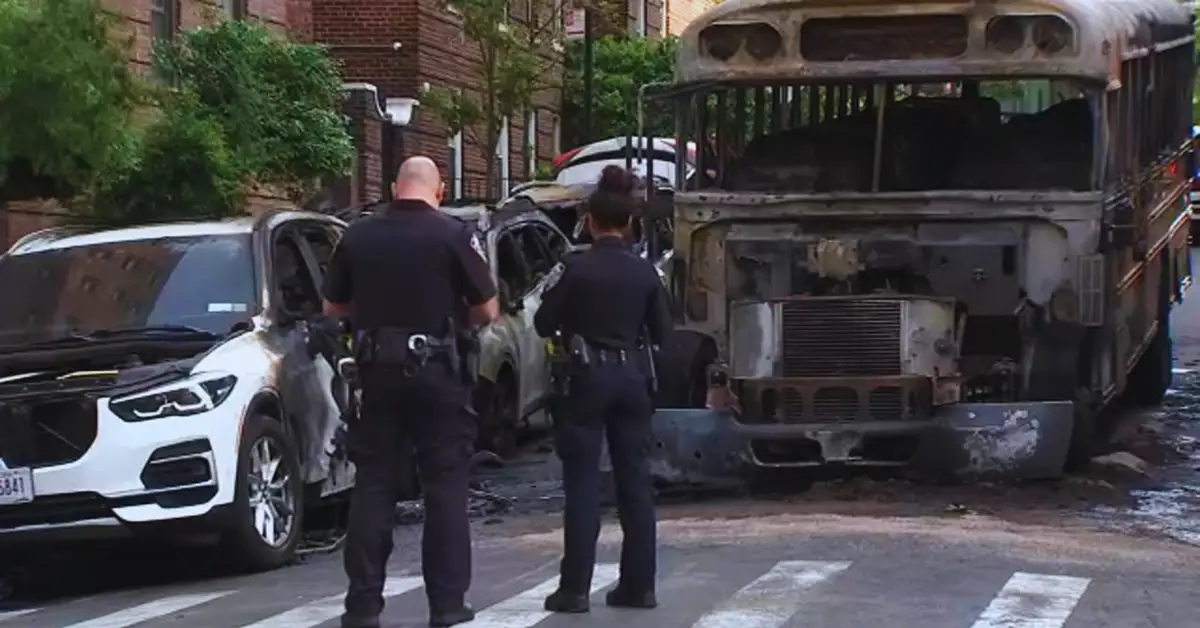 Six fire trucks and thirty firefighters arrived to put out the blaze. This tragedy could have been far worse if not for a real-life hero.
With more than 30 years of experience, the bus driver is being lauded for safely escorting six terrified children and teenagers off the vehicle and out of harm's way.
Eyewitness News shared the same incident on its Twitter handle.
#BreakingNews Crews battle fire burning through school bus in Rego Park, Queens https://t.co/Au21yqjzX1

— Eyewitness News (@ABC7NY) May 23, 2023
"The bus driver did a great job, again there were six kids still on the bus and as soon as ignited was able to get them off quickly and get them safe and out of the way and none of the kids were hurt," Lt. Chief Brian Hanrahan of the New York Fire Department.

"The bus driver was fabulous," one neighbor stated. "I think he's a true hero and the kids, thank God nobody was hurt. The cars can all be fixed."
Check out more related news about schools we are posting on this site daily:
A private Yeshiva in Queens, where all six kids are enrolled, is within a fifteen-minute drive of the crime.
There's no confirmation yet, but it's likely that the fire began in the bus's engine and was fanned by the diesel fuel stored on board.
According to the battalion chief, additional hose lines were required to fight the blaze involving the bus, the automobiles, and the surrounding apartment buildings.
The fact that the community avoided a tragedy was highly appreciated.
"It's all the sudden. Nobody could imagine something going to happen like this. Terrible," Lika Palag, a local, stated.
After the area had calmed down, the charred remains of the cars were removed. Thankfully, nobody got hurt.
Tyler is a passionate journalist with a keen eye for detail and a deep love for uncovering the truth. With years of experience covering a wide range of topics, Tyler has a proven track record of delivering insightful and thought-provoking articles to readers everywhere. Whether it's breaking news, in-depth investigations, or behind-the-scenes looks at the world of politics and entertainment, Tyler has a unique ability to bring a story to life and make it relevant to audiences everywhere. When he's not writing, you can find Tyler exploring new cultures, trying new foods, and soaking up the beauty of the world around him.