DENVER — When a 17-year-old Denver student shot two administrators, escaped to the mountains, and killed himself, Colorado teachers flocked to the state Capitol on Friday to demand more safeguards for children and school personnel.
A day after children and parents gathered at the Capitol to make comparable demands, around 1,500 teachers and their allies increased the pressure on lawmakers by calling for better school security, mental health help, and stricter gun control laws.
They also sparked inquiries into the circumstances surrounding the shooting on Wednesday at East High School. According to school officials, the boy was being patted down for weapons as part of a daily requirement due to his behavioral issues, including an impending firearm charge.
At the gathering on Friday, some East High School teachers claimed they were unaware that any kids there were routinely patted down before the incident.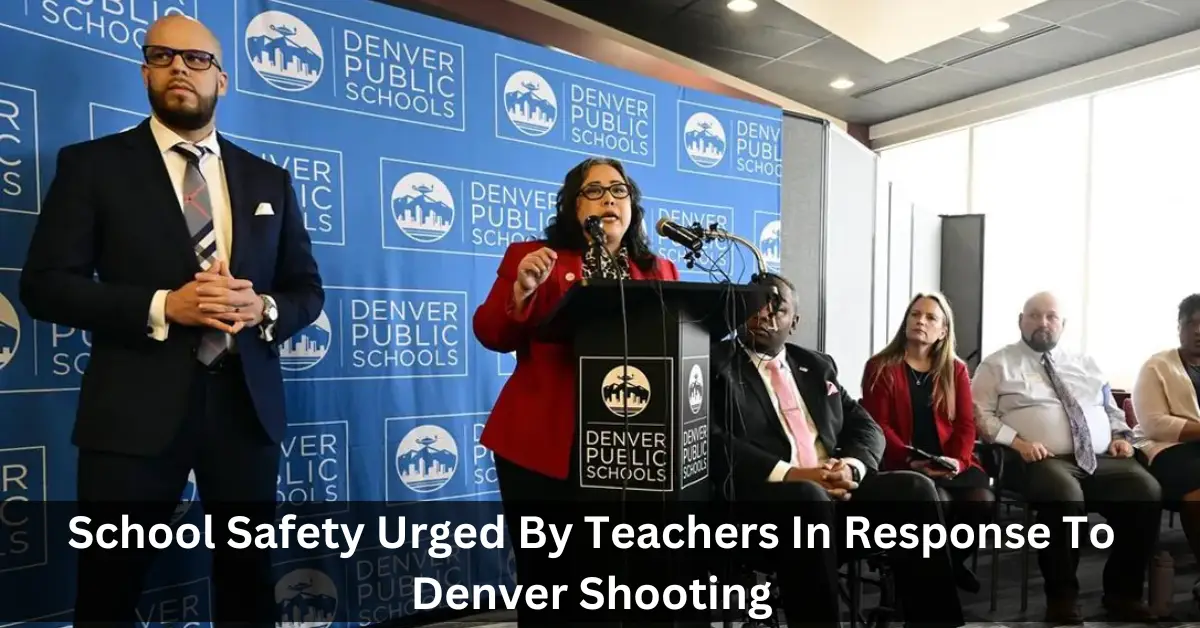 "I want to go into a building every day where I don't need to ask if my kids are getting a pat down because I know nobody is bringing guns into the school," said English teacher Josh Garfinkel.
Due to the incident, schools in Denver were closed on Friday. According to officials, armed officers will be stationed at municipal high schools for the remainder of the academic year, overturning a previous policy.
An elementary school teacher, Raegan Haines, reported that her school had three lockdowns this year. She said that lawmakers should restrict access to firearms.
"You think, what am I going to do with these kids? How can I keep these kids quiet? Who am I going to put my body in front and why do I have to make that choice?"
She continued, saying that as the educators entered the Capitol, "we had to walk through metal detectors and everything is plated in gold. We don't get that same sense of security at schools."
Democrats in Colorado control both state chambers and have prioritized gun control.
Several pending measures would raise the legal drinking age from 18 to 21, raise the waiting period after purchasing a handgun to three days, increase the number of people who can petition to temporarily take a firearm from someone who poses a threat, and outlaw semi-automatic weapons.
Check out more related articles we publish on this site:
The prohibition on semi-automatic weapons is not expected to get support. Jared Polis, the governor of Colorado, may decide what happens to the others.
He has backed the expansion of red flag regulations but hasn't expressly supported raising the gun ownership age or the three-day waiting time.
Instructors reported that there aren't enough social workers or psychologists to help kids also experiencing increased mental health issues.
According to math teacher Kristy Skarphol, six psychologists and social workers at East High School are responsible for caring for 2,500 pupils. As a result of all the lockdowns this year, they have also been reaching out to instructors who may be struggling.
"We're just spread way too thin for what we need," Skarphol said.
Tyler is a passionate journalist with a keen eye for detail and a deep love for uncovering the truth. With years of experience covering a wide range of topics, Tyler has a proven track record of delivering insightful and thought-provoking articles to readers everywhere. Whether it's breaking news, in-depth investigations, or behind-the-scenes looks at the world of politics and entertainment, Tyler has a unique ability to bring a story to life and make it relevant to audiences everywhere. When he's not writing, you can find Tyler exploring new cultures, trying new foods, and soaking up the beauty of the world around him.