Ethan Crumbley, the school shooter, gave perhaps the most damning and chilling testimony at a hearing to determine his fate on Thursday not from the witness stand, but through his video recordings, text messages, and journal that detailed his obsession with torturing birds, ki!!ing other kids, and sh00ting up his school.
Prosecutors played audio clips from a video recording made by Crumbley the night before he carried out the Oxford School sh00ting in November 2021, a manifesto in which he discusses his hatred for the world, his plan to shoot up his school, and his deteriorating mental health, in front of grieving families in the courtroom on Thursday.
"I have worn my mask for too long. I can't take it," Crumbley says in a monotone voice. "There's no voices in my head. The voices are me … that's what people call the demons. There are no demons. I am the demon."
Crumbley's text messages about bird torture, wanting to rape and kill
The recording was the first time the public heard Crumbley's voice before the massacre, which murd*red four classmates and injured six more and a teacher.
The recording was played during his so-called Miller hearing to determine whether the youngster would face life in prison without the possibility of parole for acts committed when he was 15 and to which he pled guilty.
The hearing, anticipated to last at least two days, included never-before-seen video footage of the school massacre, which moved several family members to tears. It also contains graphic testimony regarding Crumbley's passion for torturing birds, which he discussed in several text messages with his closest friend.
But unsettling things via text is one thing. Hearing Crumbley utter horrible things is another, as prosecutors did late in the afternoon when they played audio recordings obtained from a video Crumbley had recorded before the sh00ting.
"There is no heaven. there is no God," the then-15-year-old is heard saying. "The earth is just hell."
'I will shoot a bullet into their skull'
Crumbley further claims he needs to blow up his school to teach his friends and the rest of the world a lesson since "we're on the verge of a downfall," as he sees it. He describes what he will wear while filming.
"I'll put on my black jacket, walk behind someone, and shoot a bullet into their skull." I'm going to start fire on everyone in the corridor, try to hit as many people as I can, reload, and look for those hiding. "I want to teach them a lesson about how they are wrong, how they are being brainwashed," he says in the video, which also addresses the relatives of his victims.
"I'm sorry that these families have to go through this." But he says he doesn't have a choice. "The monster will seize control. I can't do anything about it." He adds, "I don't want to die."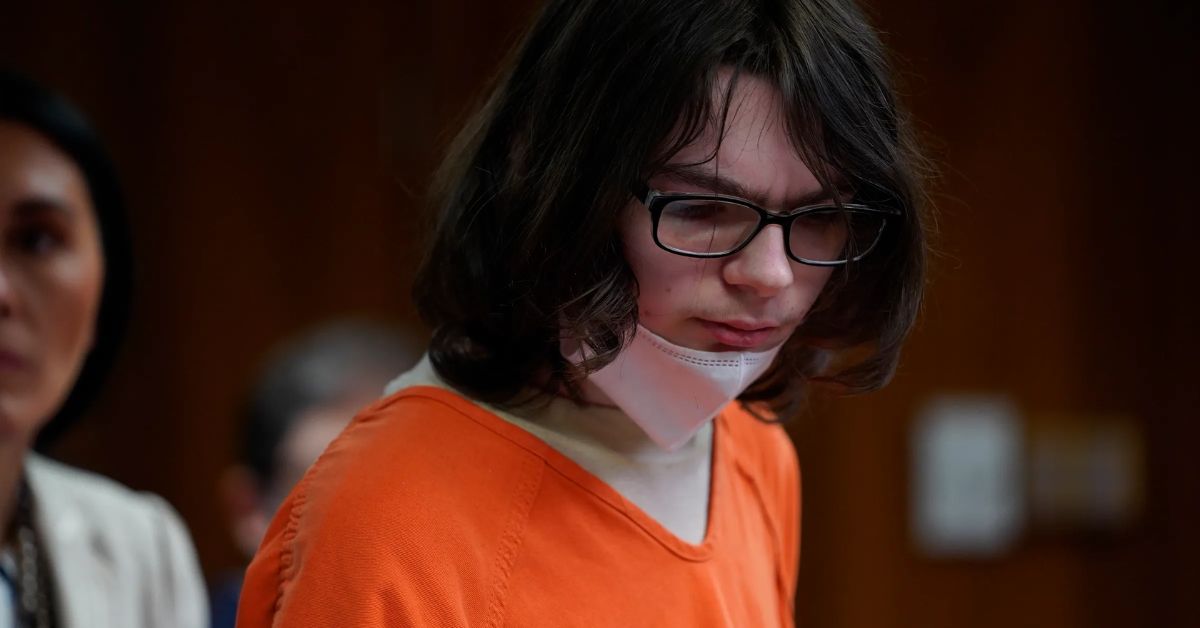 Prosecutors aired the recording in court to persuade Oakland County Judge Kwame Rowe that Crumbley did not deserve release. Paulette Loftin, his lawyer, disagrees, claiming he is too young, had a tough childhood, and can be rehabilitated one day.
Detective: 'His head was held high. He was in Charge'
When the video of the sh00ting was shown, Crumbley kept his head down and stared at the floor as his victims' friends and families openly sobbed as they viewed photos of the gunman roaming the hall, shooting and killing kids as they went about their day.
"He had a sense about it, like the proud chest," a detective said of Crumbley's every motion when he emerged from the bathroom and opened fire. He held his head high. He was in command."
"He steps out and immediately there's Phoebe (Arthur), with her boyfriend, and he immediately levels his gun at them," Oakland County Sheriff's Detective Edward Wagrowski recounted, becoming emotional at times. He strained to say the following few words.
"He then turns the gun on Hana, Kylie, and Riley, and fires some rounds in their direction," Wagrowski stated. Hana St. Juliana, 14, was one of those girls who was ki!!ed.
Crumbley, according to Wagrowski, came to a halt to shoot Hana again.
"At this point, she completely collapses, and he runs down the corridor," the detective explained.
What happened next made it even more difficult for Wagrowski to escape.
"I don't know how to put it." He puts the gun to Madison Baldywn's head, and you can see her body drop to the ground as he turns to walk away."
He then testified about Tate Myre, who was assassinated as well. Tate was turning a bend and fell to the ground, unaware of what was happening.
Crumbley came closer. "And before he gets to Tate, he levels the gun for one more shot." He walks right past Tate, unconcerned."
Crumbley eventually made a hard right into a restroom, where he shot and ki!!ed his final victim, 17-year-old Justin Shilling, for reasons unknown, according to the investigator. Another child in the bathroom with Shilling was captured on tape running at full speed down a hallway, escaping Crumbley's reign of terror.
Lawyer: Ethan Crumbley can be rehabiliated
Crumbley's lawyer, Paulette Loftin, attempted to prove that Crumbley's complicated past played a role in the shooting after the school shooting footage was released.
She did so while asking Lt. Timothy Willis of the Oakland County Sheriff's Department, who had testified about the shooting, regarding Crumbley's background, grades, parents, and bouts of sorrow.
Loftin inquired about Crumbley's academics, and Willis admitted that Crumbley had A and B grades in middle school. However, when he reached high school in the year of the shooting, his rates dropped from C to failing levels.
Loftin noted multiple entries in Crumbley's notebook that indicated he no longer had "happiness or optimism," hadn't had a "real laugh" in years, thought he was a "burden" to his parents, and believed he was "in a time loop of sadness."
In other entries, he wrote:
Tyler is a passionate journalist with a keen eye for detail and a deep love for uncovering the truth. With years of experience covering a wide range of topics, Tyler has a proven track record of delivering insightful and thought-provoking articles to readers everywhere. Whether it's breaking news, in-depth investigations, or behind-the-scenes looks at the world of politics and entertainment, Tyler has a unique ability to bring a story to life and make it relevant to audiences everywhere. When he's not writing, you can find Tyler exploring new cultures, trying new foods, and soaking up the beauty of the world around him.