Tennessee lawmakers abruptly ended a special session on Tuesday, 29, August, 2023 that was initially touted to improve public safety in the aftermath of a deadly elementary school shooting.
Still, they quickly devolved into chaos over the past week as the GOP-dominated Statehouse refused to consider gun control measures and instead spent most of their time involved in political infighting.
Within moments of the House chamber adjourning the special session, House Speaker Cameron Sexton and Democratic Rep. Justin Pearson seemed to have a brief physical contact in which both accused each other of shoving.
Reporters on the House floor obtained video of Sexton, a Republican, exiting the chamber as Pearson approached the speaker's dais holding a sign calling for gun regulation. As Sexton took a stride to dodge a photographer, other legislative members, workers, and security officers raced to the front of the floor.
— Blaise L Gainey (@BlaiseGainey) August 29, 2023
As House Republicans rushed out of the chamber, yelling erupted from the members on the floor and the protesters in the gallery above.
Pearson was among two lawmakers ejected earlier this year by the Republican supermajority. He was re-elected to his legislative district and has continued to criticize Sexton's leadership.
The heated standoff on Tuesday was the latest twist in a session called by Republican Gov. Bill Lee in reaction to a shooter opening fire at The Covenant School in Nashville, killing three small children and three adults.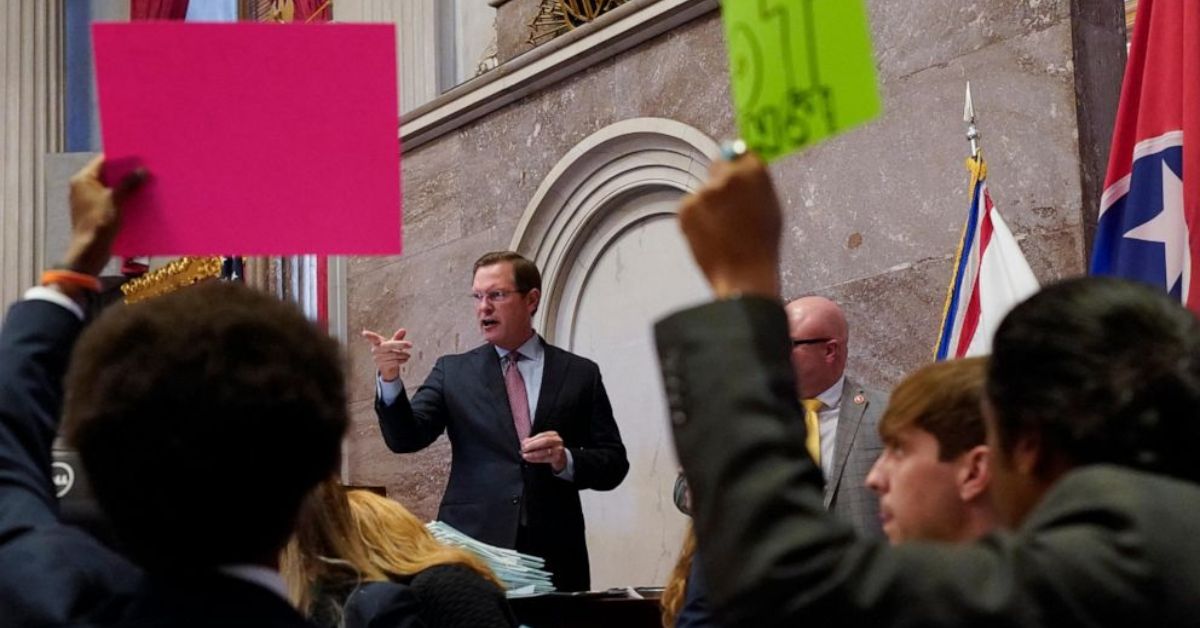 Lee sought to persuade Republicans to enact legislation restricting dangerous people's access to firearms, but the measure never received enough support.
Instead, lawmakers only passed a few laws that made small changes to existing state programs. These included increasing funding for a state program that provides free gun safes and codifying an executive order signed by the governor that established a 72-hour deadline for reporting new criminal activity to the Tennessee Bureau of Investigation.
On Tuesday, 29, August 2023 that the special session was a success, but that more work will be done when lawmakers reconvene in January for their regular legislative session.
HAPPENING NOW: Chaotic ending to the TN Special Session as Rep. Justin Pearson approaches Speaker Sexton with a sign and is pushed away by security. pic.twitter.com/eRZou1QUtQ

— WKRN News 2 (@WKRN) August 29, 2023
Meanwhile, when lawmakers adjourned, Pearson and other Democratic lawmakers consoled a tearful Sarah Shoop Neumann, a Covenant School parent who had lobbied for gun control and other changes for months. Pearson also led a prayer with Neumann and the rest of the Covenant parents.
Conclusion:- For more latest updates, stay connected with us always. Check out blhsnews.com for the most recent news on your favorite stars. You should save our site to your bookmarks so you can return to read our most recent posts as soon as they become available.
If you're interested in reading about the recent news, you can check out the below links:-
Tyler is a passionate journalist with a keen eye for detail and a deep love for uncovering the truth. With years of experience covering a wide range of topics, Tyler has a proven track record of delivering insightful and thought-provoking articles to readers everywhere. Whether it's breaking news, in-depth investigations, or behind-the-scenes looks at the world of politics and entertainment, Tyler has a unique ability to bring a story to life and make it relevant to audiences everywhere. When he's not writing, you can find Tyler exploring new cultures, trying new foods, and soaking up the beauty of the world around him.