Hundreds of spectators were kicked out of a Tennessee subcommittee meeting about a new law that would allow for more guns on school campuses, including grieving parents of children who were massacred at The Covenant School in March or whose children were forced to hide as the shooter smashed their way through.
The tumultuous scenario was exacerbated by parents crying as troopers from the Tennessee Highway Patrol forced them out of the same conference where they'd been invited to testify.
Lowell Russell, the Republican state legislator in charge of the meeting, justified the mass ejection by alleging that spectators continued to clap, chant, and hold placards despite being told to cease.
Some of the guests were Covenant School parents. They are now forced to leave as well. However those who will be speaking on bills will be called back in to talk when that time comes. pic.twitter.com/uKBIv36ZNz

— Blaise L Gainey (@BlaiseGainey) August 22, 2023
Legislators passed new regulations for attending subcommittee meetings, prohibiting the public from holding signs in galleries and committees.
Some public members broke the regulations by holding up "Joaquin's First School Shooting" book and a "Covenant Strong" scarf. Others continued to hold signs in support of gun control, much to Russell's chagrin.
Three ladies with signs were the first to be escorted out of the meeting, with one yelling "this is not what democracy looks like" as a trooper marched her out with his hands on her back, holding a little sign that read "1 Kid > All The Guns."
This lady refused to put down her sign and was removed from the committee. Some in the crowd asked, "is this what democracy looks like." pic.twitter.com/mz8tpA6noG

— Blaise L Gainey (@BlaiseGainey) August 22, 2023
Allison Polidor of Nashville, the first to be evicted, claimed her removal an infringement on her first amendment rights, telling The Tennessean through tears that "we've come to a point where you can't hold up a sign. That's not okay. That's not democracy." The Tennessean stated that "the crying of multiple Covenant School parents could be heard" as the room was removed, along with cries from outraged protesters.
After the public's expulsion, including those who had sat peacefully, state legislators passed House Bill 7064. The bill permits enhanced gun permit holders, cops, and military members—on-duty, off-duty, active duty, and retired—to own and carry a handgun in any public school building, bus, campus, or grounds.
The bill was introduced in reaction to the massacre at The Covenant School, which killed three staff members and three young pupils after Audrey Hale, a former student, went on a rampage equipped with an AR-style rifle, an AR-style pistol, and a handgun before being shot dead by police.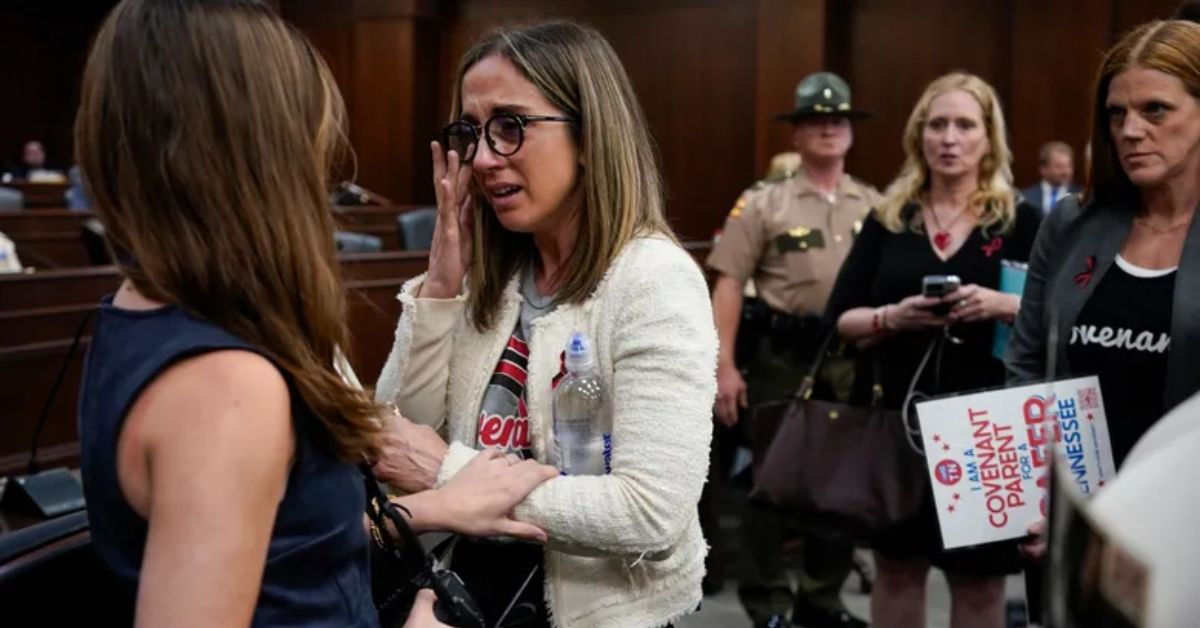 On Tuesday, 22, 2023, marked the second day of a special legislative session called by Tennessee Gov. Bill Lee, a Republican, to approve gun reform legislation making it more difficult for mentally ill people to purchase firearms.
Lee's efforts to restrict gun access were soon foiled by Tennessee's deeply Republican state legislature, which instead enacted HB 7064 despite the pleas of Sarah Shoop Neumann, the mother of a school shooting survivor, and others who testified through tears.
The presence of firearms in schools is something I cannot speak out against more strongly. Teachers in this state already face challenges regarding funding, staffing, and being overburdened.
She spoke on behalf of herself, the Covenant Families Action Fund, and several Covenant School instructors. She said that having guns on campus on the day of the shooting would have made it a much worse tragedy.
"I don't think they get what this means," Neumann said of the Republican lawmakers to WKRN. "We're here for six people who were killed in our school. We're just trying to do something…It's hard to be here. It's overwhelming."
Caught up with an emotional @SarahShoop33 after she and other Covenant families were kicked out of Civil Justice Subcommittee.

"I don't think they get what this means. We're here for six people who were killed in our school. We're just trying to do something."@WKRN #TNLeg23 pic.twitter.com/zXoFvDRrSN

— Chris O'Brien (@THEChrisOB) August 22, 2023
Conclusion:- For more latest updates, stay connected with us always. Check out blhsnews.com for the most recent news on your favorite stars. You should save our site to your bookmarks so you can return to read our most recent posts as soon as they become available.

If you're interested in reading about the recent news, you can check out the below links:-
Tyler is a passionate journalist with a keen eye for detail and a deep love for uncovering the truth. With years of experience covering a wide range of topics, Tyler has a proven track record of delivering insightful and thought-provoking articles to readers everywhere. Whether it's breaking news, in-depth investigations, or behind-the-scenes looks at the world of politics and entertainment, Tyler has a unique ability to bring a story to life and make it relevant to audiences everywhere. When he's not writing, you can find Tyler exploring new cultures, trying new foods, and soaking up the beauty of the world around him.