Tuesday morning outside an elementary school in Mid-Wilshire, a truck hit a mother and badly injured her 6-year-old daughter as they crossed the street.
Nearby Hancock Park Elementary School at 6275 West Colgate Avenue, a Nissan Titan pickup truck ran over the mom and the girl. She passed away there and there. Both the girl and the driver were taken to the hospital.
At around 8 a.m., Los Angeles firefighters and police officers responded and discovered two victims on the road. A 35-year-old woman passed away there, and a youngster was taken to the hospital in critical condition. According to early accounts, the youngster is a girl who is approximately 6 years old.
The woman and youngster, according to investigators, are mother and daughter. According to the police, the 6-year-old girl attends Hancock Park Elementary as a first-grader.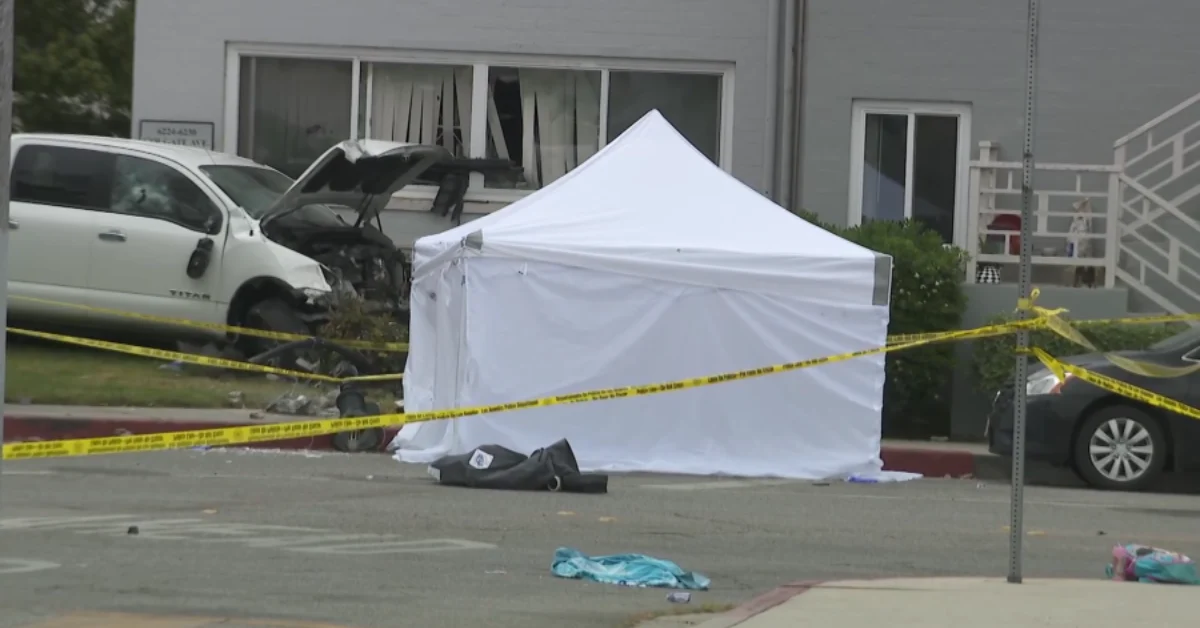 The truck driver was hospitalized and was in a fair amount of pain. He was said to be in his mid-30s.
According to police on Twitter, the truck struck the victims in a crosswalk at the junction of Colgate Avenue while the driver was traveling south on Ogden Drive.
According to the LAFD, the vehicle struck the side of a two-story apartment building and came to rest there. During the investigation, Colgate and Ogden were off-limits.
Read more articles on BLHSNEWS.com we publish on this site:
Los Angeles firefighters first claimed the driver looked in an "altered state." Still, police said it was too early to determine whether the driver was intoxicated or experiencing a medical issue.
Authorities think that the driver was speeding.
Vehicles frequently travel at high speeds through the residential school neighborhood, neighbors said KCAL News.
They will need to examine the debris fields. To ensure that our investigation is complete, they must read the car, check for tire marks, speak with witnesses, and do all the other things mentioned, according to LAPD Deputy Chief Blake Chow.
As the school day began, a number of witnesses were present at the location of the crash. At the university, grief counselors were requested.
Tyler is a passionate journalist with a keen eye for detail and a deep love for uncovering the truth. With years of experience covering a wide range of topics, Tyler has a proven track record of delivering insightful and thought-provoking articles to readers everywhere. Whether it's breaking news, in-depth investigations, or behind-the-scenes looks at the world of politics and entertainment, Tyler has a unique ability to bring a story to life and make it relevant to audiences everywhere. When he's not writing, you can find Tyler exploring new cultures, trying new foods, and soaking up the beauty of the world around him.