With a wildfire threatening, officials in Medical Lake, Wash., ordered the evacuation of the whole town on Friday.
According to tweets from the Washington State Department of Natural Resources, the Gray Fire spread from an estimated 500 acres to approximately 9,500 acres by Saturday morning, pushed by 35 mph winds.
#GrayFire in Spokane County is 500-700 acres and moving fast in 35mph gusts. City of Medical Lake level 3 evac (go now!), Red Cross Shelter at Cheney HS

— Washington State DNR Wildfire (@waDNR_fire) August 18, 2023
The fire killed one person and destroyed "many" structures. Medical Lake, about 12 miles southwest of Spokane, is home to nearly 5,000 people.
"We are aware that some residences have been destroyed by fire. "We don't know how many," said Joe Smillie, a department spokesperson, on Friday night. "This blew up hugely and quickly." The last week has been really hot.
After 5 p.m. on Friday, the fire jumped Interstate 90, blocking sections of the highway in both directions and forcing officials to begin evacuations of Four Lakes, a small community of roughly 500 people. State Route 902, another major artery, was also closed in both directions at Medical Lake.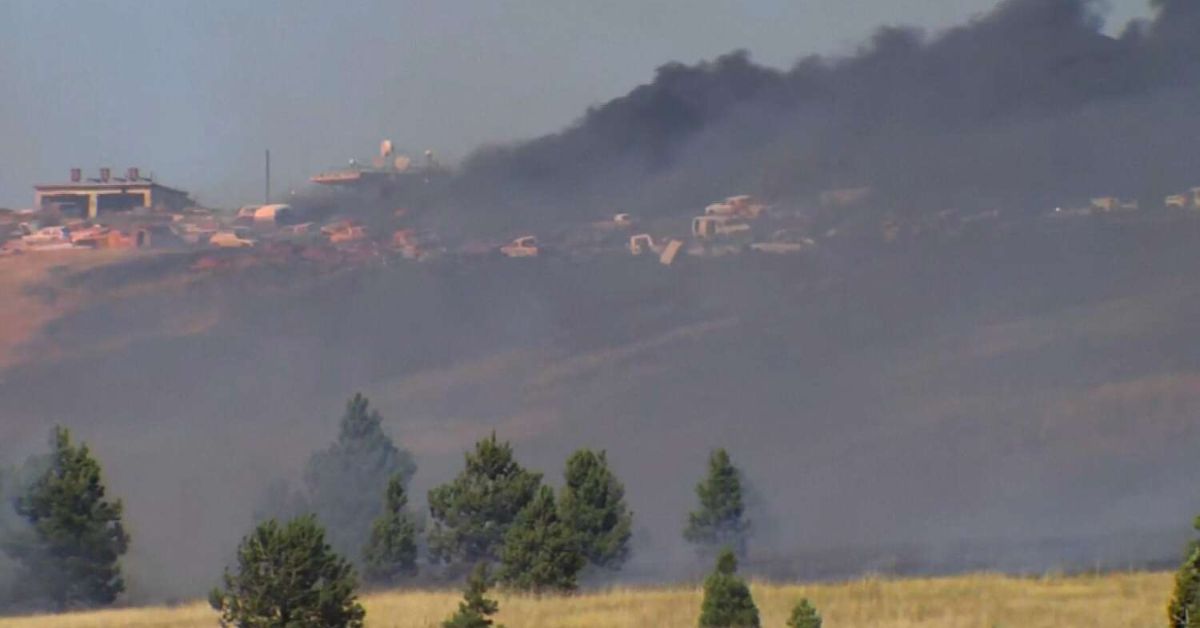 Spokane County Sheriff John Nowels said Friday afternoon that his deputies were "running from house to house" within the evacuation zone, pushing residents to escape.
According to Nowels, the fire was "zero percent" contained and was spreading toward more inhabited areas, including residences and a school.
He believed that more than 100 police officers had reacted to the fires.
"We had to save people by boat." "We've had to use helicopters to rescue people," Nowels explained. "If you're in an evacuation zone, get out." Some people have refused to go. Fire then consumes the area where they are, and they must be rescued."
On Friday afternoon, 20 Washington Air National Guard men assisted with evacuating patients and personnel from Eastern State facility, a 367-bed inpatient psychiatric facility. Smillie stated that the source of the fire remained unknown.
Happening now: 20 @WANationalGuard members from the 141st ARW are at Eastern State Hospital to help evacuate patients and staff in area of the #GrayFire pic.twitter.com/vnM8es1LkK

— WA National Guard (@WANationalGuard) August 19, 2023
On Friday afternoon, the agency encouraged residents to seek refuge at a high school in the neighboring town of Cheney. According to Smillie, Cheney was under a level-one evacuation notice by Friday evening, which meant that officials were advising citizens to prepare to leave. He said officials were devising an evacuee plan if the fire proceeded to threaten Cheney.
Several additional fires broke out in different sections of Washington state on Friday afternoon, including one near Elk that destroyed at least 30 structures.
#OregonRoadFire near Elk, WA 3000+ acres, 30 structures lost, 150+ homes threatened, active fire all of last night. https://t.co/sI05ZMgce5

— Washington State DNR Wildfire (@waDNR_fire) August 19, 2023
According to the National Weather Service, much of inland Washington state was under a red flag warning on Friday.
"Warm, dry winds will continue through the afternoon, producing critical fire conditions," forecasters stated.
Gov. Jay Inslee expressed sympathy to all those affected.
"I'm also praying for the safety of the first responders working to contain the fire," Inslee stated on X, formerly Twitter. "May you all be safe and remain out of harm's way."
Till Then, keep yourself updated with all the latest news from our website, blhsnews.com.
Tyler is a passionate journalist with a keen eye for detail and a deep love for uncovering the truth. With years of experience covering a wide range of topics, Tyler has a proven track record of delivering insightful and thought-provoking articles to readers everywhere. Whether it's breaking news, in-depth investigations, or behind-the-scenes looks at the world of politics and entertainment, Tyler has a unique ability to bring a story to life and make it relevant to audiences everywhere. When he's not writing, you can find Tyler exploring new cultures, trying new foods, and soaking up the beauty of the world around him.