First graders in Melissa Tempel's class at Heyer Elementary School in Waukesha County, Wisconsin, had been practicing for weeks in anticipation of their spring concert.
The concert's subject of global peace and cooperation was something Tempel and her dual-language colleague at the school wished to emphasize. They chose several tunes, including a Spanish version of "It's a Small World" and The Beatles' "Here Comes the Sun."
Also, students were scheduled to perform "Rainbowland," a 2017 duet by Miley Cyrus and her godmother Dolly Parton with pro-inclusion lyrics. As soon as the song was suggested by another faculty member and accepted by Tempel and her co-teacher, she began practicing with her students.
She claimed that her first-graders needed as much time as possible to memorize the songs before the show, which would be held right before Mother's Day.
"My students loved it immediately," CNN spoke with Tempel about how her class responded to "Rainbowland."
However, Tempel claimed that the school administration asked her to omit "Rainbowland" from the concert just one day after kids began learning the song.
The district said in a statement that it requested the piece be taken down because the lyrics "may be deemed controversial" in accordance with a school board guideline on contentious topics in the classroom.
"Wouldn't it be nice to live in paradise, where we're free to be exactly who we are," Cyrus and Parton sing? "Living in a Rainbowland, where you and I go hand in hand. I'd be lying if I said this was fine, all the hurt and hate going on here."
CNN contacted Cyrus and Parton's representatives for comment but did not immediately respond.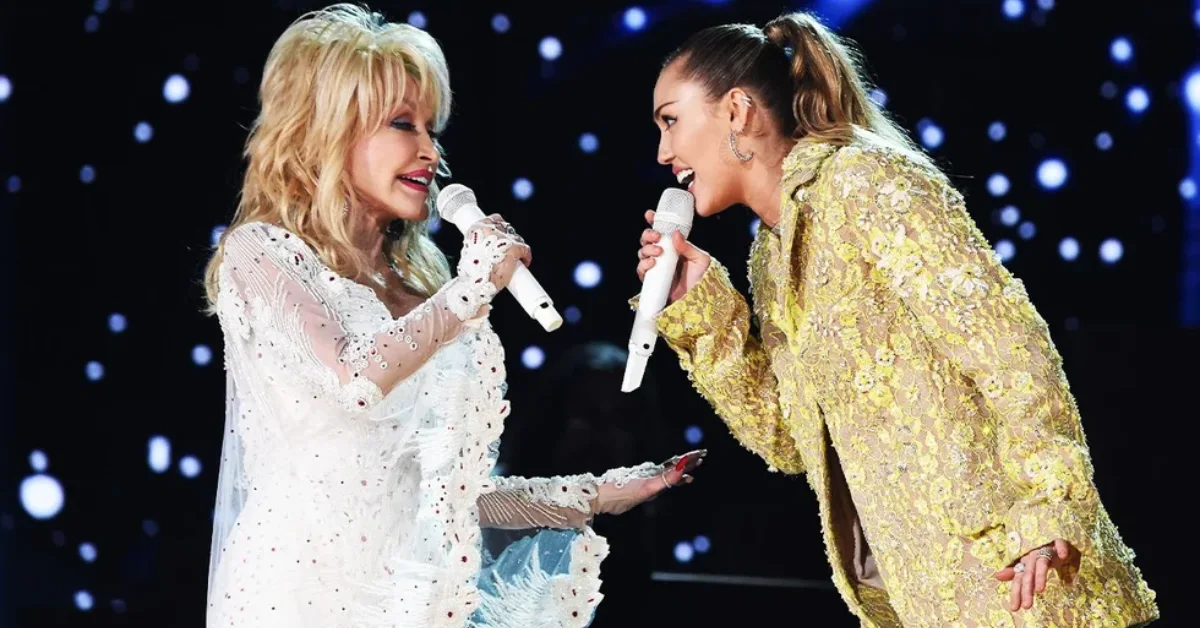 "It's really about if we could love one another a little better or be a little kinder, be a little sweeter, we could live in rainbow land,"  In 2017, Parton praised the song, while Cyrus remarked separately that sections of the lyrics refer to "various ethnicities, genders, and religions."
"(It would be great) if we all did come together to create and said, 'Hey, we're different, that's awesome, let's not change to be the same, let's stay different but let's come together anyway.' Because a rainbow's not a rainbow without all the different colors," Cyrus told NME.
Tempel said that "Rainbowland" isn't "just a song."
"We're trying to support inclusivity," she said. "The love and acceptance piece, and being who you are, I don't think there's anything political about that."
The Waukesha school system defines a "controversial issue" as one that, among other things, "may be the focus of intense public debate" or that "may have political, social, or personal impacts and/or on the community."
When contacted by CNN, James Sebert, the superintendent of the Waukesha school district, declined to say why "Rainbowland" was viewed as contentious.
School Districts Across The US Remove Rainbow Imagery
Tempel claimed school district officials have attempted to eliminate other allusions to rainbows in schools. Tempel is concerned that the prohibition of "Rainbowland" is related to broader efforts to limit the discussion of LGBTQ subjects in classrooms.
She claimed that last year, administrators directed all teachers in the district to remove all rainbow-themed decorations and to stop donning rainbow-colored apparel or lanyards.
Sebert did not mention rainbow-themed signage when he stated that some signs had been removed in conformity with the rule leading to the "Rainbowland" ban.
He told CNN that the district has its own "Commitment to Everyone" poster to emphasize that pupils are "respected," "belong," and "have a voice." The image is available in both English and Spanish.
The Waukesha County school board adopted a resolution earlier this year encouraging teachers to refrain from using a student's preferred nickname or pronouns unless they have obtained written consent from the student's parent. This was done to be more explicit with its guidance on LGBTQ students.
Fewer and fewer school districts in the US allow teachers to talk about LGBTQ issues with their students at all grade levels. Legislation known as "Don't Say Gay" in Florida forbade instructors from talking to pupils in kindergarten through third grade about sexual orientation and gender identity.
Earlier this year, USA Today reported that several school districts, including those in Wisconsin, Ohio, and Delaware, had forbidden faculty members from flying Pride flags.
Moreover, publications with LGBTQ characters or issues have been prohibited in schools in several states, including Texas, Louisiana, and Michigan.
According to CNN last year, school district officials in the Wisconsin district of Kettle Moraine School District reinterpreted an old policy that prohibits "partisan politics, sectarian religious views, or selfish propaganda."
As a result, teachers there are no longer allowed to display Pride flags or use pronouns in their email signatures.
After "Rainbowland" was forbidden at Heyer Elementary, a different teaching member suggested Tempel and her colleague switch the music to "Rainbow Connection," the well-known hymn about hope and pursuing one's aspirations by Kermit the Frog.
Yet that song was also initially prohibited until parent members of the Alliance for Education in Waukesha discussed the restriction with the teaching staff, after which administrators decided to lift the restriction, according to Tempel.
According to the school district statement Sebert sent to CNN, the concert will go as scheduled, with children performing "Rainbow Connection" rather than "Rainbowland," a decision that is "completely supported by the Superintendent."
Tempel And Teachers Remain Committed To Inclusion
A parent of a student in Tempel's co-class, teacher Samantha Siebenaller, applauded the staff at Heyer Elementary for "their effort to establishing an environment where inclusion thrives despite the Board."
Several Waukesha School Board members, according to Siebenaller, have "embarrassed our community… with their lack of commitment to diversity, equity, inclusion, and belonging," she said in a statement.
Here are more school news articles as per following:
Kelly Piacsek, president of the Waukesha School Board, has been contacted by CNN for comment.
For her part, Tempel has left the rainbows in place in her classroom. Although her pupils were upset that they would no longer be singing "Rainbowland," she is still determined to use various platforms to demonstrate her support for inclusivity.
She used Twitter to voice her opposition to the song restriction, which helped her school and its forthcoming event reach thousands of people.
She admitted to CNN that being present for the students she teaches matters most to her– "making sure my students feel safe and supported at school, and that their identities are appreciated, no matter how they identify."
Tyler is a passionate journalist with a keen eye for detail and a deep love for uncovering the truth. With years of experience covering a wide range of topics, Tyler has a proven track record of delivering insightful and thought-provoking articles to readers everywhere. Whether it's breaking news, in-depth investigations, or behind-the-scenes looks at the world of politics and entertainment, Tyler has a unique ability to bring a story to life and make it relevant to audiences everywhere. When he's not writing, you can find Tyler exploring new cultures, trying new foods, and soaking up the beauty of the world around him.