There are 45 million people in the United States have student loan debt, which can make it harder for entrepreneurs to get a small-business loan.
Student loan debt can affect your credit score and debt-to-income ratio, two ways lenders determine how likely you are to stop paying back your loans. But you can still get a business loan even if you owe money for school.
David Canet, managing director of the SBA Lending Group at ConnectOne Bank, says that more than half of their loans have student debt.
Even though each lender has different requirements for a business loan, these tips can help entrepreneurs with student debt get through the process.
Factor Student Loan Debt Into Your Budget
Entrepreneurs, especially those with student debt, can find it hard to show that their business has enough cash flow to repay a business loan.
Canet says your business's cash flow must cover business loan payments and personal costs, such as student loan payments. Student loan debt is also affected by your debt-to-income ratio, which lenders use to determine if you can repay a loan.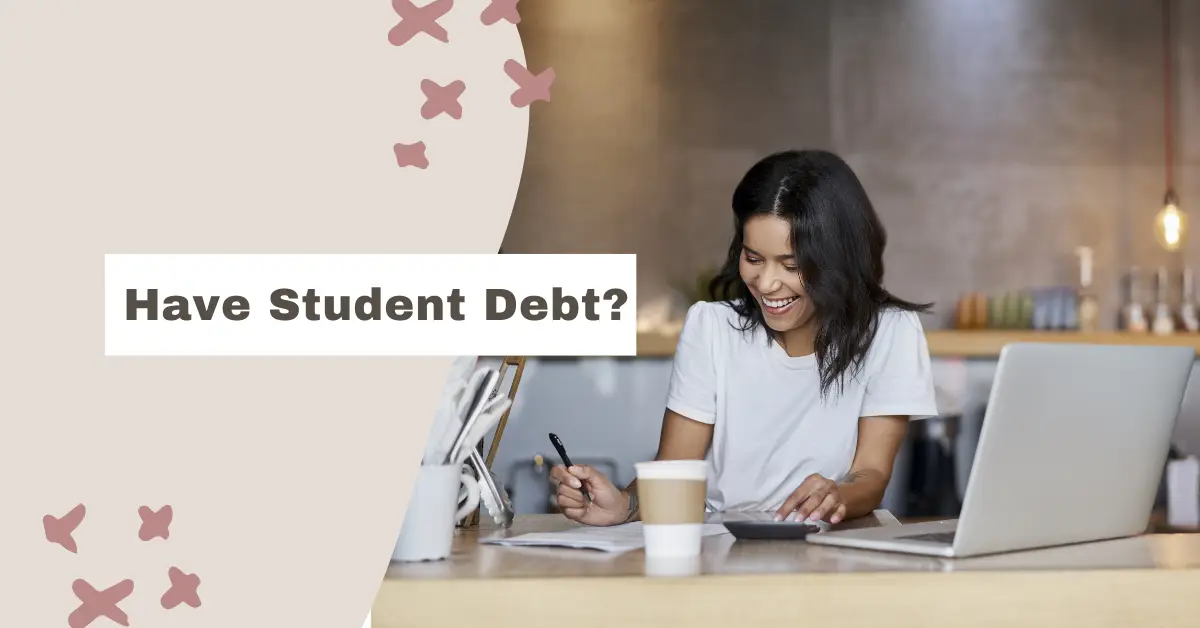 Canet suggests that you include a personal budget in your business plan to show that you have considered your financial obligations, such as student loan payments and business obligations.
Would getting rid of student loans change things? In short, not yet.
"[Lenders are] not probably reacting much to all the news about debt cancellation and stuff like that, just because it's so complicated," says Carolyn Katz, a SCORE mentor who helps small-business owners apply for loans.
"For them to figure out who might get which amounts of debt canceled at what point is probably above their pay grade." For now, you should plan your budget based on your entire balance.
Check out some other new content we've published:
Be Transparent About Your Payment History
Student loan debt can also hurt your credit score, and lenders look at your credit history to see if you've always paid your bills on time. Katz says that you're not the only one if you haven't.
Most business owners she's worked with have something wrong with their credit reports, like a student loan payment they didn't make.
What's important is that you're honest about why your credit score went down. Katz says that this shows the lender you know what it means to be a good borrower.
Consider ways to improve your credit score, and expect lenders to put more weight on things like your cash flow and how much collateral you have, says Desha Elliott, a local market manager at Accion Opportunity Fund, a nonprofit lender and community development financial institution, or CDFI.
Approach the Right Lenders
Large, traditional banks usually have the most strict requirements for lending money, which makes it hard for small businesses, even those with no student debt, to qualify.
Instead, entrepreneurs may want to look into their local banks, credit unions, or CDFIs, which often take a more personal approach and put more weight on an applicant's character.
Elliott says, "We're looking at credit, collateral, character, and cash flow — and more specifically, your character and cash flow," By taking into account the entrepreneur's experience and situation, AOF can approve loans for a broader range of people.
In the same way, Canet says he looks at the applicant's effort, commitment, and dedication in addition to how much money they have.
"Small-business lending at this level is never just brass tacks," he says, giving the example of a borrower who got a business loan even though they had a lot of medical school debt, partly because they had already shown they could handle challenging situations.
Review Loan Terms Carefully
When it's hard for a business owner to meet the usual requirements for a business loan, they should be wary of predatory lenders who don't tell them the actual cost of borrowing.
Elliott says that before accepting a loan offer, you should find out the annual percentage rate, the terms and if there are any extra fees, like a prepayment penalty.
"If the loan deal sounds too good to be true, it probably is," says Carolina Martinez, CEO of Cameo, California's statewide micro business network.
Elliott says, "take the time to assess, 'Can I afford to make this payment and do what I need to do with the money that's being lent?'" If not, it's not the right way to pay for it.
Seek Expert Support
Martinez says, "It is as important to be ready to apply as it is important to select the right product."  Entrepreneurs can use free resources, like mentoring from SCORE and coaching from CDFIs, to improve their application and get ready to answer any questions lenders may have.
Canet says, "[The] loan application is the entrepreneur's opportunity to make their pitch, and first impressions count."
Katz says, "If you have a good business idea or a good idea to grow your business, and you think a loan makes sense for you, don't be put off because you have student loan or other debt," "Give it a try." Even if you're turned down, she explains, lenders often give you a reason why.
So, you can improve your application, keep paying down your debt and try again later. Please share this with your friends if you find it interesting. Visit blhsnews.com for more celebrity updates and breaking news.