What: Kristin Bride will testify at the U.S. Senate Judiciary's "Protecting Our Children Online" hearing in Washington D.C. today about her son Carson Bride and other heartbroken families like Rose Bronstein and Christine McComas, both moms who lost their children to cyberbullying.
These women support the Federal Kids Online Safety Act (KOSA) to protect children online and encourage social media businesses to act responsibly.
Who: Kristin Bride of Oregon, a globally known social media reform advocate, revealed her family's tale in the U.S. Congressional hearings on social media company practices on October 26, 2021. After her 16-year-old son Carson Bride committed suicide on June 23, 2020, after receiving anonymous messages from his high school "Snapchat Friends" utilizing Yolo and LMK, she became a social media safety advocate.
Check out some of the most recent articles:
In the weeks before his suicide, Carson received over 100 threatening, sexually graphic, and demeaning messages. Before committing suicide, he searched his phone for "hacks" to identify his tormentors. Kristin testified to pass Carson's Law in Oregon, which mandates school systems to disclose bullying instances to both the victim and the aggressor's parents.
Kristin works with Fairplay for Kids, Parents Together, and OSMS. The Washington, D.C. Council for Responsible Social Media includes her.
After her 15-year-old son Nate committed himself on January 13, 2022, Rose Bronstein founded Buckets Over Bullying, a non-profit hoops-focused movement to eradicate cyberbullying of children and teens through education, lawmaking, and legal action.
In the months prior, a number of classmates/teammates used text and social media to harass, threaten, and tell Nate to "Go Kill Yourself!" She fights cyberbullying to commemorate her son and spare other families the anguish. Rob and Rose's family live in Chicago.
Christine McComas of Maryland is a nationally recognized anti-cyberbullying advocate who with her husband Dave and their family helped pass Grace's Law and Grace's Law 2.0 in Maryland in 2013 and 2019 makes cyberbullying with the intent to induce a minor to commit suicide a misdemeanor punishable by up to 10 years in prison. After months of cyberbullying, Grace McComas, 15, committed suicide on Easter Sunday 2012.
When: February 14, 2023, 11:00 a.m. Eastern Standard Time
Where: Room 216, 224 Dirksen Senate Office Building, Hart Senate Office Building, Washington, D.C. 20510 or online at: https://www.judiciary.senate.gov/meetings/protecting-our-children-online
Why: After losing their boys to suicide due to brutal and relentless cyberbullying, Kristin, Rose, Christine, and other moms are determined to prevent this from happening to another innocent child. Many cyberbullied 10–19-year-olds in the U.S. have committed themselves. Consider this about our youth-killing national crisis: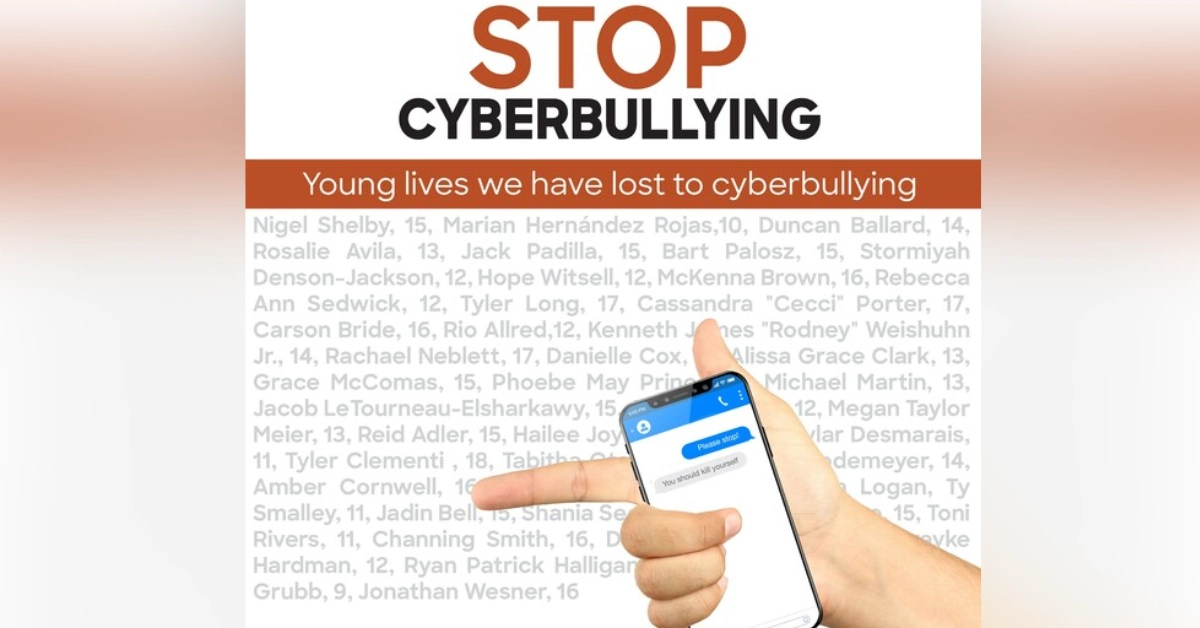 Teen suicide ranks second in the U.S.
Teens who used social media more than five hours a day were 70% more likely to consider suicide than those who used it once a day.
Social media users are 14% more likely to be depressed.
Cyberbullying affects 34% of kids.
20% of cyberbullied youngsters consider suicide, and 10% try.
Statement of Buckets Over Bullying
The spirits of Nate Bronstein, 15, Carson Bride, 16, Grace McComas, 15, and David Molak, 16, and hundreds of other kids and their grieving families across the nation lost to cyberbullying need serious accountability and reform.
Cyberbullying is causing 10-19-year-olds to commit suicide at frightening rates. Words, reports, and scattered state laws and regulations, some named after lost children like Carson, Grace, and David, are no longer adequate.
Adriana Kuch, 14, of Bayville, NJ, is the latest cyberbullied teen to commit suicide in the past decade. Adriana died two days after high school friends released videos of her being assaulted on social media. After the videotaped assault, parents and students requested the school district improve its bullying response. Public outcry and a call for action forced accountability.
Our kids, parents, schools, and laws are fractured and unprepared to face this catastrophe. What state laws we have—some of which are unenforced or ignored—require lots of reporting with little or no real enforcement, accountability, deferrable programs, or penalties for cyber bullies, their enablers, or social media platforms like Instagram, Snapchat, Twitter, Facebook, and Tik Tok that spread the hate that is killing our kids.
Cyberbullying and cyber abuse are escalating our nation's youth mental health crisis. Dr. Victor Fornari, vice chair of child and adolescent psychiatry for Northwell Health. New York's largest health system, told the New York Times that the number of adolescents coming to the emergency room at Long Island Jewish Medical Center in New Hyde Park.
Where he practices, has increased dramatically in recent decades. 250 suicidal teens visited the ER in 1982. 3,000 by 2010. 8,000 by 2022. Smartphones debuted in 2012.
Dr. Fornari told the NYT that social media use is "no question" linked to the substantial rise in suicide conduct and melancholy mood in teens. "Kids are prone to cyberbullying and harsh comments, such 'I detest you,' 'Nobody likes you,'" he stated. "It always harpoons their heart."
This dangerous problem is very evident. We must demand more for our children's and families health. Buckets Over Bullying and its parents, kids, and community leaders want to help create a digital-age solution, and we hope many concerned others will join us.
Disrupt the established quo and move society from reactive to proactive cyber abuse reaction. Cyberbullies, their families, schools, and administrators all share responsibility. Federal lawmakers on a bipartisan basis must follow President Biden's 2023 State of the Union call to protect kids by holding tech and social media companies accountable for prioritizing the privacy and well-being of young people over profit and revenue in their product design.
Including safety by design standards and practices for online platforms, products, and services. Federal politicians should stop allowing tech platforms to utilize manipulative design strategies to promote addicted and compulsive use by young people in the guise of "user engagement" to increase income.
The Kids Online Safety Act (KOSA) and modifying and removing Section 230 liability protections for internet and social media firms must pass. Our developing children's brain health deserves better.
Have a look at some of the latest articles:
About Buckets Over Bullying:
Buckets Over Bullying, a Bronstein Family Foundation non-profit, aims to end cyberbullying of children and teens. After being cyberbullied and encouraged to "Go kill yourself" by classmates and teammates at a Chicago independent school, 15-year-old Nate Bronstein committed suicide on January 13, 2022.
Buckets Over Bullying uses education, lawmaking, and legal action to avoid what occurred to 15-year-old Nate and others, promote good digital citizenship, and hold cyberbullies and their enablers accountable.