One person died after being shot at a Mardi Gras parade on Sunday night, according to New Orleans police. About the firing, one suspect was detained on the spot.
Mansour Mbodj, age 21, was named as the suspect by authorities during a press briefing on Monday. Officers detained Mbodj "within seconds" of the incident, which occurred the previous evening just before 9:30 p.m., according to interim New Orleans police chief Michelle Woodfork.
According to the police, the gunshot occurred along the Krewe of Bacchus parade route.
Police reported one of the casualties was a toddler. They claimed that officers heard gunfire ring out while on patrol at the parade and discovered five victims.
Have a look at some of the latest trending news:
None of the people wounded by gunfire have been given names. According to the authorities, emergency medical services professionals arrived swiftly, and all five victims were taken to a local hospital.
According to Woodfork, four of them sustained injuries; they had all been treated and released from the hospital by Monday. According to the police chief, the injured included a 4-year-old girl, an 18-year-old male, a 22-year-old woman, and a 24-year-old woman.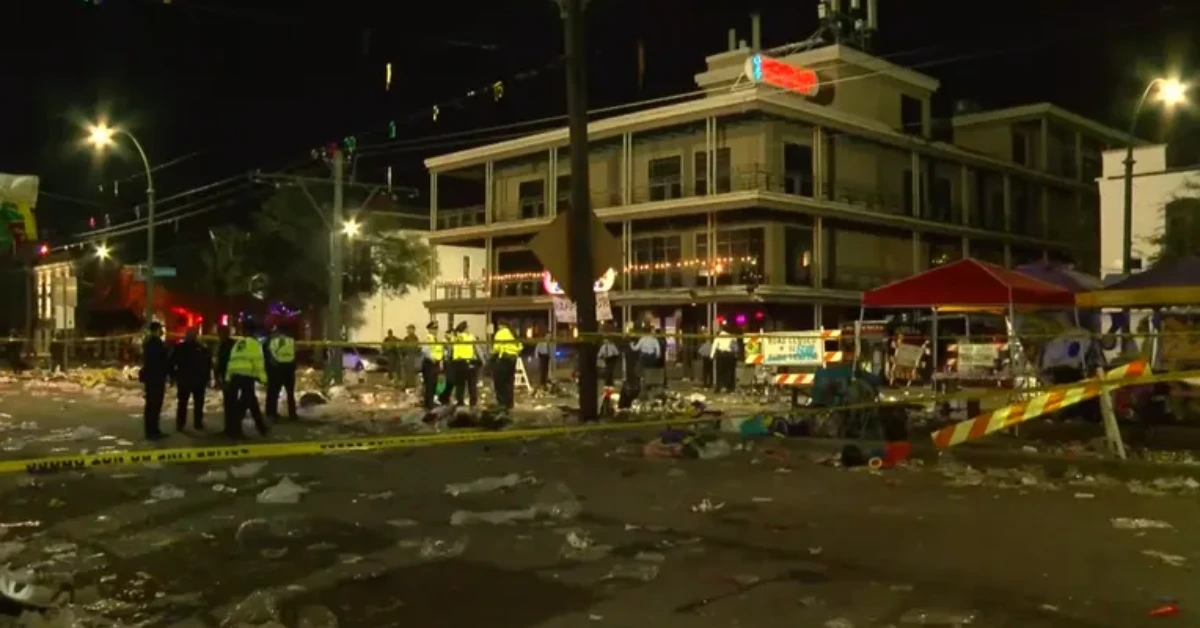 Police have not yet released the identity of the fifth individual who was shot and killed. Authorities estimate the deceased guy was between the ages of 15 and 18, according to Woodfork, who also said that the victim was pronounced dead at the hospital.
The suspect was arrested for illegal carrying of a weapon, said Woodfork, who provided few details as a probe into the incident is ongoing. Unlawful carrying of weapons can apply to the intentional concealment of a dangerous weapon, including a firearm, or concealed carrying of a gun without required permits under Louisiana state laws.
Woodfork said that officers confiscated two weapons from the scene. A homicide unit is also involved in the investigation, the interim police chief said.
"We can't say who fired a weapon or who was involved in the shooting at this time, but we are definitely investigating what happened last night," Woodfork told reporters at the news conference on Monday, adding that results of a bullet analysis still underway will provide more information about "which guns were fired."
"This is an isolated incident that occurred near the parade route because someone decided that they were going to … that the resolution was going to be ended with gunfire," said the interim chief. "You know, a problem that they had with someone else, it was going to be ended with gunfire."
NOPD Chief Deputy Superintendent Hans Ganthier told CBS New Orleans affiliate WWL-TV on Sunday night that officers "were quickly able to apprehend the suspect we believe responsible for this" and that two guns were recovered.
"This is really not something we wanted to see," said Ganthier. "We really wanted this to be a safe Mardi Gras."
According to WWL, the march was briefly stopped but allowed to proceed. Woodfork stated on Monday that since Mardi Gras festivities, police officers from various New Orleans districts sought to seize guns along parade routes.
This year, police have uncovered 112 weapons in surrounding areas that have hosted parades and other events.
"We're serious about making this event truly safe," said the police chief.
According to a witness who spoke to WWL, there were at least a dozen gunshots, and everyone was scrambling to get out of the way, leaving everything they owned behind.
According to the eyewitness, there were multiple altercations that police broke up in the area before the shooting.
Journalist Jonah Gilmore spoke to another eyewitness:
Stacey Morigeau was in the area when an incident occurred along the uptown parade route during Bacchus. pic.twitter.com/6rtP5WIQHy

— Jonah Gilmore (@JonahMGilmore) February 20, 2023
Twitter user @SoThatHappnd posted a video of the aftermath:
St. Charles and Terpsichore #Bacchus shooting pic.twitter.com/d9TFaiNW2T

— So that happened… (@SoThatHappnd) February 20, 2023
The Louisiana State Police, the Department of Prisons, and the Sheriff's Office for Orleans Parish, according to New Orleans police, assisted at the scene. Please forward this to your friends if you find it interesting. Visit blhsnews.com for the most recent news and updates.