No one knew if 7-year-old Jacob would live when paramedics brought him to the hospital. Brain damage. Many fractures. He had kidney, heart, and liver damage.
"From his head to his toes, every organ was affected. He was in a coma, a traumatic coma. We didn't know if he would ever wake up, " Dr. Allan Greissman, one of many medical professionals who cared for him throughout his nine weeks at Joe DiMaggio Children's Hospital in Hollywood, said this.
Second-grader Jacob Estrada from Somerset Academy Miramar suffered severe injuries in a deadly accident near his school. On December 19, a few days before Christmas break, his pregnant mother, Cristina Marie Hernandez, 30, an ICU nurse at Jackson Memorial Hospital, had just picked him up from school when a juvenile driver traveling at over 100 mph crashed into their vehicle.
Hernandez perished in the collision. In the back seat, Jacob sustained injuries to all but one of his limbs and nearly all of his internal organs except for his left arm.
"He was hanging on for dear life. He had to fight; they gave him hours to live," said his dad Anthony Estrada. "I didn't know what was going to happen. I had just lost my wife in the accident, and so I was like, 'Please don't take my child, my boy, away from me.'"
Jacob, the only kid in the family, was revived at the collision scene and then taken by Miramar Fire Rescue to Joe DiMaggio Hospital. He underwent several surgeries and was given a feeding tube and a breathing tube machine.
Grossman said his liver was so severely injured that surgery was required to reroute some of the blood from it to his heart.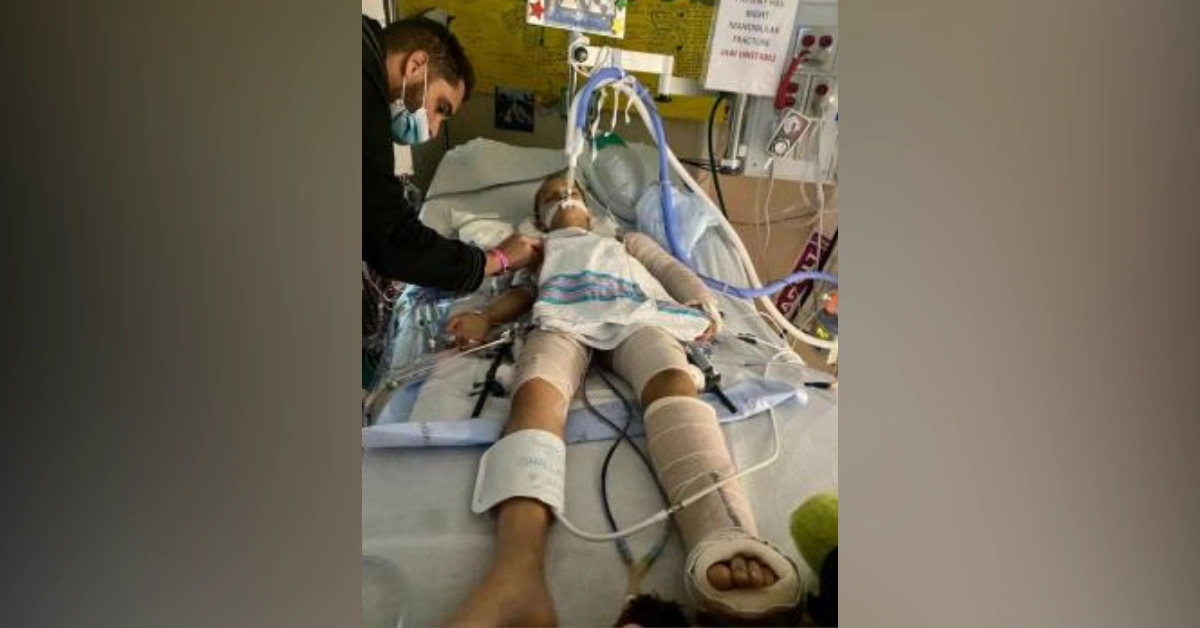 Doctors predicted that he had a low chance of survival. In Greissman's nearly 30-year experience in pediatric critical care, he was one of the "sickest trauma patients" he had ever treated.
After a few days, Jacob could finally breathe on his own. Doctors lowered his medicine. He started moving and going to physical therapy. After spending two months in intensive care, Jacob was released last Wednesday.
He walked around the hospital's hallways in a tiny red automobile as the staff cheered him on in a happy parade. Finally, he was returning home.
We are overjoyed that Jacob is finally going home. Although his road to recovery has been long, we will continue to be here for Jacob and his family until the end. He will forever hold a special place in our hearts. 💕 https://t.co/Mtk4nqw9yf

— Miramar Police (@MiramarPD) February 22, 2023
"We just can't wait to go home," said Estrada. "Be back in our bed, back in our own home. My son wants to see his dog … there are no words to describe the feeling I get … you guys [Joe DiMaggio staff] gave me a chance to bring my boy home like I asked."
Jacob is moving by himself. He is capable of hand-squeezing a ball. He's resuming to laugh and play. His recovery has been deemed "miraculous" by the hospital.
"I came in the other day, and he took a Nerf gun and Nerfed me with the Nerf gun," said Greissman. "That was probably one of the happiest days I've had in a long time."
After Cristhian Bravo Gonzalez was detained by police and charged with the deadly collision near Somerset Boulevard and Flamingo Road, Jacob was released a few weeks later.
The 17-year-old, who is being charged as an adult, allegedly crashed his dad's Lexus into Hernandez's automobile at a speed of 113 mph while under the influence of marijuana, according to the police. At the time, he was 16 and without a license.
You might also consider the articles related to news:
His criminal accusations include vehicular homicide, DUI manslaughter, and reckless driving resulting in serious bodily injury. According to court documents, as of Monday, he was still being held in the Broward County jail with a bond set at $505,000, which his attorneys are requesting be lowered.
Jose Miguel Bravo De La Torre, the teen's 38-year-old father, was also detained by police on suspicion of allowing an unlicensed person to drive. According to court documents, De La Torre, who was just freed from custody, has an arraignment set for March.
Tyler is a passionate journalist with a keen eye for detail and a deep love for uncovering the truth. With years of experience covering a wide range of topics, Tyler has a proven track record of delivering insightful and thought-provoking articles to readers everywhere. Whether it's breaking news, in-depth investigations, or behind-the-scenes looks at the world of politics and entertainment, Tyler has a unique ability to bring a story to life and make it relevant to audiences everywhere. When he's not writing, you can find Tyler exploring new cultures, trying new foods, and soaking up the beauty of the world around him.