An AR-15 semi-automatic gun and ammunition were reportedly found in the possession of a 15-year-old high school student in Phoenix, Arizona, who was then arrested by police.
A student at Bostrom High School in Phoenix was reportedly apprehended by police on Friday at around 1 p.m. for illegally possessing a handgun on school property.
School officials called the police, who arrived, took possession of the weapon, and arrested the student shortly after the school was placed on lockdown.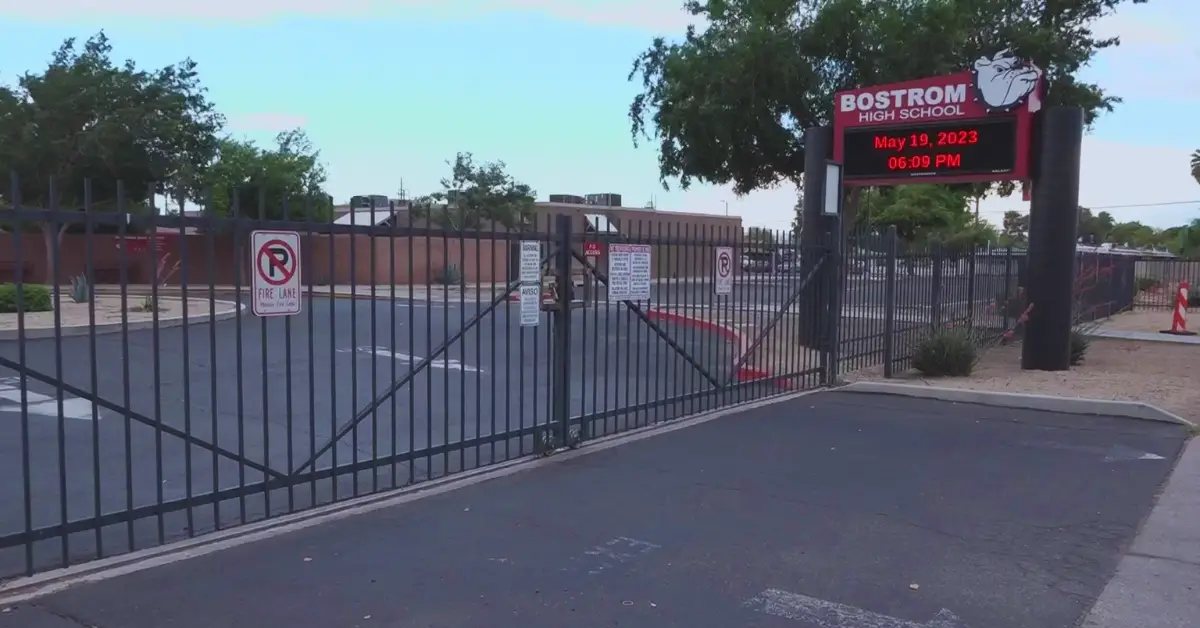 "When they arrived, officers detained the male student in the school's main office. The student was found to be in possession of a semi-automatic rifle. Additional ammunition was found in the student's backpack and lunch box," a police official in Phoenix revealed to FOX 10 news.

The teen faces numerous felony charges, including "minor in possession of a firearm, carrying a weapon on school grounds, interfering with an educational institution and other weapon-related charges,"  According to an interview with NBC News conducted with Donna Rossi, director of communications for the Phoenix Police Department.
A tip informed the school administration that there was a p!stol on campus during lunchtime when they found out the information.
K-12 School Shooting Database posting the same news on its Twitter handle.
A student in Phoenix faces "a number of serious felony charges" after police accused him of bringing an AR-15 weapon and ammunition to a high school, authorities said.https://t.co/cofWrGXLCb

— K-12 School Shooting Database (@K12ssdb) May 21, 2023
Following the event on Friday, Principal Michelle Gutierrez de Jimenez wrote a letter to the parents of the school's students informing them that additional safety procedures would be established.
"As we shared on Friday, we received a report from a student that a possible firearm was on campus. Our staff immediately contacted local law enforcement, who arrived on the scene and confirmed the report to be true," according to what is stated in the letter. 
"The Phoenix Police Department is investigating, and we will cooperate fully in their investigation."
Get the inside scoop on your favorite news! Check out the links we provided you Below:
The institution appreciates the tippers' help.
"As you know, the safety of our students and staff is always our top priority and a shared effort," It went on like this. "We want to thank those who reported the incident to a trusted adult, our staff, and the Phoenix Police Department who quickly arrived on campus."
The principal assured the pupils they would have easy access to professional counseling.
"We recognize the severity of this situation and the fear and anxiety it causes our students and staff. We will have social-emotional support available at school for students and staff who may need it,"  She composed.
Crime g*n intelligence officers are investigating the incident with the aid of school and district officials.
The identity of the student has not been revealed. It's unclear how the student gained possession of a gun and ammunition.
A juvenile correctional center has him on file.
Tyler is a passionate journalist with a keen eye for detail and a deep love for uncovering the truth. With years of experience covering a wide range of topics, Tyler has a proven track record of delivering insightful and thought-provoking articles to readers everywhere. Whether it's breaking news, in-depth investigations, or behind-the-scenes looks at the world of politics and entertainment, Tyler has a unique ability to bring a story to life and make it relevant to audiences everywhere. When he's not writing, you can find Tyler exploring new cultures, trying new foods, and soaking up the beauty of the world around him.