Several hundred protesters gathered outside a California school board meeting on Tuesday to discuss a resolution declaring June Pride Month. At least three people were detained, and authorities have stated that the investigation is ongoing.
To "ensure public safety and facilitate peaceful demonstrations," the Glendale Police Department said in a press release, it reacted to the protest at the Glendale Unified School District headquarters in Glendale, California.
"Several hundred protesters gathered, many waving the American flags and LGBTQ+ Pride flags," police stated.
At Tuesday's Board of Education meeting, GUSD Superintendent Dr. Vivian Ekchian requested that June 2023 be declared LGBTQ+ Pride Month.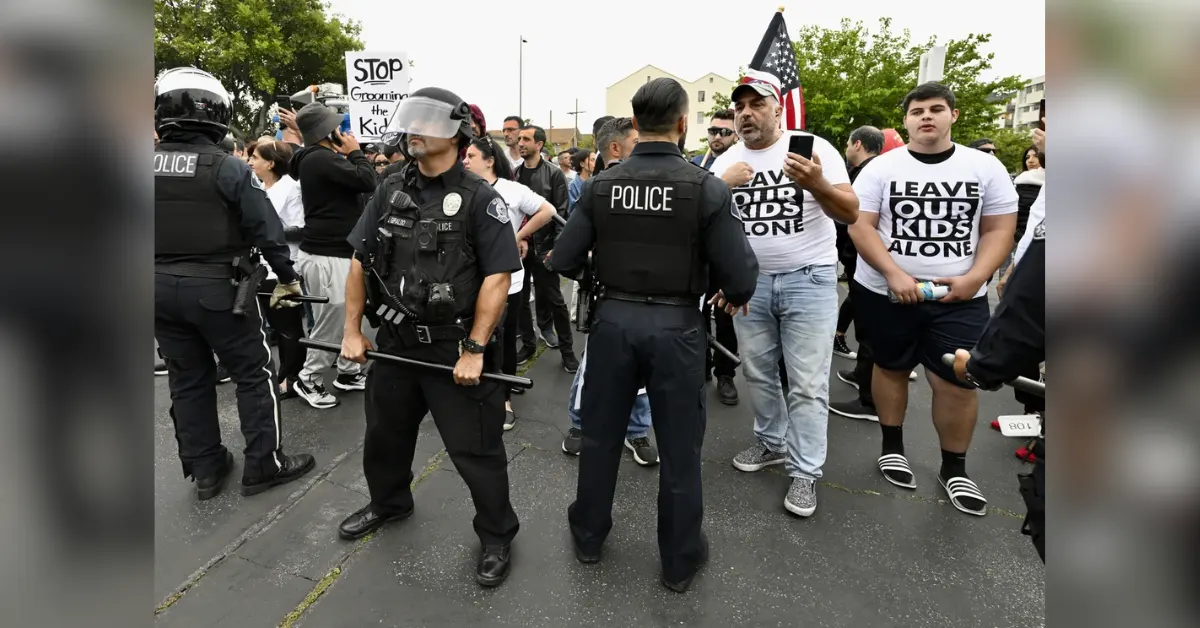 Parents who supported and opposed the GUSD recommendation were among the demonstrators, as reported by the police.
"Both sides took to social media to rally their supporters to convene at GUSD headquarters ahead of the last board meeting of the school year," police stated.
Video Shows Protestors Fighting
Most demonstrators were peaceful, but police claimed a few participated in "behavior deemed unsafe and a risk to public safety."
Police detained three pepper sprayers and obstructors to de-escalate the incident.
If you are interested to know more about this news, then see this tweeter post that Brennan Murphy shares:
Anti-LGBT protestors attack Pro-LGBT demonstrators outside of a Glendale, CA schoolboard meeting.

The schoolboard is voting on recognizing June as Pride month. pic.twitter.com/T1zqZMTn7D

— Brennan Murphy (@brenonade) June 7, 2023
"After the initial arrests, additional attempts to de-escalate the crowd failed," police say.
After the protest "exceeded the bounds of peaceful assembly and in adherence to our duty to protect public safety," police stated, they sought more police resources and issued a dispersal order.
Here you can also look up the other detailed news articles on our website, read:
"We encourage continued open dialogue and constructive engagement with community members," the police force reported.
Glendale School District Addresses LGBTQIA+ Curriculum Disinformation Ahead of Meeting
The GUSD said "intentional and harmful" misinformation has been spreading about what is being taught in schools in a statement released on Facebook on Monday.
"This includes disinformation about LGBTQIA+ curriculum, sex education and supporting transgender and gender non-conforming youth," the GUSD stated.
The GUSD, Ekchian, members of the BOE, and district executives have been visiting parents and guardians over the past two weeks to correct the misinformation, as stated by the GUSD.
The school district's website included a link to a "Correcting Disinformation" page detailing the GUSD curriculum.
Tyler is a passionate journalist with a keen eye for detail and a deep love for uncovering the truth. With years of experience covering a wide range of topics, Tyler has a proven track record of delivering insightful and thought-provoking articles to readers everywhere. Whether it's breaking news, in-depth investigations, or behind-the-scenes looks at the world of politics and entertainment, Tyler has a unique ability to bring a story to life and make it relevant to audiences everywhere. When he's not writing, you can find Tyler exploring new cultures, trying new foods, and soaking up the beauty of the world around him.