On Wednesday morning, a fuel tanker spill on Route 3 North in Billerica caused a multiple-vehicle incident. Massachusetts State Police and firemen are attending the scene.
UPDATE-Tanker is leaking fuel from top of tank. Hazmat and environmental response ongoing. Lane closures remain in place for foreseeable future. https://t.co/TFUKgvyry6 pic.twitter.com/giXSkYImNK

— Mass State Police (@MassStatePolice) November 15, 2023
The collision was reported shortly before 10:00 a.m. The tanker rolled over while carrying several thousand gallons of fuel, according to state police, and petrol is now spilling from the top of the tank.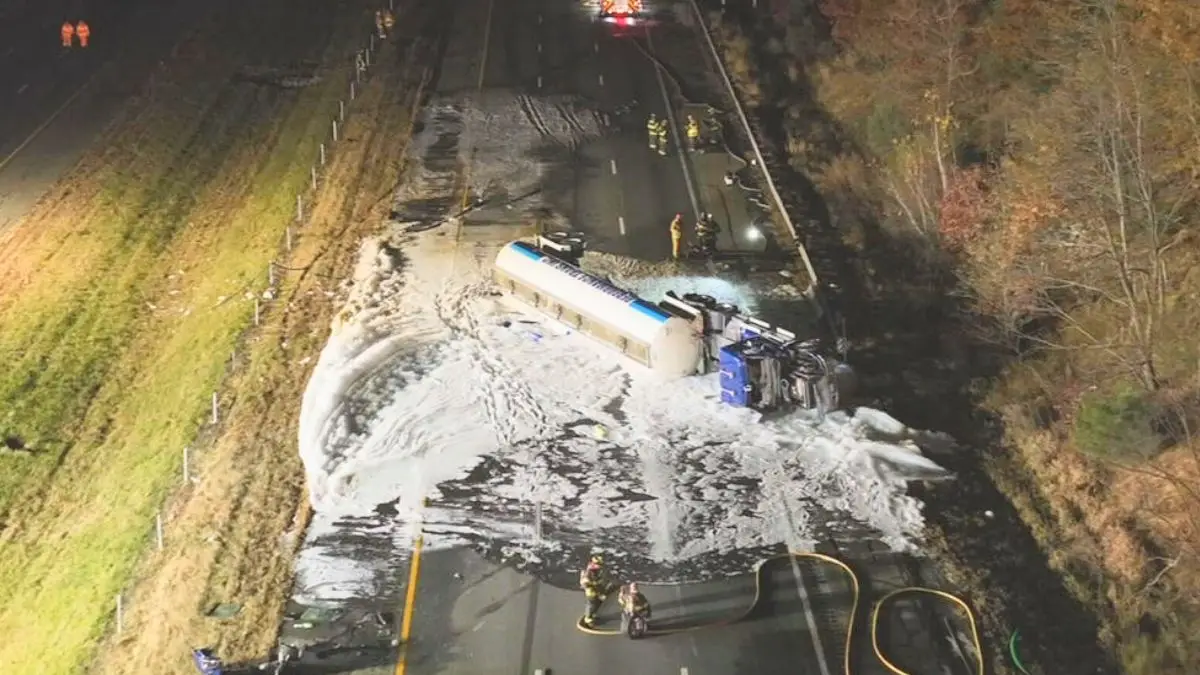 Teams from hazmat and environmental are on the site. A significant amount of the petroleum that the tanker was transporting leaked, according to state police, and it's unclear how long it will take to clean it all up.
Shortly after 9:30 p.m., the Massachusetts Department of Transportation said that the tanker had been taken off the road.
Tanker removed from scene. Crews have started pavement milling as road surface in area needs repairs. https://t.co/DEwE5RMPTp

— Mass. Transportation (@MassDOT) November 16, 2023
Billerica Public Schools forewarned parents on Wednesday night that the event would probably alter the school bus stop schedules on Thursday morning.
The district's interim superintendent, Kerry Clery, sent out a statement saying,
"Unfortunately, we have no way to predict the exact arrival times at each bus stop but we ask for your understanding on any delays that may occur. Our bus drivers will be working hard to navigate through the morning traffic to safely arrive at all stops on their routes."
According to state police, there were minor injuries inflicted by the drivers of the tanker and one of the other vehicles involved. A 2022 Tesla Model Y SUV and a 2022 GMC Sierra truck were the other cars in question.
The owner of the tanker truck, Performance Trans, Inc., reported that their driver was doing well but could not provide any other information.
Here you can check some recent posts:
According to MassDOT, there are detours in place, and all lanes are closed in both directions. State police anticipate that the lane closures will stay in effect for the "foreseeable future."
MassDOT provided an update at 12:05 p.m. stating that due to damage to the northbound lane pavement, closures on Route 3 North may occur Wednesday night into Thursday morning.
Also closed are the ramps leading southbound from I-495 to Route 2. Drivers should anticipate delays when traversing the area.
Tractor trailer rollover with fuel spill in #Billerica on US-3-NB, SB at Exit 76. US-3 SB/NB directions are currently closed. NB detoured at Exit 76, SB Detoured at Exit 79. Expect delays and seek alt route.

— Mass. Transportation (@MassDOT) November 15, 2023
You can visit our site, blhsnews.com, for more information related to other persons' accident news, death, cause of death, and more updates.
Tyler is a passionate journalist with a keen eye for detail and a deep love for uncovering the truth. With years of experience covering a wide range of topics, Tyler has a proven track record of delivering insightful and thought-provoking articles to readers everywhere. Whether it's breaking news, in-depth investigations, or behind-the-scenes looks at the world of politics and entertainment, Tyler has a unique ability to bring a story to life and make it relevant to audiences everywhere. When he's not writing, you can find Tyler exploring new cultures, trying new foods, and soaking up the beauty of the world around him.