Tuesday morning, teachers clustered together in shock. A crying mom and child were seen driving by the burned-out structure.
After a fire destroyed the lower school on the site late Monday, the close-knit community of Charlotte Preparatory School on Boyce Road in south Charlotte let out their grief. The school has pupils up to the eighth grade, and the burned-out structure houses grades K–3.
On Tuesday, investigators were still trying to figure out what started a fire involving over 60 firefighters around the city.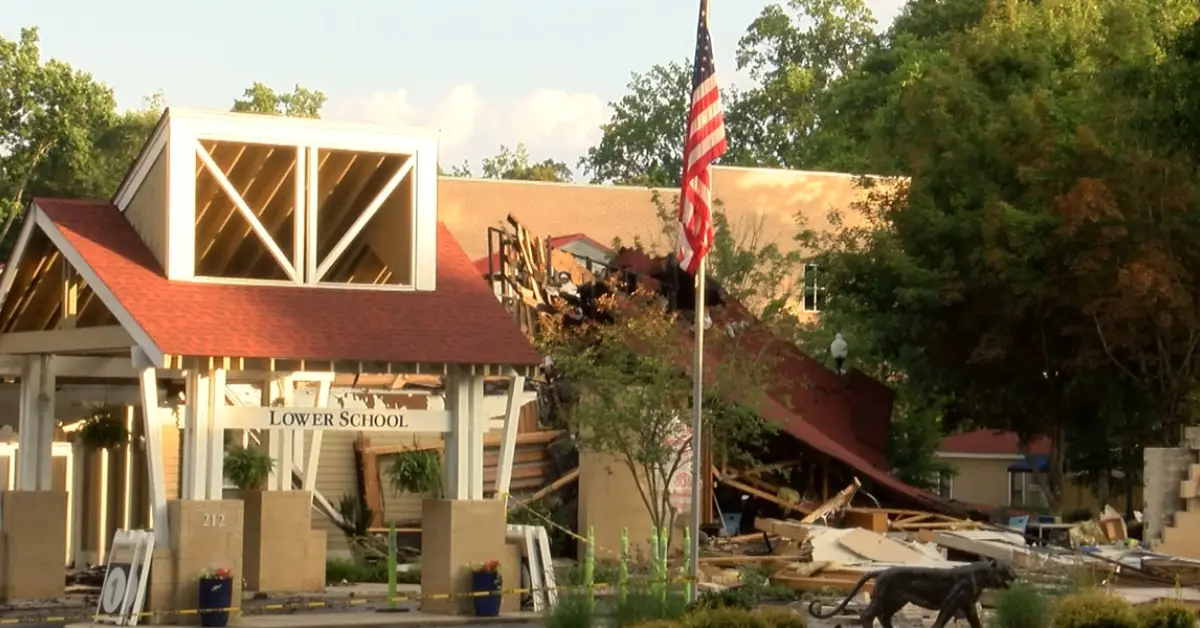 Chris Marblo, the head of the school, described the damage as significant ($2.5 million), and he notified parents and staff that he hoped to set up temporary offices and classrooms for the lower school by the start of the academic year.
"I always remember the advice of Fred Rogers at times like this," Marblo addressed families in a Facebook post on Tuesday. "Look for the helpers. We have many of them, and our school will come out of this even stronger."
About 400 pupils attend the school, which prides itself on providing "an exceptional education for our students in a warm, nurturing environment." Marblo claims that the ecosystem will be rebuilt.
"Our school community is resilient and united," he stated.
Tuesday, parent Donna Ren visited the school.
"We worry about it," Ren told the Charlotte observer, "and right now, it's panic. I don't know what (we should) do."
SHOCK AND DISBELIEF
Tuesday morning at the school was calm. There was a mountain of ash and trash in the lower school building. There was a strong odour of burning wood. Vehicles slowed over to inspect the damage while firefighters stayed on the site.
Most faculty and staff were too shocked to speak when they arrived at the school.
"We cancelled everything," said Robert Torres, a maintenance worker at the school stated, on the same news channel. "Everybody is in shock and disbelief."
On Monday night, at 10 p.m., residents of Boyce Road near the school reported hearing an explosion.
"I thought it was gunshots initially," The Charlotte Observer was told by Sophia Prendergast. "And then I just heard one fire truck come after the other, and I was like 'Whoa, what's happening?' I woke up my mom. The whole neighborhood was outside."
Robin Kannady shared a tweet about Charlotte Prep School's rebuild after the fire incident:
"The loss of a building and its many memories is heartbreaking." -Head of School at Charlotte Prep

The pledge to rebuild Charlotte Prep School after a fire last night destroyed one of the buildings, details at noon on @Queen_City_News @JulianSadurTV pic.twitter.com/EEvnMuX6fW

— Robin Kanady (@RobinKanady) June 27, 2023
Sophia's mother, Coleen Prendergast, claimed that neighbours had spotted a fireball that rose above the houses.
"It shot up really high," said Coleen Prendergast of the same news channel. "It was just chaos with firefighters everywhere. …We were hoping that there (weren't) people inside."
Marblo affirmed that nobody was hurt.
HOME AWAY FROM HOME
1971 Charlotte Prep, a K–8 institution close to uptown, was established as Charlotte Montessori School. It relocated to 212 Boyce Road in 1992 and added a middle school in 1998, the same year it changed its name to Charlotte Preparatory School.
Marblo stated that staff members are working to get "back on their feet" in time for the start of the school year, which is Aug. 16 for lower and middle school and Aug. 17 for early school, even though the campus is shut down and its annual summer Camp Prep has been postponed for a week.
If you are interested to know more about our other news updates, read here:
Fellow private school alumni left numerous comments on his Facebook post expressing their willingness to aid in the reconstruction.
Socrates Academy in Matthews expressed its desire to "support Charlotte Preparatory School as you rebuild and prepare for the fall. We'll reach out to determine what that looks like for you — whether it's a book drive or something to ensure you're ready to open for all your students."
State Representative Laura Budd, a Democrat whose district in south Charlotte includes the school, expressed support for Marblo by writing in her post, "sending strength as you rebuild in our community! We are here to support you!"
There were a lot of memories, but as Charlotte Prep student Sophie Weiner said, "you will build new ones." Sophie Weiner attended Charlotte Prep and had kindergarten through third-grade lessons in the burning building.
The news, according to Kimberly Boone Egan, "was devastating."
"Our family spent a total of 15 years at Prep with three kids," Egan stated. "So many wonderful memories there. The (lower school) has always been such a loving and nurturing home away from home for so many families."
Tyler is a passionate journalist with a keen eye for detail and a deep love for uncovering the truth. With years of experience covering a wide range of topics, Tyler has a proven track record of delivering insightful and thought-provoking articles to readers everywhere. Whether it's breaking news, in-depth investigations, or behind-the-scenes looks at the world of politics and entertainment, Tyler has a unique ability to bring a story to life and make it relevant to audiences everywhere. When he's not writing, you can find Tyler exploring new cultures, trying new foods, and soaking up the beauty of the world around him.