Colorado's ARAPAHOE COUNTY — It is thought that a teacher at Eaglecrest High School passed away after contracting bacterial meningitis.
The teacher, whose name has been given as Maddie Schmidt by the school district, passed away over the weekend after exhibiting symptoms of bacterial meningitis.
The Cherry Creek school system decided to suspend athletics and extracurricular activities on Tuesday night and to cancel classes and extracurriculars on Wednesday, April 12, due to the infectious nature of the sickness and the possibility of hospitalization.
Meningitis is an infection of the meninges, which surround and shield the brain and spinal cord. If infected, the membranes become inflamed, expand, and press against the spinal cord or brain. There may be issues that are fatal. The symptoms of meningitis appear suddenly and get worse quickly.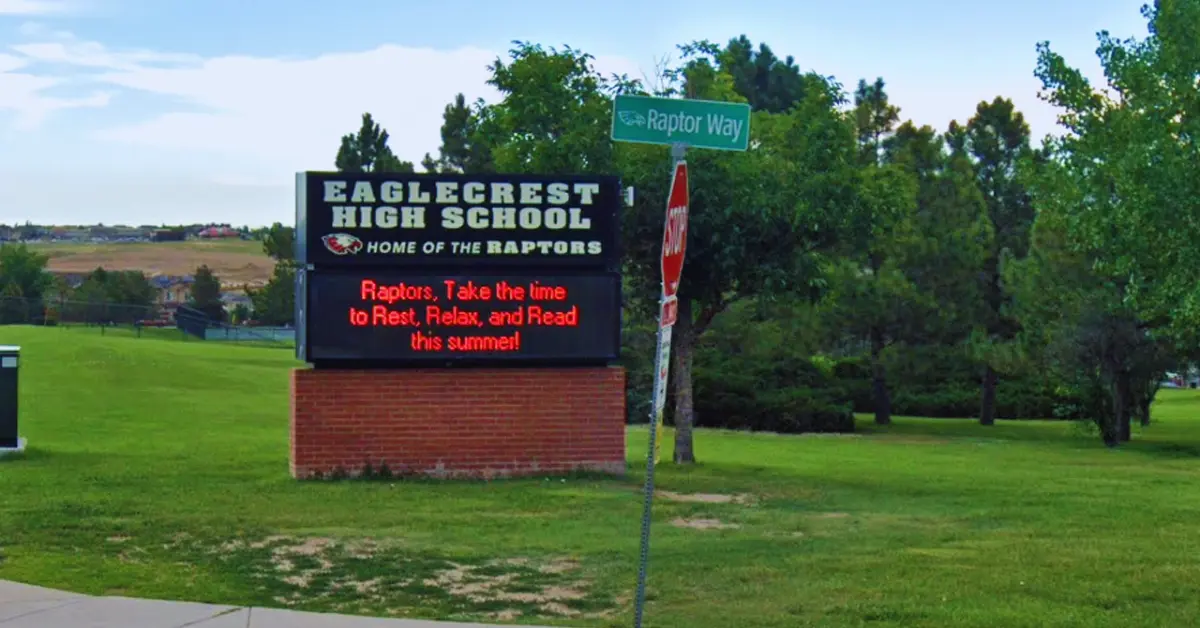 The Arapahoe County Public Health Department will complete contract tracing and decide on future steps on Wednesday, according to a district letter given to the Eaglecrest neighborhood.
"Right now, we have one confirmed case. We are doing tracking to see if anyone has symptoms from the exposure," said Anders Nelson with the Arapahoe County Health Department. "It takes 1-10 days to see symptoms, but typically they see symptoms within 3-4 days."
Nelson stated that the department is in the process of locating those who were exposed and that it has collaborated with the district to alert faculty and employees.
The PSAT and SAT exams that Eaglecrest students were supposed to take on Wednesday will now be rescheduled by the institution.
In the letter, the district says, "We take this matter very seriously and are working closely with Arapahoe County Public Health (ACPH) to identify students or staff who may have been in close contact with the infected staff person. Arapahoe County Public Health will reach out directly to all staff members and families of students determined to be close contact. Those individuals will be offered preventative antibiotics."
When teachers and students return on Thursday, the high school will have staff trained in school and district mental health care.
Signs and symptoms of bacterial meningitis:
High fever
Severe headache
Stiff neck
Sleepiness
Nausea/vomiting
Loss of appetite
Being disoriented, irritable, or confused
Eyes sensitive to light
Contagious Period and Spread
Meningitis-causing bacteria can be transferred by direct contact with an infected person's saliva or discharge from their nose or throat.
Check out more news of school news we publish on this site:
Infected people might transmit the bacterium to others even if they do not exhibit symptoms. When a patient is symptomatic, it can spread until 24 hours of antibiotic treatment have passed.
Meningitis cases should be reported to a medical professional. If a prophylactic antibiotic is required, close contacts will be informed by state or local public health organizations. Bloodstream infections and cases of bacterial meningitis frequently necessitate hospitalization and antibiotic therapy.
Call 303-795-HLTH to contact Arapahoe County Public Health with inquiries regarding bacterial meningitis (4584).
Tyler is a passionate journalist with a keen eye for detail and a deep love for uncovering the truth. With years of experience covering a wide range of topics, Tyler has a proven track record of delivering insightful and thought-provoking articles to readers everywhere. Whether it's breaking news, in-depth investigations, or behind-the-scenes looks at the world of politics and entertainment, Tyler has a unique ability to bring a story to life and make it relevant to audiences everywhere. When he's not writing, you can find Tyler exploring new cultures, trying new foods, and soaking up the beauty of the world around him.