FLORIDA'S ST. JOHNS COUNTY — Every educator in Florida has a unique approach to teaching. According to one teacher, using music helped her fourth-grade students learn several concepts.
"There are so many different types of learners," St. Johns County teacher Marlee Christianson said. "Music is just one of those ways to reach those different modalities, and there is research and strategies that prove that."
"They learn better with music, chants, or songs."
Christianson enjoys giving well-known songs a unique spin to make learning enjoyable for her students and convey the lesson's central point.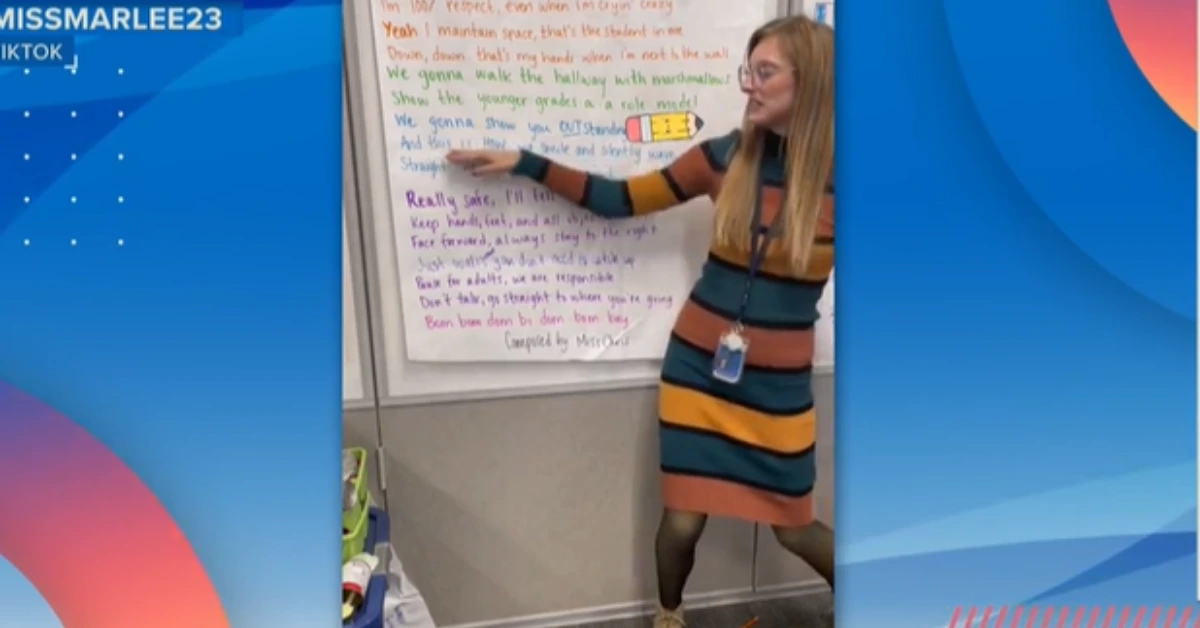 "I just love the songs that I make," she said. "The kids love it and it's really fun." 
She used one of the songs she composed to teach her students about days and nights, set to Kid Cudi's "Day 'N' Nite" beat.
On February 22, she uploaded a video to TikTok demonstrating how to teach the lesson using the song's rhythm. The video has 2.9 million views as of the time of this writing.
The social media post received so much attention that even Cudi left a "LOVE!!!!" remark on the video.
In response to his remark, Christianson said, "Glad you like it! They love singing it!" 
She also mentioned that some of her students believed the rapper to be a child, to which Cudi said, "I get this a lot."
Christianson claimed that she simply enjoyed creating songs and hoped that by sharing them, she would encourage other teachers to be innovative in the classroom. She did not, however, intend for the video to become famous.
"I knew that if I put it out on social media, it might reach out to people with the same teaching style, and I just hope that people use it," she said. "A few people have asked if they can use it [the song], and for me, that's exciting because I spent time making them."
Here are more latest articles of school news we posted:
When Cudi left a remark on her TikTok video, Christianson claimed that she and the pupils were highly grateful for his support, even if they had not spoken to him about dropping by the school.
Christianson has also created parodies of other songs to explain concepts to her students, including "Anti-Hero" by Taylor Swift, to discuss the rock cycle.
"Watermelon Sugar" by Harry Styles discusses the layers of the atmosphere, "Industry Baby" by Lil Nas X to discuss converting percents, decimals, and fractions, and "Truth Hurts" by Lizzo discusses hallway expectations.
The St. Johns County teacher stated that she intends to compose more songs and is anticipating suggestions from her pupils over which tunes to adapt into lessons.
Although making a song parody requires much work in the background, Christianson said it's worthwhile when it benefits her students and others who use her musical classes.
"I had an assistant principal once who told me to keep doing this because the students are super engaged," she said. "It has been enjoyable, and seeing other teachers appreciate the songs and want to use them is nice. The more people that see it, the more people it reaches."
You may observe Christianson's song parodies that aid in imparting various teachings to her students by going to her TikTok page.
Patricia Gault is a seasoned journalist with years of experience in the industry. She has a passion for uncovering the truth and bringing important stories to light. Patricia has a sharp eye for detail and a talent for making complex issues accessible to a broad audience. Throughout her career, she has demonstrated a commitment to accuracy and impartiality, earning a reputation as a reliable and trusted source of news.