According to a spokesperson for the Education Department, the interest on the loans will start accruing again on September 1, and the first payments in more than three years will be due in October if the Supreme Court decides not to overturn the Biden administration's plan to pay off $400 billion in student loan debt by June 30.
On June 16, Senate Republicans unveiled their ideas for a group of five proposals that will decrease future student debt but have no impact on the current deficit.
Biden's executive-authorized plan for student loan relief would forgive $10,000 of debt for most borrowers with incomes under $125,000, or $250,000 for married couples, and $20,000 for borrowers who also used Pell Grants to pay for college.
The initiative was expected to benefit about 40 million Americans, of whom about 20 million would have their debts entirely forgiven. Interest rates on federal student loans were frozen at zero percent during the COVID epidemic by the administration of then-President Trump, and Biden extended that until this summer.
Two federal judges have stopped the program, sending it to the Supreme Court, after six conservative states and two borrowers filed a lawsuit.
Biden vowed not to again prolong the payments and interest pause as part of an agreement he made with House Republicans in exchange for an increased debt ceiling if the Supreme Court finds against it.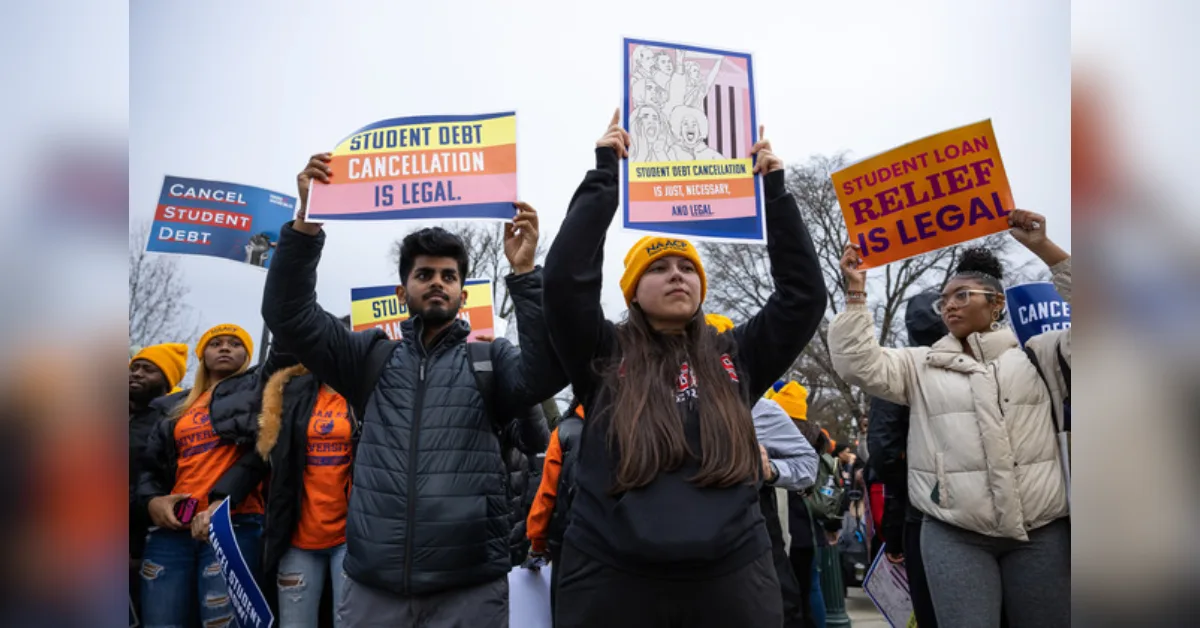 Now, the limit is whichever comes first: 60 days following the Supreme Court's ruling or 60 days following June 30.
According to Federal Student Aid, the total federal student loan debt in the United States was $1.6 trillion at the end of the first quarter of 2023.
Here's a look at what students in Florida owe as the specter of returning student loans hangs over us once more.
Florida's Student Debt Is Over $100 Billion
The overall federal student loan debt sum in Florida was $105.1 billion as of December 31, 2022, including unpaid principal and interest balances, according to the U.S. Department of Education's Federal Student Aid website.
This does not include debt from private loans and consists only of Direct Loans, Federal Family Education Loans (FFEL), and Perkins Loans.
Florida now ranks third in federal student loan debt, after Texas ($126 billion) and California ($148.6 billion).
In 2022, Florida Had The 5th Largest Federal Student Loan Debt
At the end of the previous year, the average federal student debt for borrowers in Florida was $38,725.
It excludes the first quarter of 2023 and was the fifth highest in the U.S., after Washington, D.C. ($53,897), Maryland ($43,010), Georgia ($41,789), Virginia ($39,330), and South Carolina ($38,304).
Forbes estimates that the average student loan debt in the United States, including federal and private loans, was $28,950.
Each student in Florida has a different amount of debt.
15.4% of Florida students owe less than $5,000
16.1% of Florida students owe from $5,000 to $10,000
19.6% of Florida students owe from $10,000 to $20,000
20.8% of Florida students owe from $20,000 to $40,000
10.1% of Florida students owe from $40,000 to $60,000
6.2% of Florida students owe from $60,000 to $80,000
3.3% of Florida students owe from $80,000 to $100,000
5.8% of Florida students owe from $100,000 to $200,000
and 2.7% of Florida students, 73,300 of them, owe over $200,000
Florida Has 12% Federal Student Loan Debt
After California (4.01 million) and Texas (3.8 million), Florida has the third-highest amount of residents with unpaid federal student loan debt at over 2.71 million.
At least three out of every 25 Floridians, according to the U.S. Census estimate of 22,244,823 state residents in July 2022, are still making payments on their student loans.
Here is a Twitter post related to Floridians' student loans. You can see it below:
The deadline is approaching when many of us may have to start paying back federal student loans again, and Florida has the 3rd-highest federal student loan debt in the country. Let's take a look at the numbers. #studentloans #StudentLoanAct2023https://t.co/KrnQjIlARs

— Ocala StarBanner (@OcalaStarBanner) June 15, 2023
Approximately half of all Florida students graduated with student loan debt as of the 2019–2020 academic year.
Student Debt Is Forever
Unsurprisingly, younger people carry a large portion of federal student loan debt; according to Federal Student Aid, 914,000 Floridians between the ages of 25 and 34 owe $31.7 billion.
Butolderr citizens owe even more. By the end of 2022, Floridians aged 35 to 49 will owe $43 billion, and even those over 62 will still owe enormous sums.
What If I Can't Pay My Federal Student Loans?
You've got options.
If you cannot afford your loan payments, you may want to switch repayment plans to one that does. Alternatively, you may wish to apply for an income-driven repayment plan.
You can check out various plans using the Loan Simulator provided by Federal Student Aid to determine whether you are eligible for one with a lower monthly payment.
Sen. Bill Cassidy, R-La., one of the bill's co-sponsors, said the Lowering Education Costs and Debt Act, which is part of a new GOP package addressing the "skyrocketing" costs of higher education, would eliminate nine of the Department of Education's student loan repayment options in favor of just two: the standard 10-year repayment plan and the REPAYE program, which allows low-income borrowers with low loan balances to receive forgiveness.
Here you can also look up the other latest news articles on our website, read:
If you have several loans, you may want to consolidate them. This has the advantage of resetting your repayment duration and could result in cheaper monthly payments.
You might ask for a delay or forbearance to temporarily halt your payments if you lack the funds. Although interest will continue to collect during that time, it will not count toward your requirements if you're working for loan forgiveness.
Tyler is a passionate journalist with a keen eye for detail and a deep love for uncovering the truth. With years of experience covering a wide range of topics, Tyler has a proven track record of delivering insightful and thought-provoking articles to readers everywhere. Whether it's breaking news, in-depth investigations, or behind-the-scenes looks at the world of politics and entertainment, Tyler has a unique ability to bring a story to life and make it relevant to audiences everywhere. When he's not writing, you can find Tyler exploring new cultures, trying new foods, and soaking up the beauty of the world around him.