As New Zealand prepared to host games in the FIFA Women's World Cup tournament, a gunman invaded a high-rise building site in downtown Auckland early Thursday morning, firing at terrified workers and murd*ring two people.
The gunman was discovered deαd following a police shootout in which an officer was shot and injured. In addition, four individuals were hurt.
The sh00ting occurred near the hotels where Team Norway and other soccer teams stayed. According to New Zealand Prime Minister Chris Hipkins, the competition will go as planned.
"Clearly, with the FIFA World Cup kicking off this evening, there are a lot of eyes on Auckland," Hipkins said. "The government has spoken with FIFA organizers this morning, and the tournament will proceed as planned."
"I want to reiterate that there is no wider national security threat. This appears to be the action of one individual."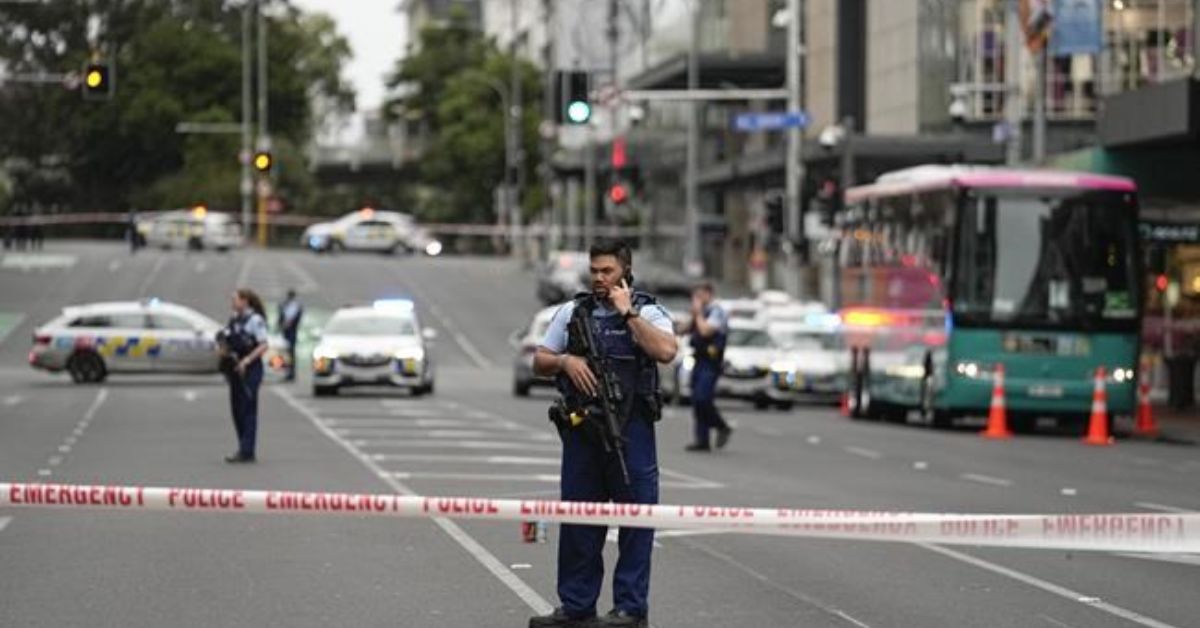 The sh00ter was armed with a pump-action shotgun. He said police responded within minutes of the first emergency call and plunged into danger to save lives.
"These kinds of situations move fast, and the actions of those who risk their lives to save others are nothing short of heroic," Hipkins said.
According to Police Commissioner Andrew Coster, the gunman was a 24-year-old who previously worked at the construction site, and his motivation for the sh00ting was related to his work there.
The gunman had a history of family violence and was serving a home detention sentence, yet he was allowed to work at the lower Queen Street location. The gunman opened fire around 7:20 a.m., and police quickly stormed the area.
Look at the tweet posted by the Offical account of NBC New York:-
A gunman killed two people before he died Thursday at a construction site in Auckland, New Zealand, as the nation prepared to host games in the FIFA Women's World Cup soccer tournament. https://t.co/1yxvY6mNrl

— NBC New York (@NBCNewYork) July 20, 2023
As numerous workers fled or hid, he walked through the building firing at them. The gunman holed himself in an elevator shaft on the third floor, where SWAT-style officers attαcked him after securing the bases above and below.
"The offender fired at police, injuring an officer," Coster said. "Shots were exchanged and the offender was later found deceased.

Coster said it was unclear whether the gunman was shot by police or committed suicide. He claimed the gunman lacked a gun license and should not have had a weapon.
If you're interested in reading about the recent news, you can check out the below links:-
The incident occurred during the FIFA Women's World Cup, which was taking place in New Zealand. The first match will be played on Thursday against New Zealand and Norway.
When a helicopter began hovering outside the hotel window, Team Norway captain Maren Mjelde stated his teammates awoke soon.
"We felt completely safe the whole time," she said. "FIFA has a good security system at the hotel, and the squad has its own security officer." Everyone appears to be in good spirits, and we are preparing for the game tonight as usual."
Team USA stated that all of its players and personnel were safe. It noted that the crew was in contact with local authorities and going about its regular business.
In 2019, New Zealand banned assault firearms, just weeks after a gunman massacred 51 people at two mosques in Christchurch in the country's worst mass shooting.
Following that, gun owners turned over more than 50,000 AR-15-style rifles and other assault weapons to police.
Till Then, keep yourself updated with all the latest news from our website blhsnews.com.
Tyler is a passionate journalist with a keen eye for detail and a deep love for uncovering the truth. With years of experience covering a wide range of topics, Tyler has a proven track record of delivering insightful and thought-provoking articles to readers everywhere. Whether it's breaking news, in-depth investigations, or behind-the-scenes looks at the world of politics and entertainment, Tyler has a unique ability to bring a story to life and make it relevant to audiences everywhere. When he's not writing, you can find Tyler exploring new cultures, trying new foods, and soaking up the beauty of the world around him.