Following a tip of a student "possibly in possession of a gun" on the high school's campus, lockdowns at Highland Park High School and other Highland Park district schools have been lifted. Five students are currently in custody, according to city officials.
"Highland Park Police are continuing to investigate reports of a student in possession of a gun at school," the city posted an update Tuesday afternoon. "The scene has been secured and law enforcement has confirmed that there is no credible reason to continue the lockdown at Highland Park High School."
According to officials, the "soft lockdown" at other public facilities, including schools, has also been lifted. There was no additional information provided regarding the detained kids.
When the mayor of Highland Park released a warning claiming the situation was developing just after 11 a.m. "please be advised of a heavy police presence at Highland Park High School."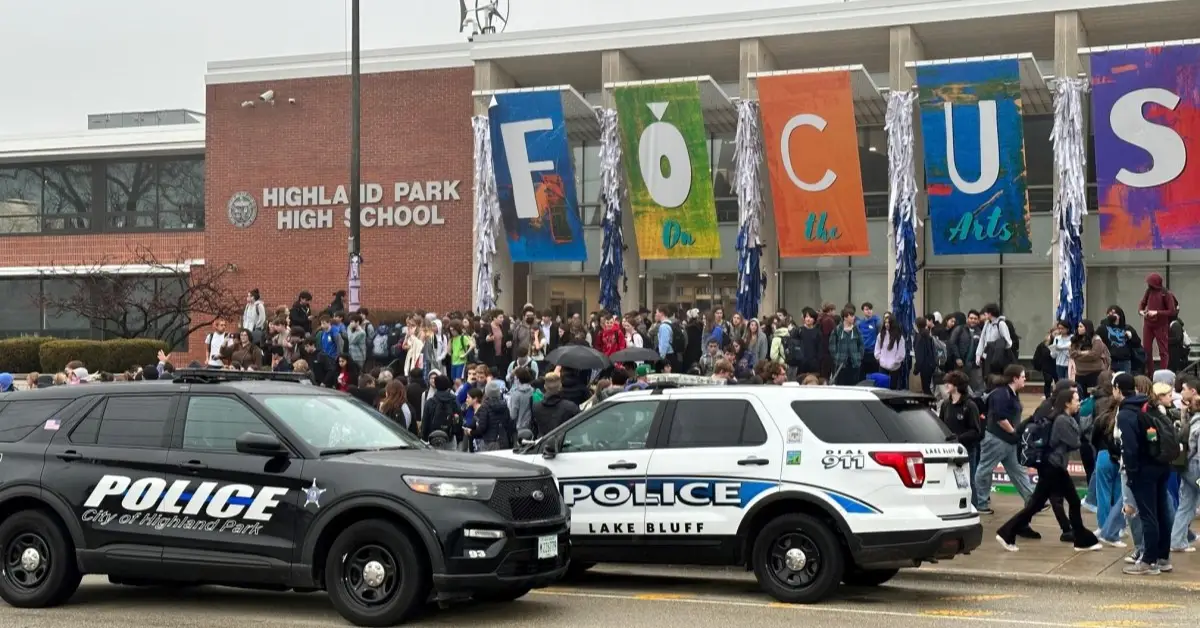 "HPHS has been placed on a lockdown due to a report of a student potentially possessing a gun at school. There are no reported shots fired," the alert stated. "Students and school staff should remain in place to facilitate the work of law enforcement to secure the building."
The city of Highwood sent a similar notification on Facebook shortly after Highland Park did. saying "Highwood police are reporting a possible person with a handgun rear Everts Park; Green Bay Road and North Avenue, " It wasn't apparent whether or not that circumstance was connected.
The city of Highwood reported that the area had been removed and there was "no public threat" at 11:15 a.m.
According to Lake County Clerk Anthony Vega, lockdowns were also reported at Braeside Elementary School, Red Oak Elementary School, and the Highland Park Library, stopping "all voter services" at those locations.
"At the point of the lockdown being lifted our office will petition the court to extend voting for the same length of time as the lockdown," Vega said in a statement.
"All voters currently unable to vote at Braeside Elementary School, Red Oak Elementary School, or Highland Park Public Library may visit the Lake County Clerk's Office at 18 N County St, Waukegan, IL 60085 to vote if they would prefer not to wait."
According to emails sent to residents in those districts, some schools and daycare facilities in nearby towns and villages, including Glencoe, were also put on "soft lockdown" out of "an excess of caution."
Superintendent Bruce Law informed District 113 families via email at 11:30 a.m. that the school had received "an anonymous tip indicating a rumor of a student in possession of a gun."
"Immediately following the report of that tip, Highland Park High School reported the tip to law enforcement," the email reads.
"As Highland Park High School began investigating the tip, another student came forward to report seeing a student with a gun. At that point, Highland Park Police Department was already on the scene and advised HPHS to go into lockdown."
According to the email, the student allegedly possessing a gun was identified, and surveillance footage showed that "he and another student had left the building," but both were ultimately found.
Here are more articles of school news as per following:
Police kept Highland Park High School on lockdown while conducting their investigation, but at 12:30 p.m., pupils could be seen leaving the building.
The city reported that five kids had been detained when the lockdown was lifted at Highland Park High School and other nearby structures. On Tuesday, the school was going to dismiss early.
A few dozen Highland Park High School students were reportedly sighted near the campus earlier on Tuesday as part of a walkout in support of gun safety, according to NBC 5's Charlie Wojciechowski.
According to students, the strike was planned to protest the Nashville, Tennessee, school massacre and the Fourth of July shooting at the Highland Park Parade in 2022.
The father of the alleged Highland Park shooter, Robert Crimo Jr., was scheduled to appear at a hearing at 11 a.m. on Tuesday at the Lake County Courthouse in Waukegan.
Before the attack, Crimo Jr. pleaded not guilty to the accusation that he assisted his son in getting a weapons license.
Tyler is a passionate journalist with a keen eye for detail and a deep love for uncovering the truth. With years of experience covering a wide range of topics, Tyler has a proven track record of delivering insightful and thought-provoking articles to readers everywhere. Whether it's breaking news, in-depth investigations, or behind-the-scenes looks at the world of politics and entertainment, Tyler has a unique ability to bring a story to life and make it relevant to audiences everywhere. When he's not writing, you can find Tyler exploring new cultures, trying new foods, and soaking up the beauty of the world around him.