7 April — OXFORD Once Oxford High School received a threatening message earlier, Oxford police and school authorities acted immediately. Despite the fact that there was no actual physical threat, the episode alarmed some parents, teachers, and administrators.
At about 11:30 a.m., Oxford Police Chief Bill Partridge issued a warning stating that all Oxford City Schools were on lockdown and had a "strong police presence at the high school."
Partridge declared the lockdown had ended with "nothing detected" and that "all students are secure" a little over an hour later, at 12:34 p.m.
He claimed that at 11:08 am, the Oxford Police Department (OPD) was alerted to a threat letter discovered on the second level of one of the structures on the Oxford High campus.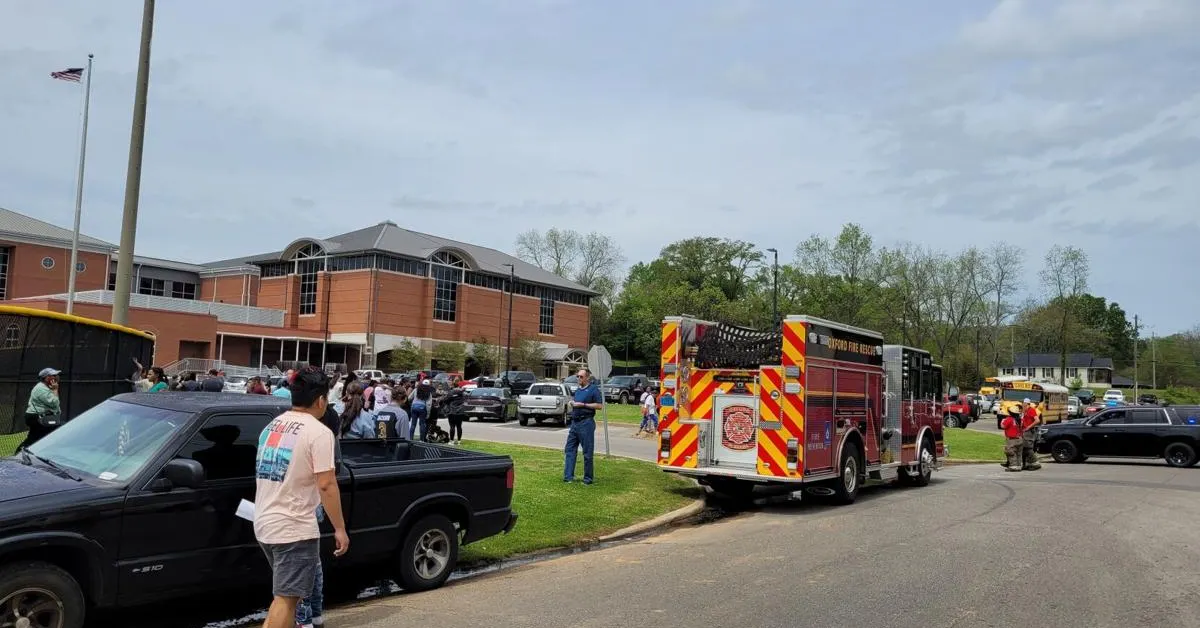 "The police officer who was working at the campus immediately notified administrators and they immediately went into lockdown at the high school," Partridge said, mentioning that he asked for a lockdown at all Oxford public schools.
"The reason why we did this is because we never know if someone is trying to draw our attention to one location in order to go to another," Partridge said.
He stated that the OPD Forensics Unit is currently processing the threatening letter and that the Criminal Investigations Division has started "an inquiry into terrorism threats at the high school."
The letter featured a bomb threat, according to Partridge, "and a suggestion that guns were on the school."
He emphasized that everything on campus was thoroughly searched, including the buildings, parking lot, and automobiles.
"The rumor mill, unfortunately on social media, continues to say there were guns and bombs found at the high school," Partridge said. "This is total disinformation and is coming from individuals making up stories and sending them out on social media."
"Our number priority in this city is the safety of our children and we take that responsibility extremely serious," Partridge said. "That's why everyone saw the things that took place today. Unfortunately, we had people showing up at the school and bottlenecking the roads coming in and out of the high school which hampered public safety and administering the type of things we need to do to take care of the situation."
"We will continue this investigation until we find the person responsible and hold them accountable," Partridge said.
Dr. Shannon Stanley, the superintendent of schools, agreed that a situation like Friday's threat makes parents nervous.
"But with today's recent events as well as events that have happened throughout the country, we take every threat seriously and we are extremely thankful to our law enforcement and first responders for taking the actions they do in providing safety for all of our students," Stanley said.
Continue reading the most recent articles of school news we are posting:
She acknowledged the investigation "took a little time and time in a parent's perspective takes a lot longer than we would like."
"However in order to keep our children safe, we have to make sure our law enforcement and first responders can do the jobs they are trained to do," Stanley said.
Once the issue was under control, parents could check their kids out at the front desk. Mayor Alton Craft expressed gratitude for the OPD and school officials' prompt replies.
"They ensured the safety of our children was the upmost priority as they always do," Craft said. "We are fortunate to have the resources at our disposal to take any threat to our children very serious and we appreciate the parents in our community trusting their children's safety will remain number one no matter what."
Patricia Gault is a seasoned journalist with years of experience in the industry. She has a passion for uncovering the truth and bringing important stories to light. Patricia has a sharp eye for detail and a talent for making complex issues accessible to a broad audience. Throughout her career, she has demonstrated a commitment to accuracy and impartiality, earning a reputation as a reliable and trusted source of news.