Matthew McConaughey is establishing a new campaign to assist schools in applying for safety funding included in legislation approved in the aftermath of the horrific school sh00ting in Uvalde, Texas.
"The long term goal is to simplify this process, because it is not simple at all," the "Dallas Buyers Club" star said of his and wife Camila's Greenlights Grant Initiative in an interview published Thursday by Politico.
According to a website launched on Thursday, the program assists "school districts nationwide in accessing billions of dollars in available federal funding to create safer school environments and ensure the well-being of our children."
After the McConaugheys had dinner with Rep. Tony Gonzales (R-Texas) following the passing of the Bipartisan Safer Communities Act last year, the allegedly privately funded program came to fruition.
President Biden signed the Act in June 2022, following significant sh00tings in Uvalde and Buffalo, New York.
In McConaughey's hometown of Uvalde, 19 children, and two instructors were ki!!ed at Robb Elementary School.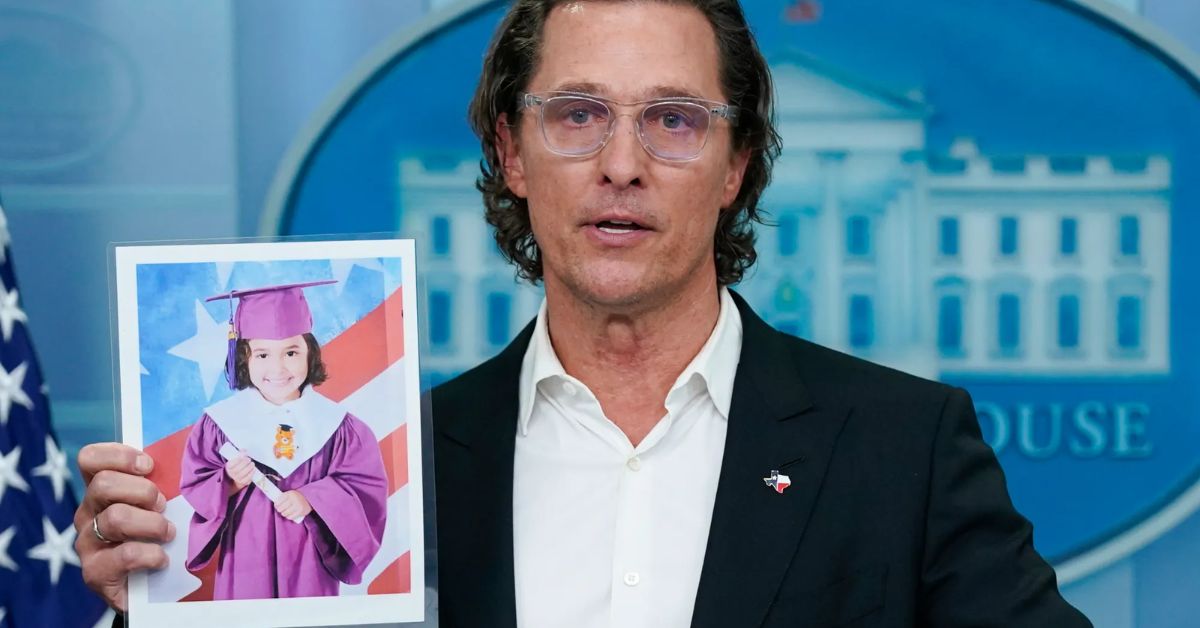 Gonzales, according to McConaughey, told him that only 12 of his district's 119 schools had sought for the bill's $1 billion in school safety funds.
"We noticed it was happening all over the place, that people weren't aware or didn't have the ability or resources to fill out grants and write them competitively," said McConaughey, who delivered an impassioned plea for "real change" on gun violence at a White House press briefing just days after the May 2022 shooting.
"That's money to pay for mental health resources and security for safer schools to ensure that our kids can learn in peace and without fear," McConaughey said in a video posted on Twitter Thursday.
Camila & I are launching the #GreenlightsGrantInitiative to simplify the federal grant application process. We want to help connect communities, students & teachers with resources to support mental health programs & safer learning environments. https://t.co/5VjVwGFHHn pic.twitter.com/hEy15L4uaF

— Matthew McConaughey (@McConaughey) July 20, 2023
According to the Greenlights Grant Initiative's website, the purpose is to ensure that federal cash "is fully utilized by school districts across the country" before it is reassigned in 2026 if not distributed.
"That would make the passing of the bill a great symbol that wasn't really activated and didn't become useful, and I think that'd be a shame," McConaughey told the outlet.
"When Camila and I went to Uvalde, the parents and family members of the children who were killed asked for one thing: 'Make their lives matter,'" the Oscar winner, 53, said in a video uploaded on social media.
"Let's make sure that the first bill passed in 28 years to help protect all of our children in schools matters."
Till Then, keep yourself updated with all the latest news from our website blhsnews.com.
Tyler is a passionate journalist with a keen eye for detail and a deep love for uncovering the truth. With years of experience covering a wide range of topics, Tyler has a proven track record of delivering insightful and thought-provoking articles to readers everywhere. Whether it's breaking news, in-depth investigations, or behind-the-scenes looks at the world of politics and entertainment, Tyler has a unique ability to bring a story to life and make it relevant to audiences everywhere. When he's not writing, you can find Tyler exploring new cultures, trying new foods, and soaking up the beauty of the world around him.